David Andrews, a leading statistician whose election-night work touches millions, receives honorary degree
You may not have seen him on air, but behind the scenes at CTV, on every election night for almost five decades, David Andrews has crunched the numbers to ensure that the network never errs when it calls the results. He has served as the network's chief statistician for more than 100 elections.
A former chair of the University of Toronto's department of statistical sciences, Andrews has also made an immense impact in the field of statistics itself – notably statistical computing and graphics. A data visualization technique that he developed decades ago, for example, makes it easier to identify variables that are correlated – and is still in use today.
For his innovative contributions to the field of statistical sciences and his leadership in promoting the application of statistical sciences to an ever-widening range of problems in modern society, Andrews today receives a Doctor of Laws, honoris causa, from the University of Toronto.
Andrews earned a bachelor of science from U of T in mathematics and physics in 1965, then undertook graduate work at the university in math and statistics, earning a PhD in statistics in 1968. For a few years, he lectured in statistics departments at Imperial College London and Princeton University. He then returned to U of T as a professor in 1973, serving in various capacities through 2001. For many years, he taught in what is now the Temerty Faculty of Medicine, in the department of preventive medicine and biostatistics.
Early in his career, Andrews was a key participant in what was known as the "Princeton Robustness Study." This collaborative effort in computation and applied statistics broke ground for later developments in statistical science, machine learning and artificial intelligence.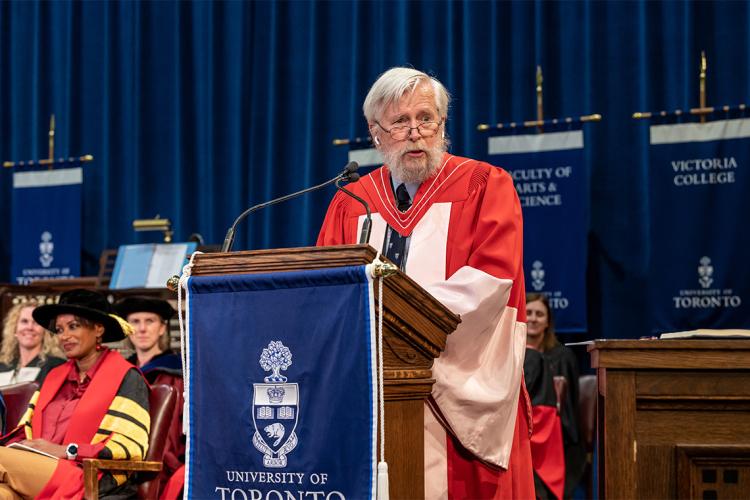 Andrews chaired U of T's department of statistical sciences in the Faculty of Arts & Science from 1984 to 1992, recruiting four scholars to the department who would later receive the world's most prestigious award in statistics. He also helped bring greater statistical rigour to research across the university.
"Working here was enormous fun" Andrews says in his convocation address to graduating students from Victoria College. "The range of fields was extraordinary. I learned much about diseases, the evolving methodology of genetics, clay tablet inscriptions from the Middle East, the vocabulary of the great Russian poet Brodsky and so on by applying common principles of statistics."
Although he found the election work less complex than his academic research, Andrews noted that live television brought its own pressures – CTV needed the job to be done extremely fast and without error. "The calls, when we make them, are very public, the audience is huge, so our neck is stuck way out," he told the Toronto Data Workshop in 2021. "We don't dare make mistakes."
Andrews doesn't use polls in his election night calculations. He says calling the winner correctly means accurately predicting what will happen in each of the country's (now) 338 ridings. Polls tend to present the national picture, with only a few responses from each riding. "They're not useful to me" for deciding who will win an individual riding, he said during the workshop. Instead, he relies on information from Statistic Canada and Elections Canada.
Andrews' interest in elections extends to developing a proposal to make the House of Commons more representative. As happens quite often, a political party can win a majority of seats with less than 50 per cent of the votes. Andrews' proposal would implement ranked-choice balloting and apply it selectively in ridings where the winner's margin is less than five per cent. By his estimate, this would have reduced the winning party's majority of seats in the 2011 and 2015 elections to a minority, thus more accurately reflecting their minority share of the popular vote.
Andrews is a recipient of the Gold Medal from the Statistical Society of Canada and has served as its president.
In his convocation address, Andrews advises students graduating from Victoria College to seize chances as they arise. "Life is earnest, life is real. And by times it seems very messy. I just found it more satisfying to focus on the opportunities – including the impossible ones."
UTC