Data-driven farming: U of T alumni's startup develops low-cost sensors for Nepal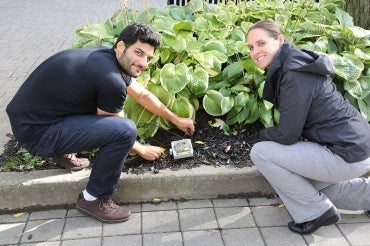 Ahmed Mahmoud hopes that his new invention – an unassuming grey box about the size of a coffee mug, attached to a metal probe – will be the key to significant improvements in crop yields for farmers in Nepal and around the world.
"It's actually pretty straightforward in terms of function," says the former master's student in the Faculty of Applied Science & Engineering. "You stick the probe in the soil and it reads the moisture. It then makes that data available online or via text messages. You can query it on your phone."
This weekend, Mahmoud's collaborator and alumnus Donn Pasiliao will travel to Nepal to provide 30 of the portable, networked probes for a trial conducted by the Mexico-based agricultural research organization International Maize and Wheat Improvement Center and the Himalayan knowledge-sharing network International Centre for Integrated Mountain Development. The goal is to see whether this low-cost method of gathering detailed, hyperlocal information about soil moisture can be used to help improve local crop yields.
Mahmoud and Pasiliao, founders of Spero Analytics, were inspired to create the device after hearing about the Data Driven Farming Prize, an international competition that seeks to create new tools for generating data and translating it into actionable information that can help farmers. The competition is sponsored by Feed the Future, a U.S. government initiative designed to combat global hunger and poverty, and the non-profit Challenge Prize Centre.
The 2017 competition focused on Nepal, one of the least developed countries in Southeast Asia. Mahmoud was already somewhat familiar with the region, having worked with Amy Bilton, an assistant professor in the department of mechanical and industrial engineering, on solutions for improving the productivity of fish farms in Vietnam as part of his master's thesis. That experience taught him the difference that technological innovation can make for farmers, and inspired him to join with his high school friend Pasiliao to enter the competition.
"Ahmed is one of my favourite students to work with, and it sounded like a great idea," says Bilton, who also serves as associate director of the Centre for Global Engineering at U of T. "We supported him and Donn with some of the technical aspects, and in developing the proposal."
Mahmoud says that while there are a number of development agencies working with farmers in Nepal to improve their agricultural productivity, they are limited by a lack of real-time analytics. "They have made detailed maps of average rainfall, soil acidity and nutrient levels," he says. "What they don't have is data on soil moisture levels, temperature and other conditions that change rapidly."
In Canada, farmers can get this information from on-site weather stations or instruments such as tensiometers, which measure soil moisture. Mahmoud's vision is to take off-the-shelf probes and add the ability to wirelessly share data within a network.
According to Mahmoud, assembling the first prototype was relatively simple. He took an electronic soil probe and connected it to an Internet of Things controller. This controller transmits the data via 3G wireless networks, which are common in Nepal. Later versions incorporated the ability to transmit data via radio waves, reducing the reliance on external infrastructure.
The entire assembly is power-efficient, able to run for months on a simple smartphone battery. Mahmoud built the first prototype for less than $100, but with custom-made circuit boards Mahmoud estimates he could get the cost under $50.
After entering the competition, Mahmoud and Pasiliao found themselves among 13 finalist teams invited to take a trip to Nepal last May. "We met farmers, extension agencies and research organizations, all of which was really helpful," says Mahmoud. Talking to these stakeholders also provided insight into their potential business plan. "We realized that instead of selling the boxes themselves, it would be better to give them away and instead sell the data," he says.
Their hard work paid off in September, when they were awarded one of two $50,000 runner-up prizes in the Data Driven Farming Prize competition. That prize money funded the construction of the 30-device network that is now heading to Nepal. The results of this first trial will inform further design of the devices. Eventually, Mahmoud hopes to add sensors for temperature and humidity as well as moisture.
Bilton says that the project is a great example of the ways in which engineering can address critical problems in international development.
"Though there are a number of big companies working in the area of global development, they don't typically have engineering staff," she says. "With the right knowledge base and just a couple of years, it's possible to make a real impact."
Engineering