Via daily Zoom sessions, U of T researcher answers people's questions about COVID-19 vaccines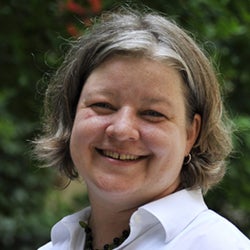 Tara Moriarty has been tracking and reporting COVID-19 cases in long-term care since the pandemic began. So far, one in five Canadians diagnosed with the disease and living in these settings has died.
Disturbed by that grim statistic, Moriarty took to Zoom earlier this month to answer questions on vaccine safety from people who live in, work in or visit long-term care or retirement homes across the country.
She's hosted online meetings every night since.
"As much as possible, we want to make sure people in this sector are vaccinated. Outbreaks in those settings cost lives," says Moriarty, an associate professor in the Faculty of Dentistry and Temerty Faculty of Medicine at the University of Toronto.
"Some health-care workers are uncomfortable taking the vaccine. [Others] are themselves elderly and have a spouse in long-term care or a retirement home and are eligible for the vaccines, but they are unsure whether to take them."
The best way to combat vaccine hesitancy, according to Moriarty, is non-judgmental, one-on-one dialogue with the option of anonymity. 
Moriarty has been keenly following news about the rollout of COVID-19 vaccines provincially and across Canada. She is also projecting the trajectory of the virus – both in terms of case numbers and deaths in long-term care settings.
"By my count, there could be nearly 7,000 deaths across Canada in the next 28 days based on the current weekly death increases, and about 5,000 of these deaths will likely be people living in long-term care and retirement homes," she says. "Most new cases contracted in long-term care and retirement homes that result in death won't appear in reported deaths until at least mid-February."
Most deaths from the virus in Canada have occurred in long-term care, and governments have prioritized vaccination for workers and residents in these settings.
Moriarty has received thousands of e-mails about the Zoom sessions, which have attracted hundreds of participants. Several care homes and unions have asked to share a link to the sessions since Moriarty tweeted about them, and some have inquired about holding their own sessions.
Plans are also underway to offer sessions at other times and in different languages.
Many questions participants ask have been straightforward. What's in the vaccine? How does it work? What makes an mRNA vaccine different from traditional vaccines?
Other questions require more customized answers, such as whether the vaccines are safe for pregnant and breastfeeding women, or for cancer survivors and those with compromised immune systems.
Several experts have joined Moriarty in the sessions to help provide information, including pharmacists, physicians, molecular biologists and a geriatrician.
Moriarty's lab at U of T explores how Lyme disease spreads. She has become comfortable countering skepticism and facilitating difficult conversations through various roles related to her research – skills she has utilized during the pandemic.
"There's such a massive amount of information," says Moriarty. "I can sift through it quickly. I know what to pick out. But the large majority of people can't do that swiftly. And people value having a person they can see and talk to who can help – it's like a facilitated conversation."
Moriarty has first-hand experience with the risks and anxiety facing many older adults during the pandemic since her mother has dementia and lives in a long-term care facility.
Moriarty also worked as a personal support worker during her undergraduate studies, as well as during most of her PhD studies in anatomy and cell biology.
"I hear people's stories and worries during the Zoom calls," she says. "There's been so little support for this sector despite it bearing a massive toll in this epidemic. People who work in this area are traumatized and yet they're expected to work miracles. It's incredibly difficult work and we've thought very little about helping them."
The sessions take place at 8:00 p.m. EST and can accommodate up to 100 participants. Health-care providers and scientists knowledgeable about COVID-19 vaccine safety can also sign up to volunteer.
Medicine