Creative Destruction Lab launches new program focused on innovations that tackle cancer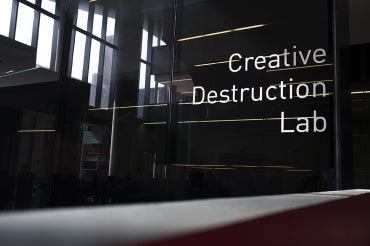 The Creative Destruction Lab (CDL) is partnering with the Canadian Cancer Society to launch a new program called CDL Cancer that will support efforts to commercialize cancer research.
The seed-stage accelerator, which was conceived at the University of Toronto's Rotman School of Management and boasts a global network of investors, mentors, scientists and inventors, is accepting applications from founders who are developing tools and technologies pertinent to cancer research, prevention and potential cures – as well as innovations that improve patient quality of life.
The program will run through CDL's Health and Neuro streams, based in CDL-Toronto at Rotman and CDL-Vancouver at the University of British Columbia.
"Companies accepted to the CDL Cancer program benefit from trusted expertise in cancer control and a national view of gaps and opportunities in cancer care that should be addressed to benefit the health of people in Canada, in particular underserved populations," CDL stated in a press release. "This could include new ways to detect cancer earlier, screening methods tailored to communities and advancements in precision medicine."
The Logic reported that CDL Cancer is the accelerator's most specialized program to date, and adds to a roster of streams that run the gamut from AI and fintech to energy and agriculture. "Like its other cohorts, CDL Cancer will run over nine months, and participating companies will get access to mentorship to hone their business strategies and ideally land investment deals by the end of the program," The Logic noted.
UTC