COVID-19: U of T Scarborough partners with city, aid organization to help local food banks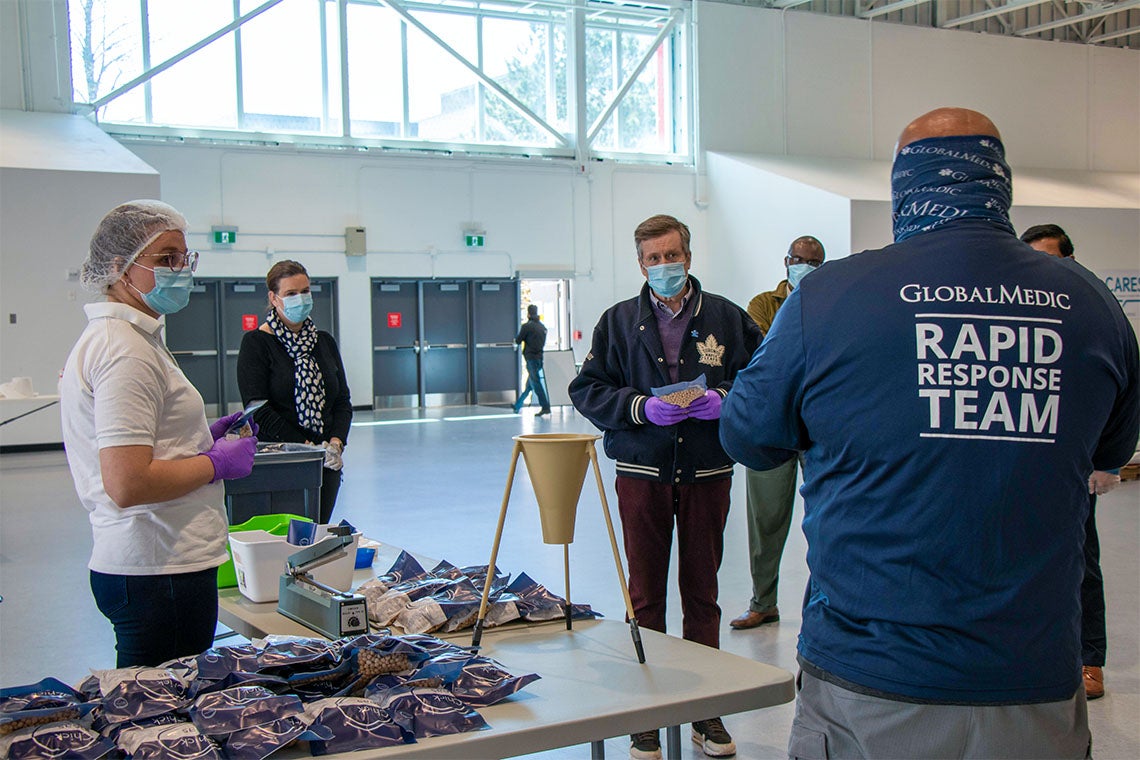 To Juanita Muise, volunteering for the CARES project – Collective Action and Response for Everyone in Scarborough – was a no-brainer.
The project involves repackaging food, purchased in bulk, for distribution to food banks in the Scarborough and Durham areas, as Toronto Mayor John Tory explained at a carefully distanced opening event at the University of Toronto Scarborough this past weekend.
To make it all happen, U of T Scarborough is working with the crisis-response organization GlobalMedic, local councillor Jennifer McKelvie and City of Toronto staff.
"There was a time when I needed help – I know what it's like," says Muise, U of T Scarborough's Indigenous engagement co-ordinator. "This is a really great partnership – everyone working for the common good."
The event centre in U of T Scarborough's Highland Hall has been transformed into a packaging centre where volunteers – initially involving city staff, but now comprising U of T Scarborough staff and students and other community members – repack food delivered by GlobalMedic in containers weighing up to 45 kilograms. At packing stations, they create 500-gram bags of rice, lentils, barley, chickpeas, green peas and kidney beans that food banks can set out on their shelves.
This week the volunteers will also be packing hampers of food that, beginning the weekend, will be placed in people's vehicles via a contactless drive-through in a campus parking lot. In the future, GlobalMedic hopes to add sanitation packages that include soap, shampoo and the like. Fresh produce may also follow.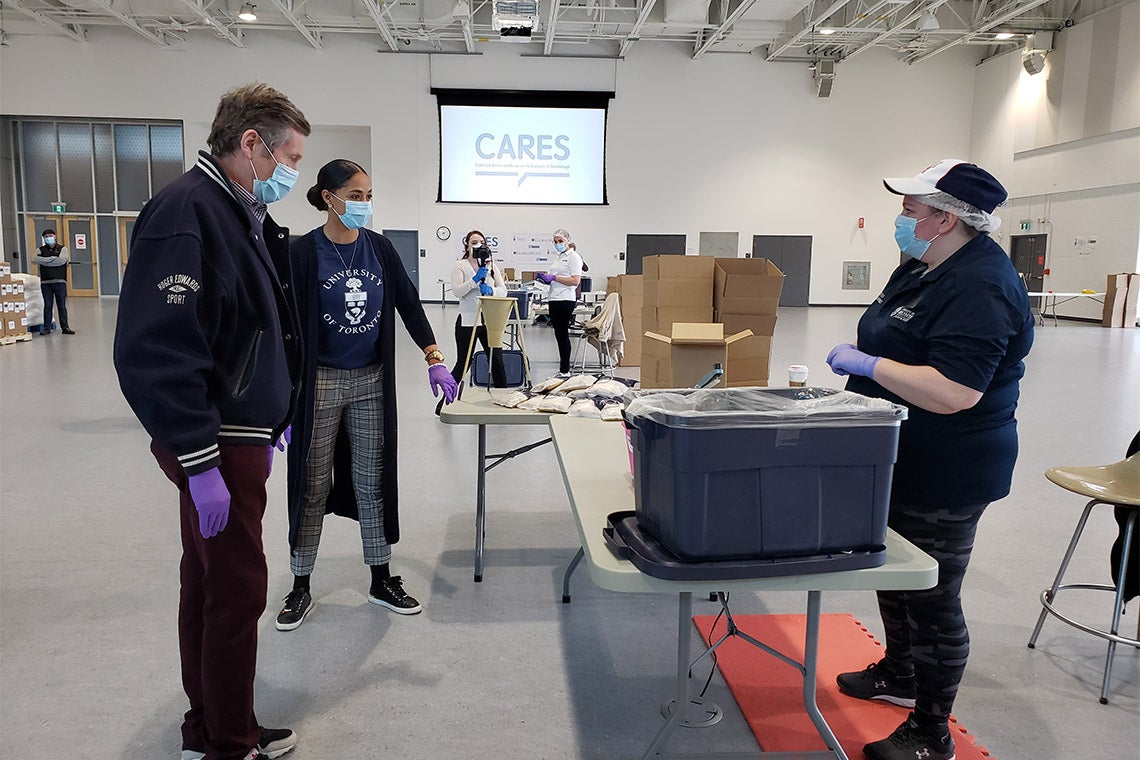 Toronto Mayor John Tory is given a tour while wearing a mask, gloves and staying physically distanced from volunteers (Photo by Tara Welch)
"With the huge number of layoffs due to COVID-19, food utilization through food banks has skyrocketed in Scarborough," says Andrew Arifuzzaman, U of T Scarborough's chief administrative officer. "But the food banks have had difficulty getting supplies, with donations down, and difficulty operating due to social distancing guidelines.
"We have done a lot of work on food insecurity issues at U of T Scarborough, and we've got the space and the volunteers, so we have an opportunity to live our values and to support our community."
Speaking at the ceremony in Highland Hall on Saturday, Tory said the city has worked to open food banks across Toronto. "CARES is one way in which we can serve a specific community that needs help during these challenging times," he said. "This is an inspiring partnership."
Local MP Gary Anandasangaree toured the facility along with McKelvie during the event.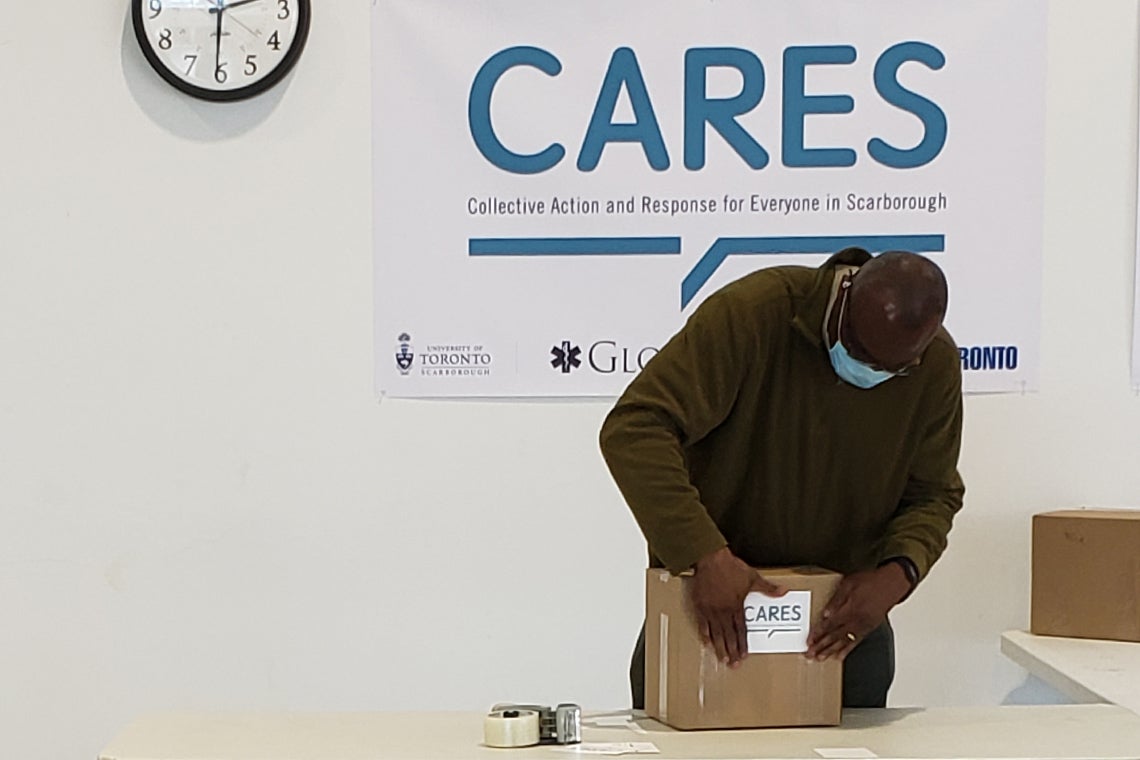 Vice-President and Principal of U of T Scarborough Wisdom Tettey at the CARES launch event (photo by Sitara Welch)
Arifuzzaman says the project came together after he spoke about food insecurity with McKelvie and representatives from Humber College at a working committee meeting in late April. They connected him to GlobalMedic and the following Tuesday he met at U of T Scarborough with GlobalMedic founder Rahul Singh, who serves as the organization's executive director. Two days later, the project was up and running in Highland Hall.
"It happened very quickly," says Arifuzzaman.
GlobalMedic, which is officially the David McAntony Gibson Foundation, has provided disaster relief in 73 countries since 2002, mainly through volunteers. Singh says U of T Scarborough is now one of three major distribution centres across the GTA, along with Humber College and the City of Brampton.
He notes that a bag of lentils in a grocery store might cost $2 to $3, but, by buying in bulk, "we can produce that same bag for about 60 cents."
GlobalMedic even puts professional-style labels on the bags –  part of an effort to remind recipients that the food is of high quality and to ensure a level of dignity. "It actually says McAntony's Menu," Singh says.
UTSC