COVID-19: After studying elder care, U of T students form group to support seniors and front-line staff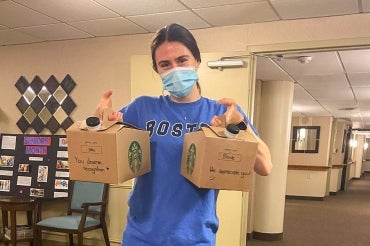 A group of students and recent graduates from the University of Toronto's Faculty of Arts & Science are pitching in to help support long-term care workers and seniors affected by the COVID-19 pandemic.
Seven students who are taking a course that covers topics such as Alzheimer's, aging and elder care created the Student Association for Geriatric Empowerment (SAGE) earlier this spring.
Co-founder Rowaida Hussein, who just graduated with an honours bachelor of science degree with a double major in neuroscience and cell and molecular biology, says SAGE's mission is to support front-line workers and elderly people during the COVID-19 crisis.
"As a former volunteer at a long-term care facility, I can't imagine how residents are feeling. I can't imagine how staff are feeling," says Hussein, who was a member of Trinity College. "We're in a position right now as students to do something and help out, so why not?"
SAGE is currently working on four projects to help senior residents and staff during the ongoing pandemic, focusing on supporting three long-term care facilities in the GTA.
The first initiative, dubbed the "Community Care Project," involves partnering with businesses and restaurants to provide long-term care staff with coffee, baked goods, meals, energy drinks and self-care products.
The second project, called "Companion Calls," involves volunteer students reaching out to residents in senior homes to combat isolation and loneliness.
Rowaida Hussein, co-founder of SAGE, in Amsterdam during a class trip to tour senior care facilities (photo courtesy of SAGE)
The second project is led by Vanessa Rezai-Stevens, who also graduated in June with an honours bachelor of science degree and a major in neuroscience and minor in immunology and forest conservation. She was a member of St. Michael's College.
"These are video chats between student volunteers and residents," says Rezai-Stevens, who is working at the O'Neill Centre for long-term care in Toronto this summer. "Even just a short conversation with a friendly person can make all the difference in their day."
Upcoming projects include "Encouragement Notes," which involves volunteers sending personal letters to front-line workers expressing how much their efforts and commitment are appreciated.
"These are the people who have devoted their careers to caring for one of the most vulnerable populations, despite dangerous working conditions," says Rezai-Stevens. "I saw first-hand how hard nursing and care staff were working to keep residents healthy and safe. They really deserve everyone's utmost gratitude and appreciation."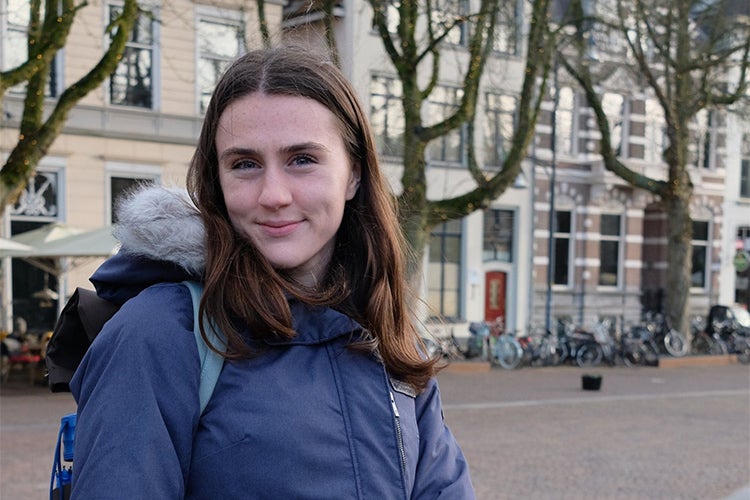 Vanessa Rezai-Stevens is leading SAGE's Companion Calls project, with volunteers reaching out to seniors through video calls (photo courtesy of SAGE)
Later this summer SAGE also plans to unveil its "Bloom Together" gardening project, giving residents the chance to boost their emotional and mental well-being.
"Gardening is really helpful at nursing homes – it increases social engagement and the feeling of community," says Hussein. "We thought, 'It's summer, let's try and sponsor some tools, flowers and soil. We're getting packages together very soon.'"
In addition to their U of T lectures and course materials, Hussein, Rezai-Stevens and other SAGE members say they were motivated to act after joining their professor on a class trip to Amsterdam to learn about new strategies and social innovations for caring for seniors in Europe.
"We visited long-term care facilities to see the kinds of social and structural systems that they have in place to enhance the quality of life for their elderly," says Franco Taverna, an associate professor, teaching stream, in the Faculty of Arts & Science's human biology program who taught the class that inspired the student group. "That trip really inspired them to explore opportunities here.
"I'm very impressed with what they've been able to accomplish."
Hussein says the class coupled with the pandemic's devastating impact on Canada's long-term care sector caused a light bulb to go off. 
"Something clicked in my mind," says Hussein. "I can't just sit there with all the knowledge that we've gained."
SAGE is looking for more volunteers for all of their projects and encourages students to follow their activities on social media.
"The message that has come across the most to me from our efforts is: 'Thank you for thinking of us', which tells me we haven't been doing enough as a community," says Hussein. "It's really touching to hear but this means there's more work to do."
Arts & Science