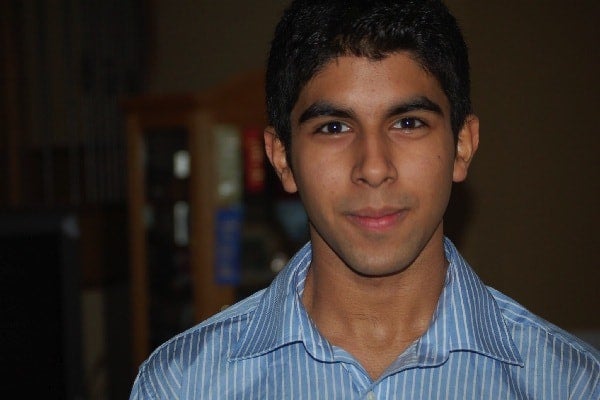 Could this first-year undergrad be the (next) Einstein?
His idea – creating electricity with keyboard typing – makes finals of competition
Deep Prasad is wasting no time.
A first-year undergraduate in the Electrical Engineering program, and fellow of the Engineering faculty's ambitious Entrepreneurship Hatchery, Prasad could soon be named the "(next) Einstein" – if the popular vote continues to back his concept.
To become a top ten finalist, Prasad had to get the backing of a diverse panel of judges that included Nobel laureates, business and community leaders, and even the NBA's  Amar'e Stoudemire. (Read more about the [next] Einstein contest)
His idea of generating electricity by typing on a keyboard pushed Prasad into the final round of voting for the contest run by The Hebrew University in Jerusalem, in conjunction with the Canadian Friends of the Hebrew University.
Albert Einstein himself was on the first board of governors at The Hebrew University, and the innovation competition now bearing his name seeks to support similarly world-changing ideas as those developed by the father of the theory of relativity.
"There are many online competitions today, but most of them are very, very limited," CHFU President & CEO Rami Kleinmann told Shalom Toronto. "Everything is generally limited to a specific area or niche. We said that we want to encourage free and creative thinking."
"Albert Einstein, who came up with the theory of relativity, served as a clerk in the patent office of the Swiss mail service. He didn't sit in some complex laboratory with all kinds of modern accessories."
Prasad has already been singled out as one of the innovation stars of his cohort, as he and his brother continue to develop technology to reduce "vampire power" wasted by electrical appliances. (Read the U of T News story on the Prasads' concept)
"Deep's curiosity and eagerness to explore is very inspiring," says Joseph Orozco, director of The Entrepreneurship Hatchery. "We are proud that The Hatchery factored into his decision to study at U of T." (Read more about the Hatchery)
Prasad explained his newest concept to U of T News.

What is your (next) Einstein idea?
My idea for the next Einstein competition is based on harnessing energy that is generated by typing. Basically, when you press down on anything with force, that energy can be absorbed and converted to electrical energy.

How did you come up with the concept?
I keep something called an "Ideas Journal" where I write down a new idea everyday, and document how one could go about making it. This happened to be one of the ideas from my journal. I got the idea when I was walking up a stair case and realized how much gravitational energy we exert on to the stairs. On a smaller scale, I wanted to harness a similar type of energy, so I settled on the idea of keyboards that generate electricity when pressed on.
What kind of impact could this idea have?
One of the greatest problems in today's world is the way we harness energy, how we use it, and lack of energy in general. With over 300 million keyboards sold, even a fraction of this technology integrated in these keyboards could make a big difference. Imagine seeing a light bulb turn on as you type, or charging your own laptop without needing to plug it in to an outlet as often.
Furthermore, we could attach energy storing units that could be put away for later use, like batteries, or even shipped off to developing countries. 
What are your goals if you win the contest? What's next if you don't win the contest?
If I win this contest, I plan on putting away the first $3000-$4000 for strictly research purposes. My design requires something called Piezoelectric materials which actually help to convert different types of energy into electricity.
Once I finish my work at the U of T Hatchery, I will begin research into developing a viable product that can be distributed through a large channel, such as retail, or even KickStarter. The goal is to sell attachable keyboards first, and then hopefully partner up with laptop design companies.
If I don't win this contest, I will just start putting money away little by little, so I can eventually build the idea on my own during my spare time. 
How has U of T helped you develop as an engineer and social entrepreneur?
The most relevant program at U of T that has helped me develop as both an engineer and an entrepreneur is the Hatchery program. It assigns a mentor and co-mentor to each team where they help the team to bring a product to market, while also teaching them important business skills. My mentor for Hatchery is Professor Jonathan Rose, who is very helpful in both the technical realm of things, and entrepreneurial side too. He is mentoring my younger brother and me, as we work to bring one of our inventions to market by the end of the summer. 
What else is on the horizon for you?
I look forward to seeing how this competition goes, and even more so what kind of an impact this idea will have. Because generating electricity through typing is one thing, but imagine if we can expand this concept to greater mediums of harnessing energy, such as putting this technology under roads, sidewalks, staircases, etc.