Convocation, Remembrance Day and Hart House's centennial celebrations: Check out these November events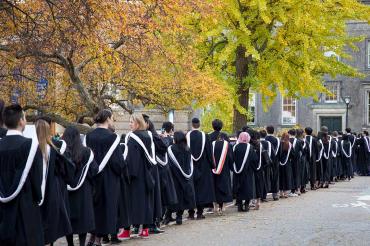 The temperatures may be dropping, but the number of events at the University of Toronto's three campuses remains high as we enter the final stretch of 2019.
Here's some of what's taking place this month:
Nov. 1
Celebrate Diwali on campus with U of T's Hindu Student Council. A pooja (prayer ritual) followed by a casual social will be held at the Multi-Faith Centre to mark the Hindu festival of lights.
Kick off November with U of T Scarborough's drama society at their fall open mic night. Talented students and faculty will be acting, singing, dancing, performing comedy and more. There will be snacks and refreshments.
Come to the U of T Scarborough Library Makerspace for a zine workshop with the Scarborough Studies Collective and explore the stories of Scarborough though a creative lens. Workshops will take place on Nov. 1 and 8.
Nov. 4
Convocation ceremonies are taking place this week at Convocation Hall. Visit our Convocation 2019 hub for more information and stories.
The Fields Institute is organizing its 2019 Fields Medal Symposium at the Isabel Bader Theatre. Brazilian mathematician and 2014 Fields medallist Artur Avila will deliver the public lecture. Admission is free and open to the public.
U of T Scarborough's artist talk series continues at the Doris McCarthy Gallery. Filipino-Canadian artist Patrick Cruz will be speaking about his work, which tackles issues of decolonization and globalization.
Nov. 6
The U of T Scarborough cricket club is hosting an India vs. Pakistan match at the Toronto Pan Am Sports Centre. The game will also be livestreamed.
Nov. 7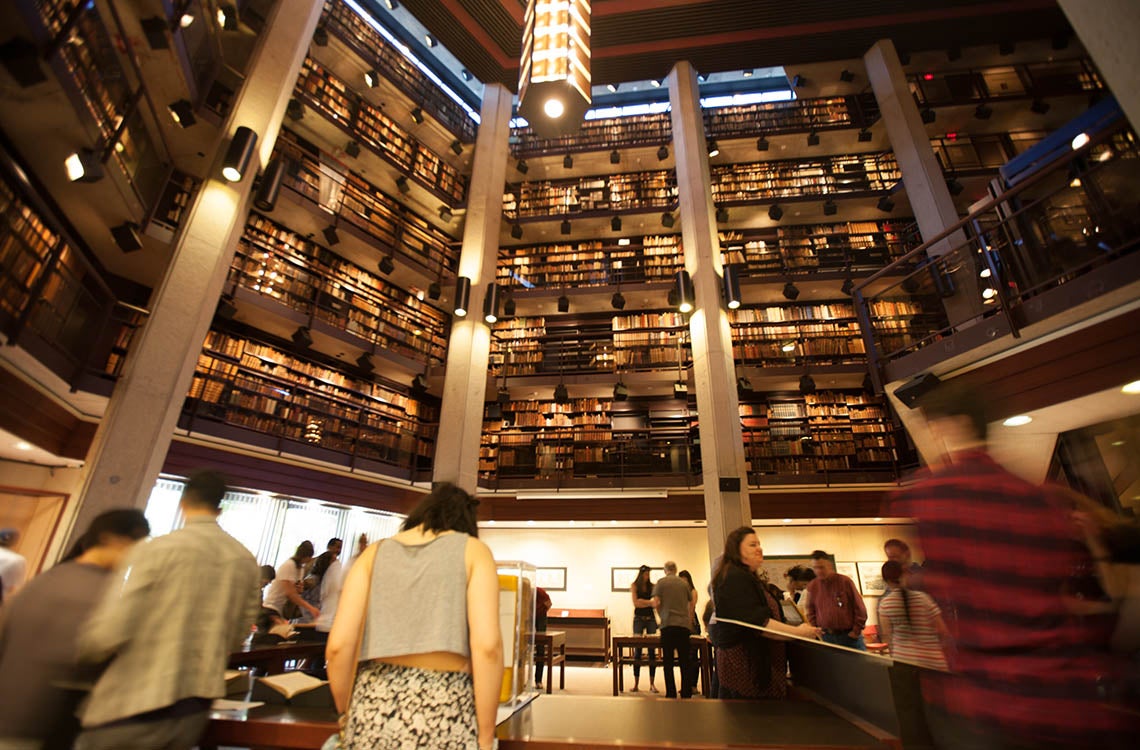 Visitors explore the Thomas Fisher Rare Book Library  
The Thomas Fisher Rare Book Library is opening its doors for its biannual open house. The library is the largest publicly accessible collection of rare books in Canada, with materials from as far back as the 16th century.
See the opening of New Circadia, an installation at a new, 7,500-square-foot gallery in the lower level of the John H. Daniels Faculty of Architecture, Landscape, and Design. The exhibition runs until April 20.
U of T's Sexual & Gender Diversity Office is marking its 20th anniversary at Hart House. The event will feature a panel discussion on LGBTQ+ communities, moderated by Lance McCready, associate professor of the Ontario Institute for Studies in Education, followed by a reception.
The Toronto Reel Asian International Film Festival is taking place from Nov. 7 to 15, showcasing films by filmmakers from Asia and the Asian diaspora around the world. Films will be screened at various locations throughout the city, including U of T's Isabel Bader Theatre and Innis Town Hall.
Former Liberal Party leader and writer Michael Ignatieff, the rector and president of Central European University in Budapest, will be speaking at the Munk School of Global Afffairs & Public Policy about populism and liberal democratic institutions. The event, which is sold out, will be livestreamed.
Nov. 8
The ancient Greek tragedy, The Oresteia, is being performed by Theatre Erindale at U of T Mississauga on Nov. 8 to 10 and 15 to 17. Tickets are $5 at the door.
Nov. 11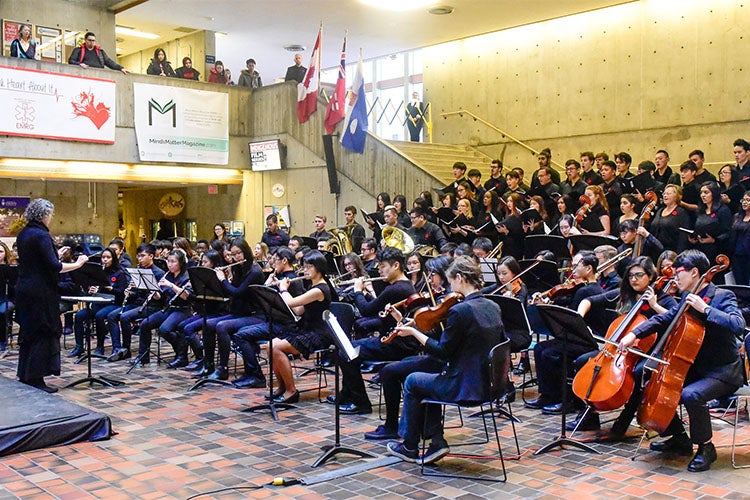 An orchestra plays during a Remembrance Day ceremony at U of T Scarborough (photo by Ken Jones)
It's Remembrance Day and the U of T community will pause to reflect on the sacrifices that Canada's veterans have made.
Nov. 12
As part of Hart House's 100th anniversary, artist team Rebecca Belmore and Osvaldo Yero will be unveiling their public sculpture entitled waabidiziiyan doopwining at the Hart House Great Hall. The name means to see oneself at the table and the sculpture seeks to honour the past from an Indigenous perspective and to imagine the future. The work will be unveiled at the 100th anniversary gala on Nov. 12 and the artists will host a discussion about their work on Nov. 13.
Nov. 13
Wendy Schmidt, the president of the Schmidt Family Foundation and the co-founder of the Schmidt Ocean Institute, will be delivering a keynote on issues relating to the ocean health as well as how scientific breakthroughs are helping restore our marine resources. Registration is free and the talk is taking place at the Health Sciences Building.
Explore the history of rap at Hip Hip 101 Café. Salman Rana, also known as YLook, will be leading a conversation on the role of faith in hip hop. The talk is taking place at U of T Mississauga's Maanjiwe Nendamowinan Building and is presented by Hart House and the Centre for Student Engagement and Inter-Faith.
Nov. 14
Acclaimed poet, author and documentarian Dionne Brand will be delivering the 2019 Harold Innis Lecture at Innis College. Her talk, "To look again: Fragments, history, fiction," will be followed by a discussion moderated by Marieme Lo, U of T associate professor and African studies program director.
Nov. 15

Catch the opening night of Hart House Theatre's production of Portia's Julius Caesar, which offers a feminist perspective of the classic Shakespearian tragedy. The play runs from Nov. 15 to 30. Tickets are $28 for adults, $20 for seniors and $15 for students.
Nov. 17
Hart House is pulling out all the stops for its centennial year. A concert series is being held throughout the school year to celebrate its 100th anniversary. The Hart House Singers will be performing on Nov. 17, followed by the Hart House Chorus on Nov. 24 and the Hart House Jazz Ensemble and Jazz Combo on Nov. 25.
Nov. 18
As part of the Faculty of Arts & Science's 2019 Wiegand Memorial Foundation Lecture, Cornell University professor and U of T alumnus Andrew Hicks will take you on a journey through the sounds of the cosmos, from the "hushed woosh of gravitational waves" to the big bang. The free lecture is taking place at 6 p.m. at the Campbell Conference Facility.
Nov. 19
With populism on the rise, Stephen Lewis will be delivering a keynote at Hart House to talk about global engagement in the age of Trump. Lewis has been a UN diplomat and the leader of the Ontario NDP. He'll also be joined by CBC Radio's Shelagh Rogers and journalist and activist Michele Landsberg. Admission is $10 and free for students with a TCard.
Nov. 20
Woodworth College is holding the annual Saul Goldstein Memorial Lecture. Anna Shternshis, a professor and director at U of T's Tanenbaum Centre for Jewish Studies, will discuss how the Holocaust was documented through music.
Winter Market returns to U of T Scarborough. Local vendors will gather at the Meeting Place in front of the Science Wing and will be selling fresh produce and artisanal crafts.
Nov. 21
This Is War is a play that follows four Canadian soldiers who struggle to deal with the psychological toll from their service in Afghanistan. The play opens at U of T Mississauga's Theatre Erindale on Nov. 21 and runs until the 24th and again from Nov. 29 to Dec. 1.
Nov. 22

(photo by Drew Lesiuczok)
A ceremony will be held for the official opening of U of T Mississauga's newest building, Maanjiwe Nendamowinan, which houses many humanities and social science departments. The building bears an Anishinaabemowin name that means "gathering of minds."
Nov. 27
What's fair in the age of #MeToo? Globe and Mail investigative journalist Robyn Doolittle will be at the Rotman School of Management talking about her new book, Had it Coming, which looks into the culture shifts that have come as a result of #MeToo.
Nov. 28
Is the future of meat plant-based? U of T's Lisa Kramer will be delivering a talk om Brampton on the marketplace for meat alternatives as well as the groundbreaking technology being used to develop these products.
UTC