From convocation and Remembrance Day to understanding AI: Check out these November events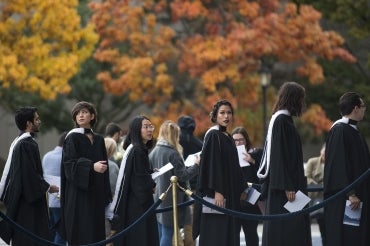 ​We are entering the final stretch of 2018, and whether you've been working hard, playing hard – or both – there are lots of events in the next month to round out your year. 
Here's some of what's happening:
Nov. 1
Gods, heroes and monsters grapple with love and loss as Ovid's mythological poems come to life at U of T Mississauga's Theatre Erindale. Metamorphoses is produced with Sheridan College and runs from today to Nov. 11.  
If you're pinched for time, drop in for a free cup of coffee and meet some new people at Coffee Connections, happening every weekday morning at Hart House. Check out their full events calendar for more drop-in fun.  
Nov. 2
Join artist Camille Turner as she guides Location: Fieldtrip Black Histories of Toronto, talking about hidden Black histories and challenging preconceptions. Register online for this walking tour through the Grange neighbourhood in downtown Toronto.  
Today's the last day for U of T Scarborough students to sign up for the 8th annual Chopped Up cooking challenge. Registration will open to alumni tomorrow, space permitting, and the competition itself will be on Nov. 7. 
Nov. 3
StartAI is the first conference of its kind about artifical intelligence that is aimed at undergraduate students. Held by U of T's Undergraduate Artificial Intelligence Group at the MaRS Discovery District, the full-day conference will feature speakers from high-profile tech industry experts to undergraduates making an impact in AI today. U of T's "godfather" of deep learning Geoffrey Hinton will deliver the keynote.  
Nov. 5
Congratulations  to our newest graduates. Fall convocation starts today and runs until Nov. 8. Check the full schedule for ceremony dates.
Nov. 6
Viral media is not solely a phenomenon of current times – there are literary works that held pop culture status back when they were written. Gain appreciation for these classics at  #Dante: Teaching the Classics through the Contemporary with lecturer Adriana Grimaldi, part of U of T Mississauga's Lecture Me! series.  
Nov. 7
Fuel your day with Free Breakfast Wednesdays by the U of T Mississauga Students' Union, which continue weekly until the end of the month.
The Future Cities Canada Summit is an opportunity to learn through collaborative, hands-on workshops and connect with change makers and fellow urbanists. The event is off-campus but speakers include Drew Fagan, professor at U of T's Munk School of Global Affairs & Public Policy and Suzanne L. Stewart, director of the Waakebiness-Bryce Institute for Indigenous Health at the Dalla Lana School of Public Health.  
Nov. 9
The annual Service of Remembrance will take place at the foot of Soldier's Tower on the downtown Toronto campus, with a recitation of the celebrated poem "In Flanders Fields" by alumnus John McCrae, laying of wreaths, and a new composition for carillon by alumnus Scott Allan Orr to commemorate the centenary of the Armistice.
At U of T Mississauga, a Remembrance Day ceremony will be held at 10:45 a.m. in the Meeting Place, William G. Davis Building.
Nov. 10
Come to the opening reception of Ecologies of Landscape, an art exhibition exploring our relationships with Earth. Curated by Mark A. Cheetham, a professor at U of T's department of history of art, for the Barbara Edwards Contemporary Project Space on King Street. The exhibition runs until Jan. 26.
The Reel Asian Film Festival is on this month, with some free screenings at the Innis Town Hall Theatre on the downtown Toronto campus. This Shaking Keeps Me Steady is on today, with A Time To Swim being screened tomorrow. Register for the events through the Munk School of Global Affairs & Public Policy.
What role can public opposition play in the context of cities and expressways? Watch Marshall McLuhan's short documentary The Burning Would, as part of U of T's Centre for Ethics' film series, and stay for the post-screening discussion led by former Toronto mayor John Sewell.  
Listen to a free performance by the U of T Jazz Orchestra this evening at Walter Hall, directed by Gordon Foote.  
Nov. 12
U of T Scarborough will mark Remembrance Day today, with a ceremony at The Meeting Place beginning at 10:40 a.m.
Nov. 15
Q21 is a weekly LGBTQ+ conversation café, a drop-in space for discussing the questions you want to talk about, hosted by the Sexual & Gender Diversity Office at U of T's downtown Toronto campus. Today's topic is race and racism. Upcoming weeks will include sessions on narratives and histories, and family and the holiday season.
Nov. 16
On this school PA day, take part in an all-day, family-friendly participatory history lesson called the Family Blanket Exercise, led by Dawn Maracle (Kanienkeha/Mohawk from Tyendinaga Mohawk Territory), to visualize and learn about Indigenous colonization. 
Nov. 20
Find books, DVDs and music CDs galore at the United Way Book Sale at U of T Mississauga today and tomorrow.
Exoplanets and the Search for Habitable Worlds is the title of a public talk by Sara Seager, a professor at MIT. Hear about the search for Earth-like planets at the 2018 Tuzo Wilson Lecture, hosted by the department of physics at U of T. 
Nov. 22
Tasting the Global City: How Scarborough Became a Mecca for Multicultural Food, is the title of a talk by Jeffrey Pilcher, a professor at U of T Scarborough's department of historical and cultural studies. Learn about the research coming from U of T Scarborough's new food studies program and the Culinaria Research Centre as part of the Celebration of Research Excellence lecture series. 
Nov. 26
Artificial intelligence is changing the future of work, and students today need to be ready for opportunities afforded by AI and take its challenges in stride. Learn more about the impact of AI in this talk with Professor Sven Dickinson, who is chief scientist and head of the Samsung Toronto AI Research Centre. 
Nov. 27
To what extent can "deepfakes" – realistic but fake videos and audio recordings – harm us?  Hear from York University researchers Regina Rini and Leah Cohen at this talk hosted by U of T's Centre for Ethics.
Nov. 29
Learn some Culture Moves with MoveU's free dance class, showcasing a variety of dances and the cultures that inspired them.
UTC