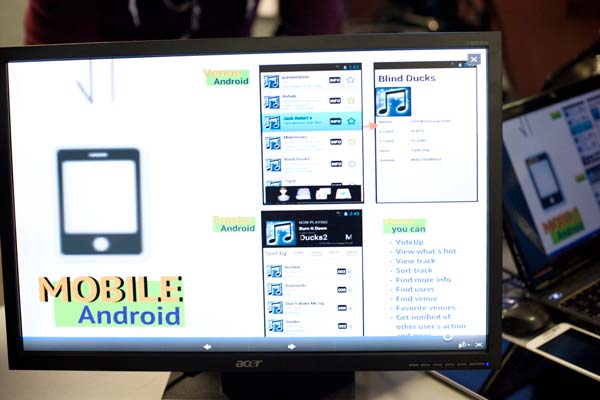 Computer science students win Young Entrepreneurs Challenge
UTM students create winning app
A team of U of T Mississauga computer science students won first place — and a prize of $2,500 — at the 2013 Young Entrepreneurs Challenge (YEC), where students pitched business ideas to a panel of corporate executives, Dragons' Den style.
Fourth-year students Sabin Sadeh, Mark Zaky and Andrew Kim presented a virtual jukebox app called eJuked at the competition held on campus in January. Teams were allotted 10 minutes to sell their business concepts in front of a panel of industry leaders and successful entrepreneurs.
The win was a surprise, said the students, who competed against 14 short-listed teams from universities across the province.
"There were a lot of great ideas, so we didn't even expect to make it to the final round of four teams," said Zaky. "When the judges awarded third place, and then second place, we thought, 'OK, we're out.'"
Another team of UTM computer science students won third prize.
EJuked shapes "the way people experience music in a public venue," said Sadeh, the team's spokesperson.The Android app allows business owners, club DJs and party hosts to create a customized music playlist and publish it to their guests. Guests can control the music from their mobile phones by choosing and voting for their favourite songs.They can also view which songs are up next in the playlist queue and how other patrons at the venue have voted.
"If a crowd comes in to a pub, they can play the music they want to hear by voting for songs they like and making requests," Sadeh said. "Ultimately, the music in the venue becomes a function of the people who are gathered there."
Business owners can use eJuked to deliver a better music experience, keeping customers in their seats longer and coming back to the venue again and again.
"We think the judges recognized that our concept is very flexible," Sadeh said. "It can be adapted for the needs of the crowd and the needs of the business owners. At the end of the day, the judges wanted to see 'where the money is.'"
In addition to the cash prize, the 2013 YEC award includes a lunch with potential investors.The eJuked team intends to develop its app for commercial sale, and hopes the resources and know-how of industry experts can help make that happen.
"We plan on adding more features— kind of like a special sauce," Sadeh said. "We want the sauce to give it a little kick, so that once users vote for a song, they will still be engaged with the app."
The 2013 Young Entrepreneurs Challenge was hosted by UTM's Digital Enterprise Management (DEM) Society.