Community of Support: How U of T's Temerty Faculty of Medicine is moving the dial on representation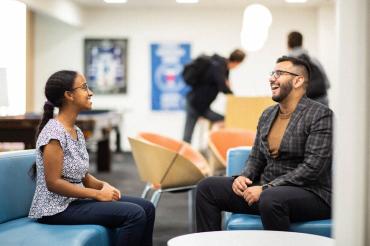 Ali Butt was an unlikely future doctor in 2014. A child of immigrants whose family had hit sudden health troubles, he worked three jobs to pay for undergraduate studies in kinesiology at McMaster University.
Today, Butt is a second-year student in the MD program at the University of Toronto's Temerty Faculty of Medicine with plans to specialize in family and emergency medicine. He hopes to be a clinician-educator and global health practitioner.
What changed Butt's career path? Hard work and persistence, no doubt – he keeps the poem 'Do it Anyway,' often attributed to Mother Teresa, on his desk – but he also credits the faculty's Community of Support program for helping him believe he could become a physician.
"I used to feel I had no place in medicine, partly because I had volunteered in hospitals and did not see myself reflected in the workforce," Butt says. "My mentors in the Community of Support were compassionate and understanding, and the diversity in their backgrounds helped me see a way forward in the field." 
The Community of Support program supports under-represented students who aspire to study medicine, health professions, rehabilitation and basic sciences – particularly those who are Indigenous, Black, Filipino or economically disadvantaged, and who identify as having a disability.
Program offerings include admissions information, experiential opportunities in research and leadership, and application-related support such as MCAT test and interview preparation.
Butt joined the Community of Support program RASI (Research Application Support Initiative), through which he gained medical research work experience, and SASI (Supporting Applications, Supporting Interviews), which pairs prospective students with current MD students who guide candidates on medical school applications.
He says he was inspired by those experiences and grateful for the opportunity to study medicine. Acceptance to medical school felt like winning the lottery, he says.
Now, Butt now volunteers with Community of Support as a mentor.
"It's been very meaningful as the person on the other side of those beneficial relationships. I want to give back and help foster change, starting with youth. To me, mentorship is part of what medicine is, or at least what it should be," Butt says.
Involving physicians and students to level the playing field was a founding idea behind the Community of Support, says Ike Okafor, a senior officer for service learning and diversity outreach who founded the program and has led it since 2015.
"Each one of our initiatives represents an idea that has been developed with current students and the communities we serve," Okafor says. "None of what we do would be possible without outstanding student leaders who take on roles as tutors and co-ordinators, as well as physicians and support from the communities we serve."
The program has seen remarkable success and growth. Since 2015, over 440 matriculants from the Community of Support have entered medical school, including 23 per cent of the second-year medical school class. This past summer, more than 1,000 students engaged with program opportunities at the Temerty Faculty of Medicine and other North American schools, and Okafor says new program growth will target learners interested in basic and rehabilitation sciences.
Enrolment of Black medical students in particular has spiked at U of T recently. The university accepted at least 14 students who identified as Black to the MD Program in 2018, and at least 18 in 2022. 
The success is attributable to a two-pronged strategy at Temerty Medicine that includes the Community of Support but also the Black Student Application Program, an optional entry stream that involves Black applicants writing a personal essay, and which enables file review and admission interviews by members of the Black community.
Most Black Student Application Program students at Temerty Medicine have come through the Community of Support, and other Canadian medical schools are now emulating that model, supporting Black students both before and during the application process.
Okafor and colleagues at Temerty Medicine have partnered with Western University, the University of Ottawa, McMaster University, McGill University and Dalhousie University on program delivery, and have supported program development at universities in British Columbia and Alberta.
This fall, McGill admitted 24 Black medical students through its Black Candidate Pathway; they all accessed McGill's own Community of Support Program, says Iyman Ahmed, a former project manager for both programs who now works in the management consulting industry.
Ahmed says the structure of programs at Temerty Medicine were formative in the creation of customized programs at McGill, and she cites U of T's numbers – an increase in Black medical students from one to eight per cent over four years – as key to the internal funding that helped launch the McGill programs.
Similarly, a new Black Applicant Admissions Process at the University of Calgary's Cumming School of Medicine helped enable the entry of eight students who identify as Black to the MD program this year.
Mairi Babey, a program co-ordinator with the office of professionalism, equity and diversity at the Cumming School, says the U of T programs were the main influence in how the school set up its Black applicant stream and Support to Entry Program, which, like the Community of Support, offers MCAT materials and test prep, as well as mentorship, to students from underrepresented groups.
"The Community of Support program in Toronto is really the envy, given its success and the number of partnerships they've established with Black, Indigenous and other health organizations," Babey said.
And while it's too early to tell whether the Support to Entry Program has had a direct and sustained impact on the demographics of MD students at the Cumming School, Babey said, the involvement of more than three dozen student volunteers as mentors in the new program has been heartening.
"Our mentors have been very active, they really want to give back," Babey says. "That bodes well for our MD Program and ultimately for patients, who will benefit from having physicians who understand their needs because they've walked similar paths in life."
Medicine