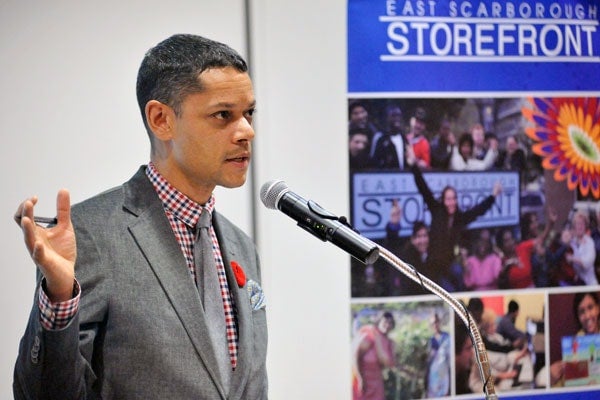 Community partnership serves Scarborough neighbours
The goal: to help communities build stronger, healthier neighbourhoods. The event: the third annual Community Connections Leadership Forum.
Students and faculty from the University of Toronto Scarborough joined local residents and representatives of community organizations recently for the forum, co-hosted by partner organization East Scarborough Storefront — a local hub that provides services and programs. The event showcased the collaborative research, educational and community-building programs in the Kingston Galloway/Orton Park (KGO) and Mornelle Court neighbourhoods. Students and faculty volunteer through the Storefront, acting as mentors and running camps and athletic events at UTSC facilities for local kids.
Keynote speaker Matt Galloway, host of Metro Morning on CBC Radio, reflected on community development and praised the partnership as a model example for Toronto.
"This is the type of partnership the city needs to know about because it's a story about the potential for positive change," says Galloway. "It's also a true example of a partnership because those involved are genuinely interested in each other and have equal opportunity to participate."
Susannah Bunce, a professor in the Department of Human Geography's City Studies Program and Malcolm Campbell, a professor in the Department of Biological Sciences and UTSC's vice-principal, research, say the goal is to strengthen the KGO neighbourhood, improve residents' quality of life and create a sense of belonging in the community.
"We want people to see KGO as home, not just a transient space," says Bunce.
Support from the United Way and the Galin Foundation has spurred a number of progressive initiatives for KGO community members, including several educational and recreational programs. Through hands-on learning and volunteer work with local charities and service agencies, UTSC students gain a nuanced view of everyday realities in underserved neighbourhoods. The resulting engagement and compassion informs their research on issues of importance to community residents and organizations, including housing, public transit and green space.
"This is about more than giving back. It's about understanding communities," says Bunce, who has studied housing and newcomer settlement issues within KGO.
It's not just the local community that benefits from the myriad programs, activities and research initiatives of the UTSC-ESS partnership,says Campbell. Lessons learned locally can be applied in future partnerships with other communities across the city, country and world.
"Collaborating hand-in-hand with our neighbourhood partners,we conduct the research and create the social innovations that positively transform communities," says Campbell.
Last November, UTSC and East Scarborough Storefront undertook a year-long study to examine their partnership's business model and the reasons for its success. Key findings were presented at the forum in the hope that it will help other communities develop similar successful models.
"We've worked hard together to develop a values-based relationship that honours the needs of the university and the community," says Anne Gloger, director of the East Scarborough Storefront.
"The plan now is to deepen our relationship but also share with others what we've learned through this partnership in order to better help other communities."
The partnership's successful projects includes a homework club that helps Military Trail Public School students. UTSC volunteers have shared their knowledge on water conservation with 200 community residents and the partnership offered residents an introductory environmental issues and research course. Local children are learning athletic and leadership skills in lacrosse, basketball, tennis and soccer camps.
"This event really highlights the partnership that has developed and the potential that exists for future growth," says Kim Tull, manager of community engagement and development at UTSC. "I'm really proud of everything we've achieved so far."