Community event to examine how COVID-19 worsened health inequities in eastern GTA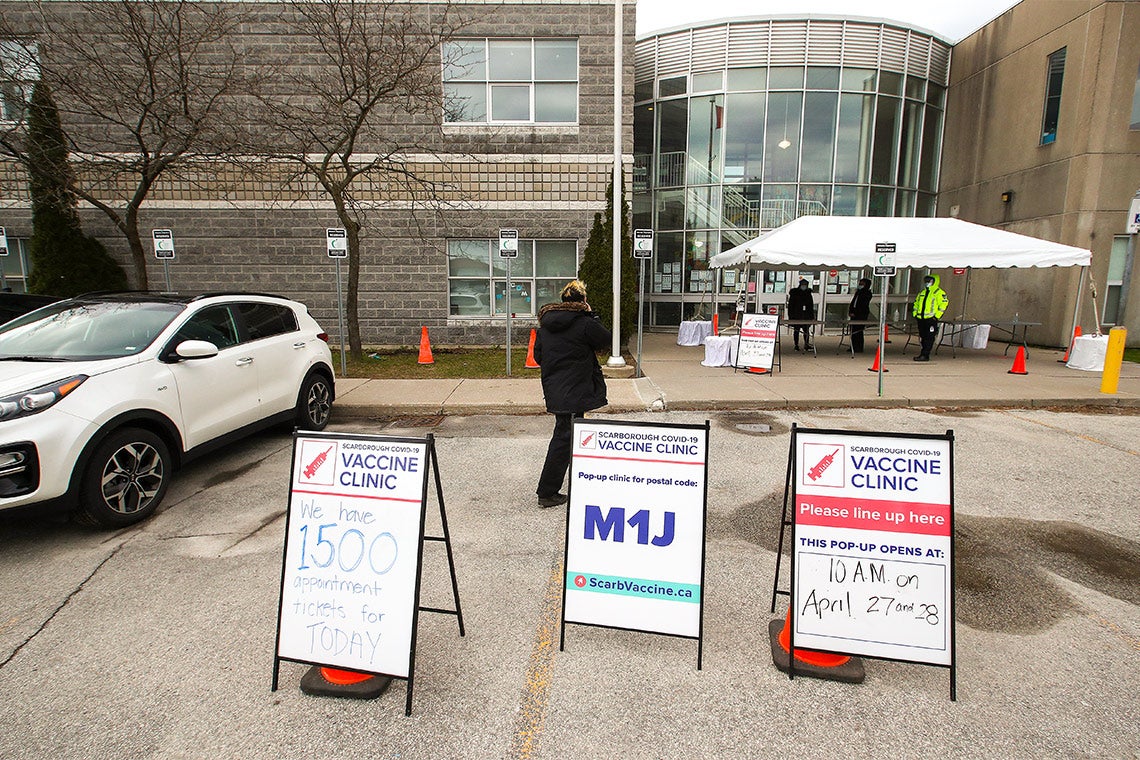 The COVID-19 pandemic has highlighted how the city's health-care system – often touted as universal – protects some better than others.
The Eastern GTA Community Health Pulse, a virtual public event hosted by the University of Toronto Scarborough on Dec. 7, offers a chance for residents to share their experiences and to ask experts questions about the pandemic experience in Scarborough. 
"This event brings together health-care experts, community leaders and academics to talk about the challenges that have been worsened by COVID-19," says Professor Irena Creed, vice-principal of research and innovation at U of T Scarborough.
"It's also an opportunity to talk about what can be done to address these challenges, especially as they relate to our health-care system in the eastern GTA."  
The event will include three separate panel discussions centred around important health topics such as: the impact of COVID-19 on mental health and well-being; fostering resilience through community relationships; and the disproportionate impact COVID-19 has had on Indigenous and racialized communities in the eastern GTA.
Notisha Massaquoi, assistant professor in the department of health and society at U of T Scarborough, says there are few health services in the eastern GTA geared specifically to support Black communities, despite having one of the largest racialized communities in Canada. 
"People in the community had to travel downtown to access services they actually trust because those services are specifically targeted to the health needs of Black woman," she says.
"It really showed us that not only do we have limited services for Black communities to respond to COVID in a culturally appropriate manner – those services that do exist were stretched."    
Prior to joining U of T Scarborough, Massaquoi spent 20 years as executive director of Women's Health in Women's Hands Community Health Centre, the only community health centre in North America providing specialized primary health care for Black and racialized women. Her hope is that the upcoming virtual event brings awareness to the need for increased health services for Black communities in the region.
Scarborough was hit particularly hard by COVID-19, says Bert Lauwers, acting chief of staff for the Scarborough Health Network, who will also be a panelist at the event.
He points out that 16 of 17 postal codes in Scarborough were designated as virus hotspots during the pandemic. 
"While the challenges that we faced were great, and at times sorrowful, our partners showed admirable fortitude as we worked together to protect our community," he says.
The conversations that take place at the event will help inform a larger symposium on health inequities in the eastern GTA set to take place in early 2022.
Julie McCarthy, a professor in the department of management at U of T Scarborough and panelist at the event, says the event will hopefully act as a springboard to create and further strengthen partnerships between community organizations and researchers dedicated to improving health services.
"We're trying to develop data-driven, evidence-based solutions that can lead to positive change," says McCarthy, who is an expert on organizational behaviour and HR management.
"The goal is to create a system that minimizes burnout and maximizes recovery for all community members, but also one that prioritizes the mental health of individuals, teams and organizations in the eastern GTA."
UTSC