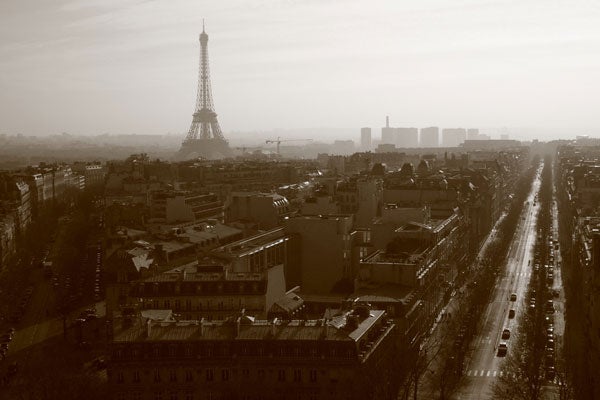 Cleantech hack: Challenging entrepreneurs to think of next-generation clean technologies
Catalysts that break down pollutants from car exhausts, functional coatings that prevent the build-up of dirt and grime on solar cells, software packages that help engineers design batteries faster and cheaper, new electric bicycles, and most energy efficient light bulbs.
What do these have in common? All are examples of recent technologies from the University of Toronto that represent the next generation of clean innovations.
Canadian entrepreneurs are looking increasingly beyond renewable energy generation to more subtle approaches to clean technologies (cleantech). This is part of an expanded definition of cleantech, which has embraced technologies that bring about improvements in product or operational performance while reducing materials, waste, energy, or promoting a more responsible use of air, water, and soil.
To help startups brainstorm and refine their cleantech ideas, U of T's Impact Centre held a joint TechnoStorm event with Sustainable Development Technology Canada (SDTC)'s Virtual Incubator™ at the end of February.
"This underscores our vision to create value to society based on great science and engineering," said Richard McAloney, the director of technology management and entrepreneurship at the Impact Centre, part of U of T's Banting & Best Centre for Innovation & Entrepreneurship.
"We believe that U of T and other institutions in our region produce great knowledge that with the proper encouragement could lead to significant product innovations and process improvements."
The Impact Centre created the TechnoStorm event two years ago by adapting the intensive IT hackathon concept to products in the physical sciences. The first event attracted more than 40 participants who hunkered down for two days to brainstorm solutions to problems in global health. The concept proved successful, and the very first session led to ten ideas, seven of which were later funded by Grand Challenges Canada Stars in Global Health awards.
The event on February 26 was the latest in the TechnoStorm series, but with a spotlight on environmental benefits, including climate change, clean air, clean water and clean soil. It was organized to help entrepreneurs with high-potential technologies with significant environmental benefits get in shape for submission to SDTC's funds with $1B in support. On behalf of the Government of Canada, SDTC funds clean technologies in Canada, and helps Canadian companies excel in the growing cleantech market. SDTC is piloting ways to work more closely with universities and their technology incubators/centres, and the Impact Centre has been a natural point of contact.
"Cleantech is at the nexus of responsible resource development and environmental goals," said John Adams, SDTC vice- president, industry. "Canada's universities are a hotbed of entrepreneurial spirit, and SDTC is eager to talk to the next generation of entrepreneurs to understand their technologies and help them develop their path to SDTC. Our funds will put investments to work supporting job creation and SME business growth opportunities from technologies that were created from these same universities."
The February event drew 12 early-stage companies from U of T as well as from Waterloo and Ryerson. Companies were encouraged to apply to enter the SDTC Virtual Incubator™ or apply for funding from the SD Tech Fund™.
The TechnoStorm builds on an earlier joint Impact Centre-SDTC initiative in 2013 where the organizations met to know each other's mandates and opportunities and is also the prelude to the Impact Centre's CleanTech Cluster initiative expected to be rolled out over the coming months.
"We'd like to see how we can push some of these innovations out of the university to create benefits to all Canadians and contribute to SDTC's vision of mitigating or adapting to climate change, and ensuring clean air, soil, and water," McAloney said.
The SDTC is keen to identify a pipeline of technologies coming out of universities, said Adams.
"Our purpose is to fund technology demonstration projects – it's that simple," said Adams. "We build a business case in collaboration with industry to fully understand what tools the market needs – and then we help companies developing those tools. We were incredibly pleased with the outcome of the pilot event with the Impact Centre – and are excited to take the program to the next level."