Claire Kennedy, a leading tax lawyer and former Governing Council chair, receives honorary degree
In her professional life, Claire Kennedy helps clients navigate complex tax and business issues – skills she drew on during her many years as a member and then chair of the University of Toronto's Governing Council.
"The University of Toronto has been incredibly fortunate to have someone as skilled and accomplished as Claire Kennedy serving on Governing Council for the past nine years, including four as its chair," U of T President Meric Gertler told U of T News in 2021, at the conclusion of Kennedy's term as chair. "We are forever grateful for her exemplary service to the university community."
A chemical engineer and a lawyer, Kennedy is one of the co-chairs – along with John Cassaday, Brian Lawson and Som Seif – of the university's Defy Gravity fundraising campaign, leading a coalition of volunteers devoted to inspiring the highest level of support for advancing U of T's excellence and aspirations.
Now, in recognition of her expertise as one of Canada's leading tax lawyers, and for her outstanding service to U of T as an advocate and volunteer, Kennedy receives a Doctor of Laws, honoris causa, from U of T.
Kennedy earned a bachelor of applied science degree in chemical engineering from U of T in 1989, then graduated with an LLB from Queen's University in 1994. She was called to the Ontario Bar in 1996.
She clerked at the Supreme Court of Canada, then took a position as a tax associate at a large commercial law firm in downtown Toronto. As senior adviser, clients and industries at Bennett Jones LLP, she has developed a reputation as one of Canada's leading lawyers in tax and transfer pricing, often representing large taxpayers during audits and disputes with the Canada Revenue Agency.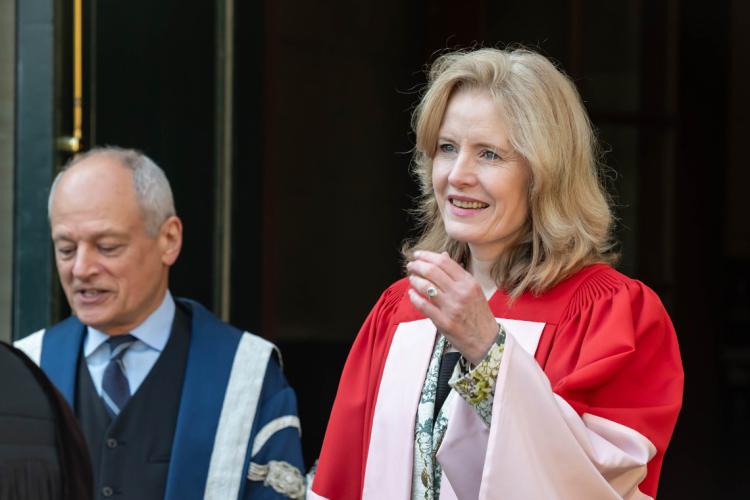 Her commitment to volunteering with U of T began more than two decades ago, with an advisory role at the department of chemical engineering.
In that capacity, she was a passionate advocate for the university's mission and its ability to transform lives – and society. "The U of T community can and does make an impact on pressing issues facing the world in virtually every area of study," she said in a 2022 interview. "Couple that with our unwavering commitment to accessibility and you have a powerful driver of inclusive prosperity."
Kennedy's tenure as Governing Council chair encompassed major milestones for U of T, including the completion of the Boundless fundraising campaign, which raised more than $2.6 billion for the university. She helped guide the council's response to the pandemic, which challenged the university to adapt quickly to unprecedented circumstances, and oversaw the adoption of a new real estate plan, known as the "four corners strategy."
Although she has served on other boards, including as director, she told U of T News that Governing Council is in a class of its own and "one of [the university's] institutional strengths."
Looking back, Kennedy credits her volunteer career at U of T to chemical engineering professor Doug Reeve, who in 2001 asked her to join his advisory board. "I almost told him that I thought he had called the wrong person with the invitation because it was early in my legal career and I wasn't sure what I could contribute to the board," she said in an interview with the university. "But there was a voice inside me that said, 'Go for it, Claire,' and I'm so glad I did. It was one of the best invitations that I've ever accepted."
Kennedy encourages others to volunteer as well, noting that her engagement with U of T has made her a better learner, listener and leader. "Through my association with U of T, I've gained skills, attributes, knowledge and networks that I use in my professional life on a regular basis," she said in the same interview. "[Volunteering] is a win-win proposition."
In 2015, Kennedy received the Citizenship Award from the Professional Engineers of Ontario. She is a frequent speaker on tax and transfer pricing topics and is an officer of the International Bar Association's Taxes Committee. She has taught corporate tax at the Faculty of Law at Queen's University and serves as the lead director for the Bank of Canada, as well as other boards.
UTC