Citizenship ceremony at U of T Scarborough brings more than a few surprises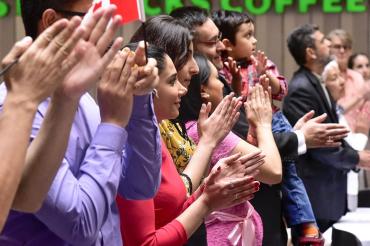 Despite being in labour, Julie Yap couldn't miss seeing her husband Dan receive his official Canadian citizenship at U of T Scarborough.
The soon-to-be-parents, who are originally from the Philippines, were excited to add another Canadian citizen to their family. "It makes today more extraordinary and special, because there's two big events happening in one day," Julie said. "I'm happy he was able to get his citizenship before I give birth."
Dan was one of the 40 new Canadians from 23 countries who received their citizenship at U of T Scarborough. Julie said  she plans on getting her own citizenship in two years when she reaches the eligible amount of time for permanent residents to become citizens.
The ceremony was also a time for the couple to reflect on what Canada has meant to them, and will mean to their child.
"We all agree that we should preserve Canadian culture and the notion that Canadians are nice and friendly and accommodating," Dan said. "If you bump into someone who needs help – we've all been there – we help them."
Julie and Dan Yap: She didn't want to miss her husband's citizenship ceremony at U of T Scarborough, despite being in labour (photo by Ken Jones)
While U of T Scarborough has been hosting citizenship ceremonies for years, this was the first year that the campus worked with the Institute for Canadian Citizenship (ICC), a national non-profit that delivers programs to inspire inclusion and encourage active citizenship. They also partnered with Toronto Ward Museum, an online museum that details the experiences of immigrant communities in Toronto.
The ICC will be hosting 75 community citizenship ceremonies across the country this year.
"We look for cultural spaces that open to the public, that are warm and welcoming," said Salima Jaffer, manager of partners for the ICC's Building Citizenship program. "We really look for a place that has a strong engagement with their community, and U of T Scarborough does absolutely fit that."
ICC ceremonies include their unique roundtable discussions. Before receiving their citizenship certificate, attendees sit in small groups and share their journeys to Canada, and their hopes and dreams as Canadian citizens. The discussions are facilitated by community leaders, after which one person from each group shares for one minute what their table discussed.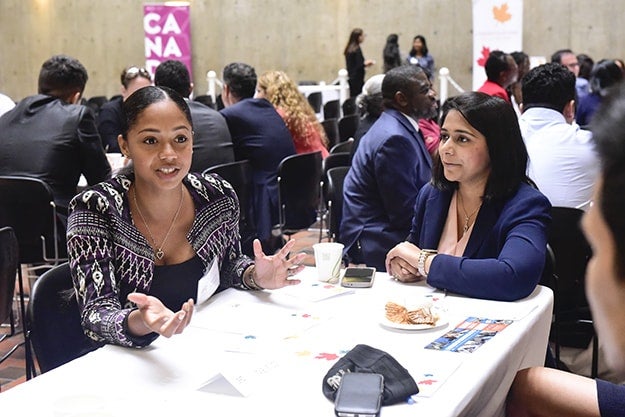 Melanie Blackman (left), a community development coordinator at U of T Scarborough, took part in Friday's citizenship ceremony (photo by Ken Jones) 
"A moment like this is really quite transformative for new citizens," Jaffer said. "It's giving them an opportunity to think about why Canada is important to them, why they chose Canada, and what is special about this country."
Wilton Gillard, who comes from Trinidad and Tobago, said the discussions were an opportunity to reflect and learn about one another.
"We talked about being Canadian – to be able to travel freely, to be able to live in peace, to be able to learn and enjoy each other and defend each other," Gillard said. "We stand up for what's right, no matter our background."
UTSC