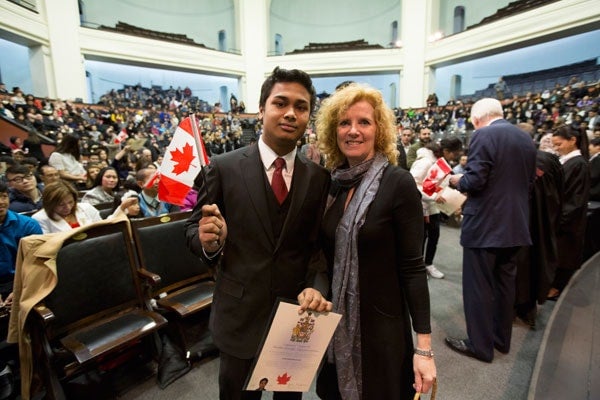 Almost 500 sworn in as citizens at U of T's Convocation Hall – including undergrad and professor
"I love the country of my birth but I love Canada," Suzanne Stevenson says. "It has the social values that I admire."
Becky Upfold sat on the steps inside Convocation Hall, keeping a watchful eye on 16-month-old Elsie, who has a tendency to wander. Elsie will learn when she's older just how special the day was for her mom. 
Upfold was one of 487 people who became Canadian citizens at a ceremony at the historic venue on Feb. 6. It was special not only because it was the first-ever swearing-in at the downtown Toronto campus, but because of the direct connections of some of the people to the university – including a faculty member and a student.
It was a day when bursting with pride was not simple hyperbole; a day when waving a tiny Canadian flag was done with enthusiasm and vigour and when taking a selfie was anything but self-indulgent behaviour.
It was a day when O Canada was belted out, not mumbled. 
But most of all it was a day about family.
President Meric Gertler, while congratulating everyone, noted how many families were in attendance. We are all fortunate, Gertler said "to live in this wonderful country," and the country is also fortunate to have new citizens, who become a "source of our nation's strength."
The ceremony has "special significance for the University of Toronto and the Toronto region more generally," Gertler said. 
"Our community, like Canada itself, reflects the diversity of the world. More than half of Toronto residents were born outside Canada and more than half of our students identify as so-called visible minorities."
Upfold came to Canada in May, 2011 from Britain. Her husband Chris, seven-year-old son Stanley and Elsie are all Canadian. She said "it is so lovely that all of our family now is Canadian. It is a privilege to become one."  Elsie, when not exploring through people's bags, took a Canadian flag from Chancellor Michael Wilson. 
Yaser Nabib, 18, was there with his mom Iftasum, both becoming citizens after arriving here from Bangladesh five years ago. Nabib is in first year of civil engineering at U of T.  
"I'm so proud of him," Iftasum said. "He is a really good student."
Suzanne Stevenson, born in Virginia, has been in Canada for 16 years. It was her son Kiva who said she should become a citizen.
A professor of computer science at U of T, Stevenson (pictured below) said she became quite emotional while being sworn in as a Canadian. "My son said it would mean a lot to him for me to do this. I love the country of my birth but I love Canada. It has the social values that I admire.
"I became quite emotional taking the oath, and I am quite emotional just talking about it now."
In an email to U of T News on Feb 8, Stevenson said that when she returned to Santa Barbara where she is on sabbatical, her husband, U of T Professor Sven Dickinson, was holding a Canadian flag.  
"Probably the first time that has ever happened in little Santa Barbara," she said.  
Twenty-four-year-old Jeanette Salvador and her sister Alexis, 14, from The Philippines, were both sworn-in. "It's a great feeling," she said. "My mother worked very hard for this."
It was also an emotional day for Shirley Hoy, vice-chair of the Governing Council and chair elect. Born in China, she said the ceremony brought back memories of when she became a citizen. Hoy (pictured below) said she experienced "the undeniable challenges you have overcome to be here today."
John McCallum, the Minister of Immigration, Refugees and Citizenship, administered the oath the new citizens repeated, first in French, then English. 
Speaking before giving the oath, McCallum (pictured at right with Gertler) said there are "certain parallels" between the people who are now Canadians and the 25,000 Syrian refugees Canada is accepting.
"It tells you something about the nature of the country you are about to join," he said. The government's plan to find homes for the refugees is a "national non-partisan project. It speaks to why Canada seeks out newcomers to build our country."
The civil war in Syria has created "the worst refugee crisis for decades, and during a time when other countries are reticent to receive refugees, we are standing out as a welcoming beacon," McCallum said.
He said "once you become a citizen, no one can take that away from you." All Canadians, he said, no matter how long they have been in the country, "have equal rights and equal responsibilities."
McCallum said it is a huge pleasure for him to take part in a citizenship ceremony, "especially in one of Canada's top universities."
Chancellor Wilson urged the new citizens to "learn more about your country, read our history, vote in elections and become engaged in your community." Such things, he said, will help them get "the full measure of being a Canadian."
Gertler said "throughout our history, Canada's greatest strength has been its people. We are blessed with abundant natural resources and a favourable location on the globe, but Canadians built and continue to build this great country, its institutions and its values."
Canada, he said, "embraces the broadest range of people, encourages the free expression of perspectives and ideals," and the U of T community is like Canada in that "we prize inclusion, respect and civility in our shared pursuit of the common goals." 
Gertler said as he looked out upon the new Canadians and their families, "I am immensely optimistic about our future. Your ideas, your traditions, your perspectives will make our great nation more vibrant, more dynamic, more successful and a better place for us all."