Toronto chef Nick Liu, of restaurant DaiLo, recreates a meal using highlights from an 1898 menu that is part of a collection of Chinese restaurant menus donated to U of T Scarborough from Harley Spiller (photo by Don Campbell)
Harley Spiller's collection of Chinese restaurant menus numbers about 10,000, but one of his favourites is from 1898 – a beautiful page with drawings of boats, lanterns and menu items written in calligraphy.
"It was probably the second menu I bought, and the only one I ever framed," he told Toronto Life magazine. "I was at the New York Antique show. They wanted $55 for it. I thought that was ridiculous. But I had $67 in my pocket, enough for dinner and the menu."
In 2014, Spiller donated the entire collection – considered the largest assortment of Chinese menus in the world – to University of Toronto Scarborough. Last month, he was a guest speaker at Chinese Food Everywhere, a two-day symposium that explored the cuisine's history in North America at U of T Scarborough and at Hart House on the downtown Toronto campus.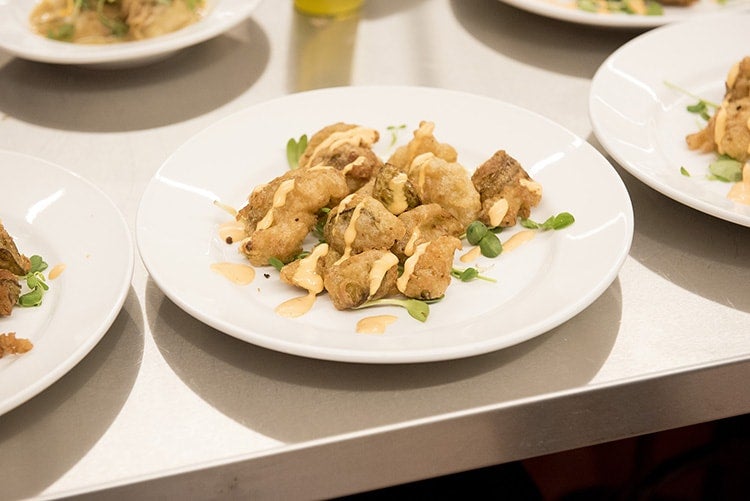 A dish prepared by chef Nick Liu for the Oct. 26-27 event, playing off a menu from 1898 (photo by Don Campbell) 
The 1898 menu – with what Toronto Life calls its "inscrutable menu descriptions like 'nut fruit,' 'water nut,' 'white plant' and 'rice bird'" – was a highlight of the symposium because it was the basis of a lunch that chef Nick Liu, of restaurant DaiLo, was preparing.
"This wasn't supposed to be a recreation of those dishes," Liu told Toronto Life. "The first draft was based on that menu, but it was so vague."
But to Spiller, who the magazine said spent hours earlier in the day showing the variety of menus to the assembled professors and graduate students, the lunch was a thrill. "For a collector like Spiller, the joy of the meal begins and ends with his toys finally coming to life," the magazine said.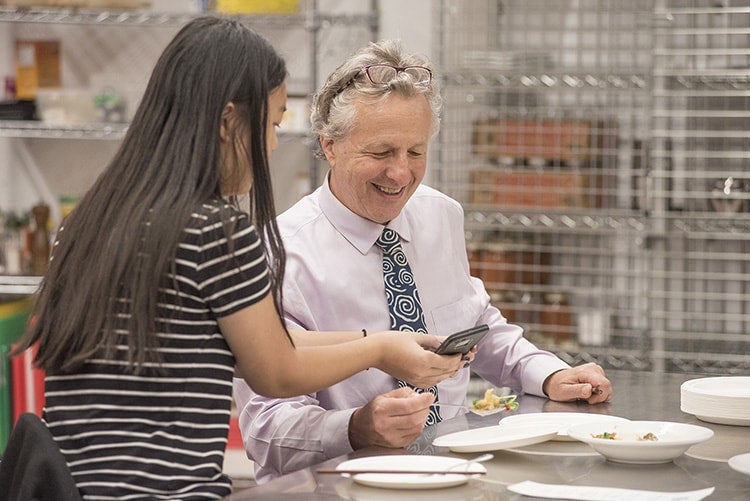 Harley Spiller (right) donated his collection of Chinese restaurant menus to U of T Scarborough (photo by Don Campbell) 
Other than the menus of the Spiller collection, Chinese Food Everywhere featured an installation by artist Karen Tam at Hart House's Barnicke Gallery that recreates vintage Chinese restaurants, and an exhibit that looked at how Chinese markets have been captured by photographers, featuring works by Rick Halpern, professor of history at U of T Scarborough and co-organizer of the symposium, and Mississauga-based artist Morris Lum.
"What makes this symposium a little bit different is that in addition to standard academic, scholarly panels there are some unorthodox sessions," said Halpern.
The event also gave participants the opportunity to be involved in a hands-on session with a Canadian selection of menus that have been catalogued from the collection.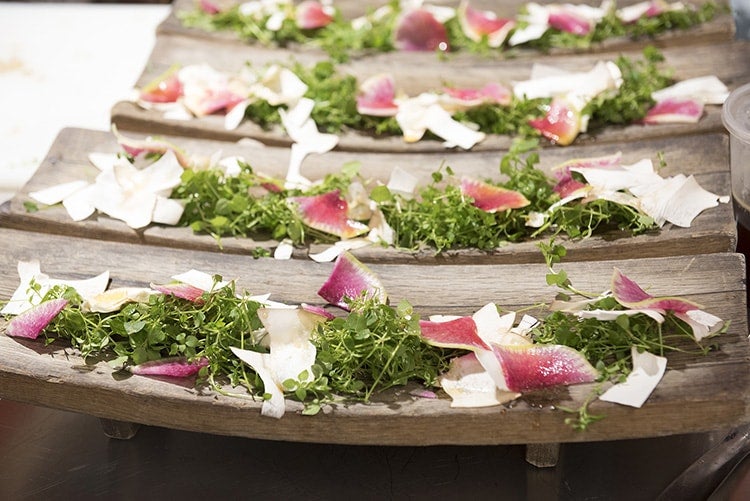 One of the creations from chef Nick Liu, for the two-day symposium. He worked off an 1898 menu that's part of the Harley J. Spiller collection (photo by Don Campbell)