Cherry blossoms and black holes: Check out these May events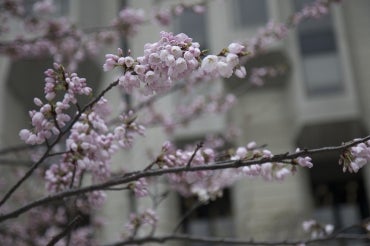 April showers have brought May flowers as the cherry blossoms outside Robarts Library begin to bloom. But the Instagram-worthy foliage isn't the only event getting people excited at the University of Toronto this month.
May is full of fascinating events – from city-wide science, architecture and photography festivals to talks by a Nobel Prize-winning physicist and a researcher on the team who captured the first-ever image of a black hole.
Here is a selection of events taking place on all three campuses this month:
May 2
Kids can learn about what it's like to work and study at U of T at Bring Our Children to Work Day. The annual event invites appointed faculty, librarians and staff to bring children in Grades 4 to 7 for an exciting day of activities. Registration is now closed but you can find out more about the events on the downtown Toronto, Scarborough and Mississauga campuses.
Faculty and students from U of T, York, Ryerson and OCAD have been working together on a research project exploring affordable student housing in Toronto. The group will be presenting some of their findings at StudentDwell+: Reimagining Student Housing, a two-day symposium held at York University.
Donna Strickland, Nobel Prize in Physics recipient for 2018, will be delivering the Welsh Lecture in Physics at U of T. She'll be talking about her award-winning work on ultrashort optical pulses.   
Hear from Harvard University's Peter Galison, a member of the Event Horizon Telescope collaboration, about what went into capturing the historic image of a black hole, at an event presented by U of T's Institute for the History and Philosophy of Science and Technology. 
May 3
Exciting news for the Robarts Library expansion – crews have begun to drill the concrete to connect the library with the new Robarts Common structure. Studying at Robarts may be a little loud, but you can ask staff at the ground floor information desk and second-floor Ask Us desk for earplugs.
Shutterbugs rejoice – Toronto's Contact photography festival is back, with captivating exhibitions taking place on U of T campuses: 
May 4
American artist Carrie Mae Weems will be speaking at U of T as part of the Contact festival. The MacArthur grant recipient, whose work has been displayed at the Metropolitan Museum of Art and the Museum of Contemporary Art, Los Angeles, will also be presenting her work at U of T's Art Museum and at locations across the city. Her lecture is sold out but you can join the waitlist.
May 5
Roll up your sleeves and join the U of T Trash Team for the annual Clean up the Don event, where you can do your part for the environment by picking up litter along the Don River watershed.
May 8
What makes a successful city? U of T's School of Cities is hosting an event that will explore the challenges and opportunities faced by big cities around the world for the book launch of Perfect City: An Urban Fixer's Global Search for Magic in the Modern Metropolis, by Joe Berridge, one of the world's leading urban planners.
Ahead of the G20 summit in Japan, the Centre for the Study of Global Japan and the G20 Research Group of U of T are hosting a one-day symposium to discuss the evolving agenda of the annual meeting of global leaders. Officials and scholars from around the world will be attending the event held at the Munk School of Global Affairs & Public Policy, including Takako Ito, consulate-general of Japan in Toronto.
May 11
Glowing bacteria, mutant flies, scavenger hunts and virtual reality tours are just a few of the displays and activities at this year's Science Rendezvous, the annual family-friendly festival. Here's what's happening on the downtown Toronto, Scarborough and Mississauga campuses.
May 13
This is the last week to see the work of some of U of T's talented artists at the Master of Visual Studies graduate exhibition and the Shelley Peterson art exhibition at U of T's Art Museum.
May 14
Listen to captivating stories told by members of Toronto's medical community at the department of medicine's annual Story Slam, in partnership with the Annals of Internal Medicine.
May 25
Explore some of U of T's most fascinating spaces at this year's Doors Open Toronto. It's your chance to admire the architecture in the Thomas Fisher Rare Book Library, explore One Spadina, and check out the new Myhal Centre for Engineering Innovation & Entrepreneurship, which will be hosting lightning lectures and interactive activities for kids.
May 28
Join urban thought leaders, policy-makers, planners, community advocates and business leaders to exchange ideas on ways to meet the challenges of governing cities in the midst of change at the Governing Cities in the 21st Century symposium. The event will feature experts including Michelynn Laflèche, vice-president of United Way Greater Toronto, Bill Peduto, mayor of Pittsburgh, and Richard Florida, University Professor at the Rotman School of Management.  You can learn more and register here or watch the livestream.
May 30
Tomas Chamorro-Premuzic will be at the Rotman School of Management to discuss his new book, Why Do So Many Incompetent Men Become Leaders? (And How To Fix It), which explores the flaws in a system that rewards arrogance and loudness over humility and wisdom.   
UTC