The non-profit launched by Facebook founder and CEO Mark Zuckerberg and Priscilla Chan is acquiring Meta, the company launched by Sam Molyneux and his sister Amy (photo by KAY NIETFELD/AFP/Getty Images)
A startup by a former University of Toronto student is the talk of Silicon Valley, Toronto and all tech centres in between after it was acquired by the Chan Zuckerberg Initiative earlier this week.
Yes, that Zuckerberg.
The Toronto-based company called Meta (known as ScienceScape when it lived in its early days at the university's Best Institute five years ago) was co-founded by Sam Molyneux, a former U of T PhD student in biomedical physics, and his technologist sister, Amy. The company uses an algorithm to provide scientists with all the latest research developments in their fields. 
In a statement published on Meta's site, Molyneux wrote:
"October 30th, 2010 marks the day that my sister Amy and I founded Meta on a mission to unlock scientific knowledge and accelerate the pace of discovery. In six years, through the hands and minds of our talented team of engineers and scientists, we figured out how to use artificial intelligence to analyze new scientific knowledge as it's published – along with the majority of what has been written, throughout modern history. Those efforts have led us to today.
"I am excited to announce that Meta will be joining the Chan Zuckerberg Initiative to bring what we have built to the entire scientific community, toward their goal to cure, prevent, or manage all diseases by the end of the century."
The financial details of the deal with the Chan Zuckerberg Initiative – the first investment by the non-profit – were not disclosed. The deal must still be approved by shareholders.
"I met [Molyneux] when I was running Entrepreneurship 101 at MaRS and we had a conversation about his aspirations," recalled Cynthia Goh, academic director for University of Toronto Entrepreneurship.
Although they lost touch for a number of years, he popped back up when his startup needed to expand and "camped out at the Impact Centre for a month or two."
"Even from the beginning you could see the spark in him," Goh said. "He has a vision and it's great to see that vision recognized by others. This purchase is a validation of that vision. I'm glad to see he pursued it, he persevered and it paid off."
Based in California, the Chan Zuckerberg Initiative was founded in 2015 by the Facebook founder and his wife with the belief that "we can make the world better for generations to come by uniting the greatest minds to solve the toughest problems."
And they believe Meta can help since it has developed "an AI that helps scientists read, understand and prioritize millions of scientific papers," explained Cori Bargmann, president of science, and Brian Pinkerton, chief technology officer at the Chan Zuckerberg Initiative in a Facebook post.
"Meta's tools can dramatically accelerate scientific progress and move us closer to our goal: to support science and technology that will make it possible to cure, prevent or manage all diseases by the end of the century."
In an email statement to investors and supporters, Molyneux (pictured below) said the deal means Meta "will be able to accelerate our team's work on helping researchers understand what is happening globally in science.
"We feel honoured and privileged to be joining the Chan Zuckerberg Initiative and the tremendous talent they are bringing together," he said. "This has only been possible thanks to the tremendous efforts of our team, investors and so many supporters along the way."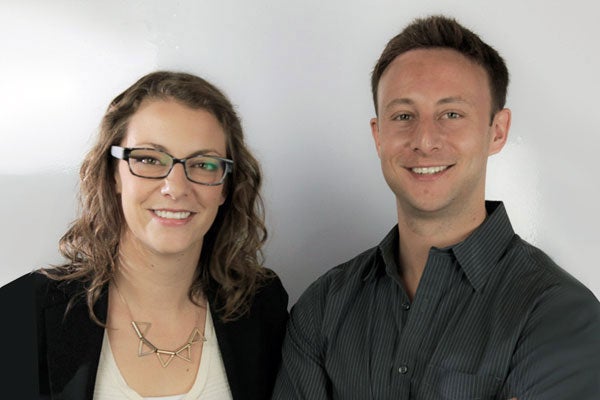 (Siblings Amy and Sam Molyneux founded ScienceScape, the forerunner of Meta, in 2010)
The idea for Meta grew out of Molyneux's research in biomedical physics.
"I was working on bone cancer research and I needed to figure out whom to work with," he told U of T News in 2014. "I spoke to people over a number of years and concluded that most researchers around the world are unaware of the papers being published every day. It is a crazy problem; nobody knows what is happening in science."
Researchers can hardly be blamed. With more than 4,000 scientific papers published in biomedicine alone each day, they simply can't keep up, he said. That's where Meta comes in.
"Meta uses artificial intelligence to analyze and connect insights across millions of papers," Bargmann and Pinkerton said in their statement. "It seeks out the most relevant or impactful studies in a scientific area the moment they are published, and finds patterns in the literature on a scale that no human being could accomplish alone.
The initiative is working to make the tool more powerful and will offer its tools and features "for free to all researchers," they promised.