Celebrating Hart House's 100th birthday: A photo gallery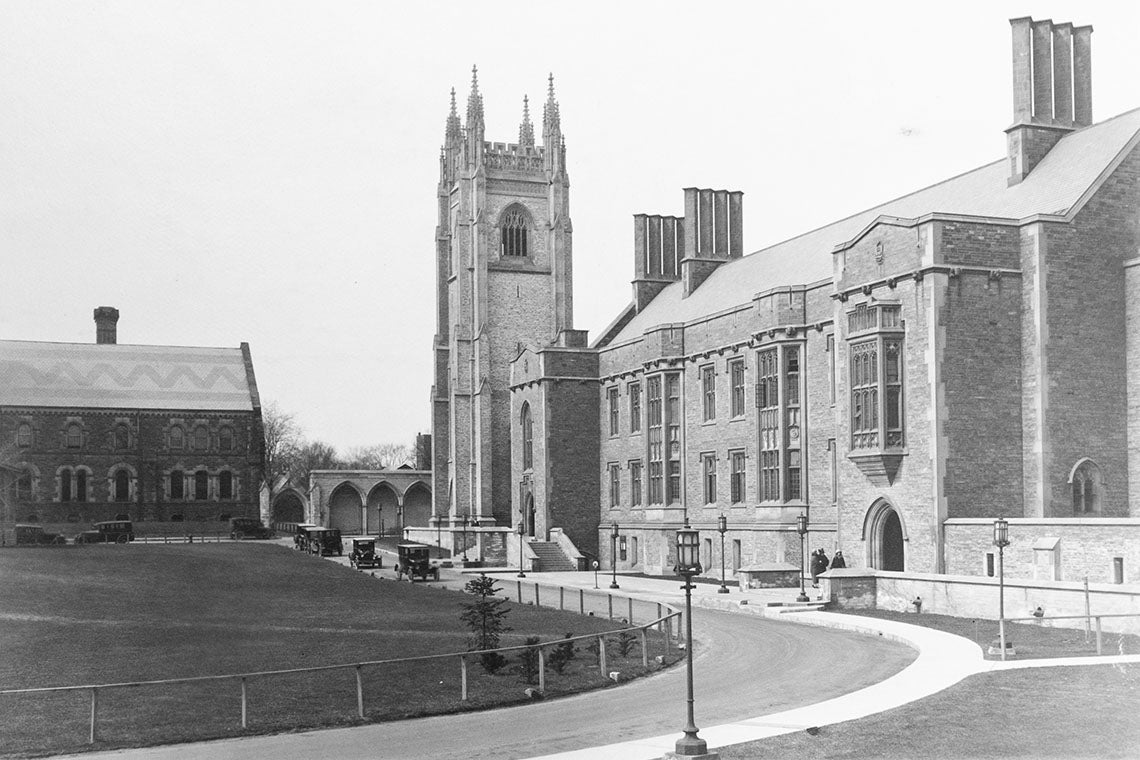 Hart House celebrates its 100th birthday today, but the building has served as a focal point at the University of Toronto – and, indeed, the city – for more than a century.
It got its start before the First World War when Vincent Massey, a University College alumnus who would become U of T's chancellor and governor general, convinced his family to fund a building that would serve as a place for recreation and co-curricular activities. The Hart in Hart House comes from Massey's grandfather, Hart Massey.
Construction began in 1911, with Hart House officially opening its doors on Nov. 11, 1919. But before that official opening, during the First World War, the building was used as a training and rehabilitation facility for soldiers.
There have been controversies over the century – women weren't given full access to Hart House until 1972 – but Hart House is now an inclusive space and continues to this day to be a focal point for recreation, wellness, music, visual arts, theatre, literary arts, dialogue and more.
"Today, as we embark on our 100th anniversary, Hart House is fully committed to ensuring that every student of this university – regardless of identity, background or ability – feels welcome at Hart House and sees themselves, their stories and their priorities reflected in what we do," says John Monahan, the current warden of Hart House.
"If we do that, I am excited by the potential for the 100th anniversary year to create unforgettable new memories for everyone who has ever engaged with the magic that is Hart House, as well as for those many who will be encountering Hart House for the first time."
---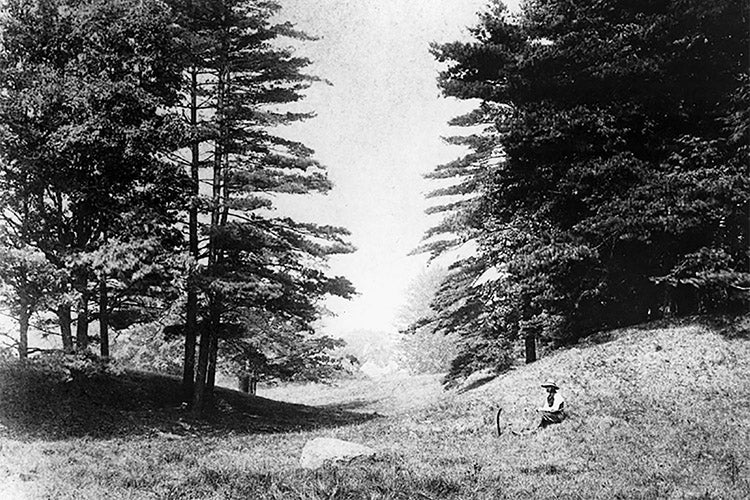 This undated photo shows the land on which Hart House was built. Hart House was constructed on top of the buried Taddle Creek, which had been an important gathering place for Indigenous groups, including the Huron-Wendat, the Seneca and the Mississaugas of the Credit First Nation  (photo courtesy of Hart House)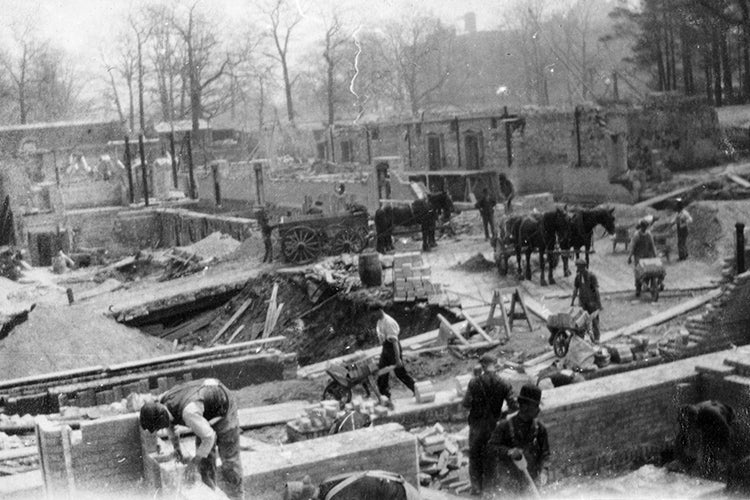 Under construction: This photo was taken after 1911. Massive foundations were needed to support the building, which pushed construction costs at the time from $500,000 to $2 million (photo courtesy of University of Toronto Archives)
Vincent Massey, his wife, Alice, and their two children pose in front of the Hart House cornerstone. The years 1911-1919 are inscribed on the cornerstone to mark the eight years of construction (photo courtesy of Hart House)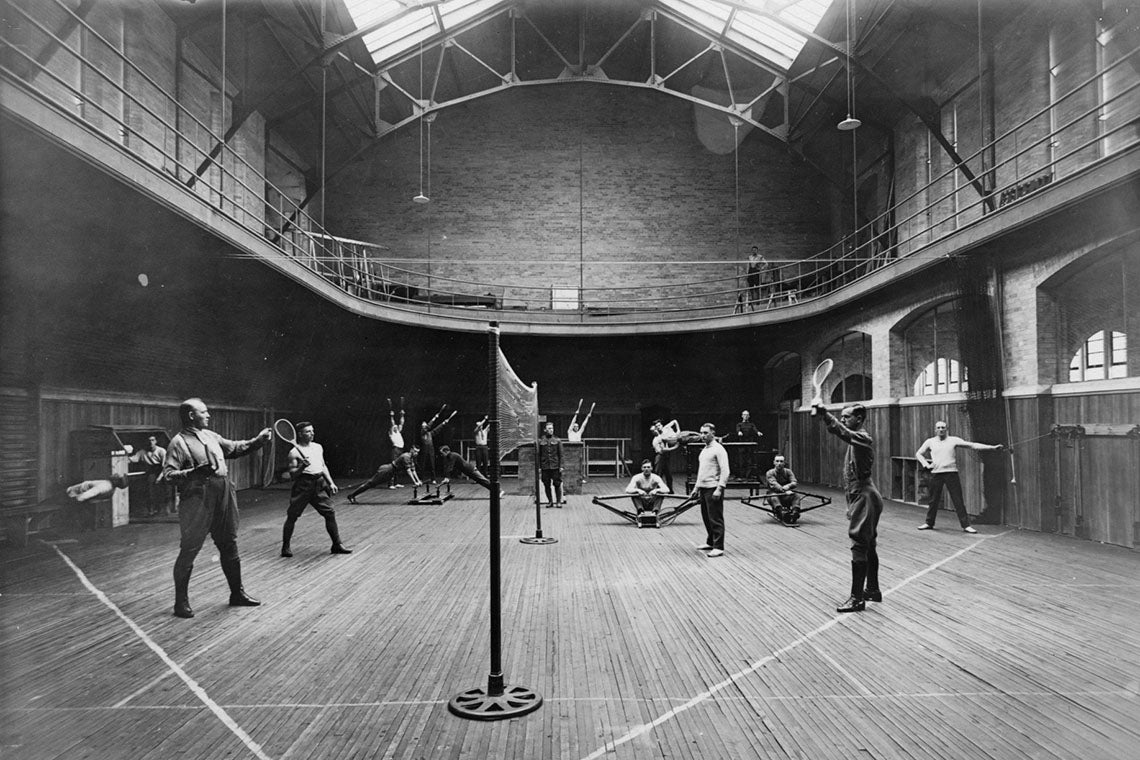 Before construction was finished, Hart House was used to help Canadian soldiers train during the First World War. Veterans used the building as a rehabilitation facility and are seen here playing badminton in the gymnasium in this photo taken between 1917 and 1919. Hart House officially opened its doors on Nov. 11, 1919, exactly one year after the war ended (photo courtesy of U of T Archives)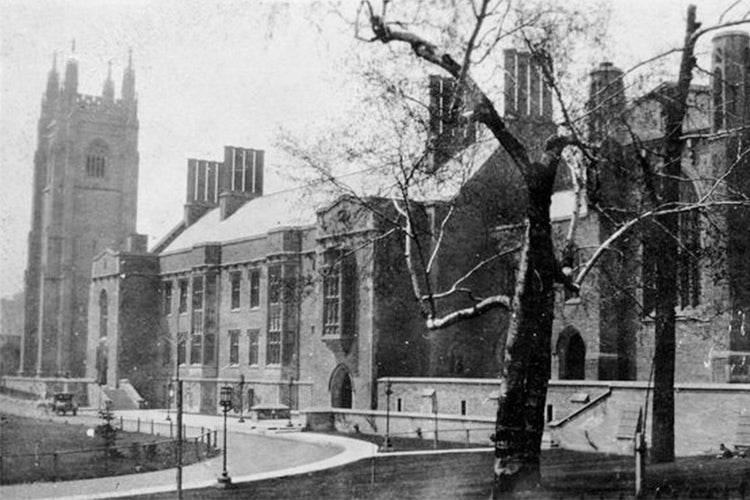 Hart House and Soldiers' Tower in the 1920s: Although Hart House was opened in 1919, Soldiers' Tower was not completed until 1924 (photo courtesy of Hart House)

Alumni gather in Hart House's Great Hall for a convocation banquet in 1938 (photo courtesy of U of T Archives)
Attendees dress up for the Hart House Masquerade Ball in 1939, organized by the Sketch Club. The Sketch Club, which would later become the Hart House Art Committee, used the ticket sales from the ball to fund their art acquisitions, some of which are still part of the collection today (photo courtesy of Hart House)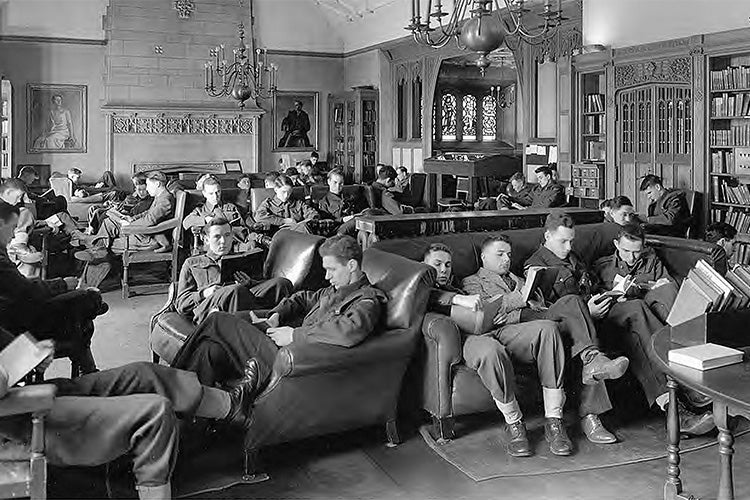 By 1939, the world was at war again. Hart House became a place of refuge for hundreds of British children who came to Canada to escape the war. Children learned to sketch and paint at the art gallery while the gym was turned into a games area and the Debates Room was turned into a children's library. In this photo from 1943, students in military uniforms lounge in the Hart House Library (photo courtesy of U of T Archives)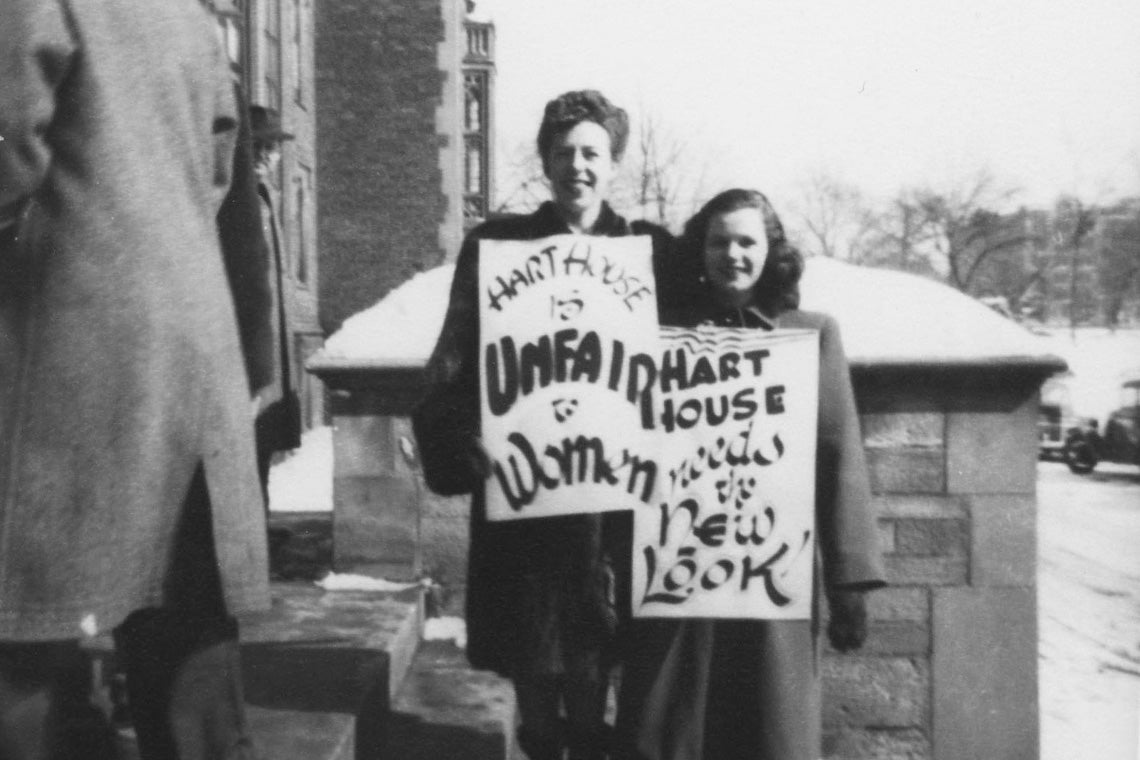 Under the conditions of Vincent Massey's donation, Hart House was initially restricted to men. In 1954, permanent female washrooms were installed and women were allowed access to the Arbor Room, but only after 3:30 p.m. It wasn't until 1972, five years after Massey's death, that women received full access to Hart House. It took another 25 years for Hart House to see its first female warden,  Margaret Hancock. In this photo, taken in the 1950s, women protest their exclusion  (photo courtesy of Hart House)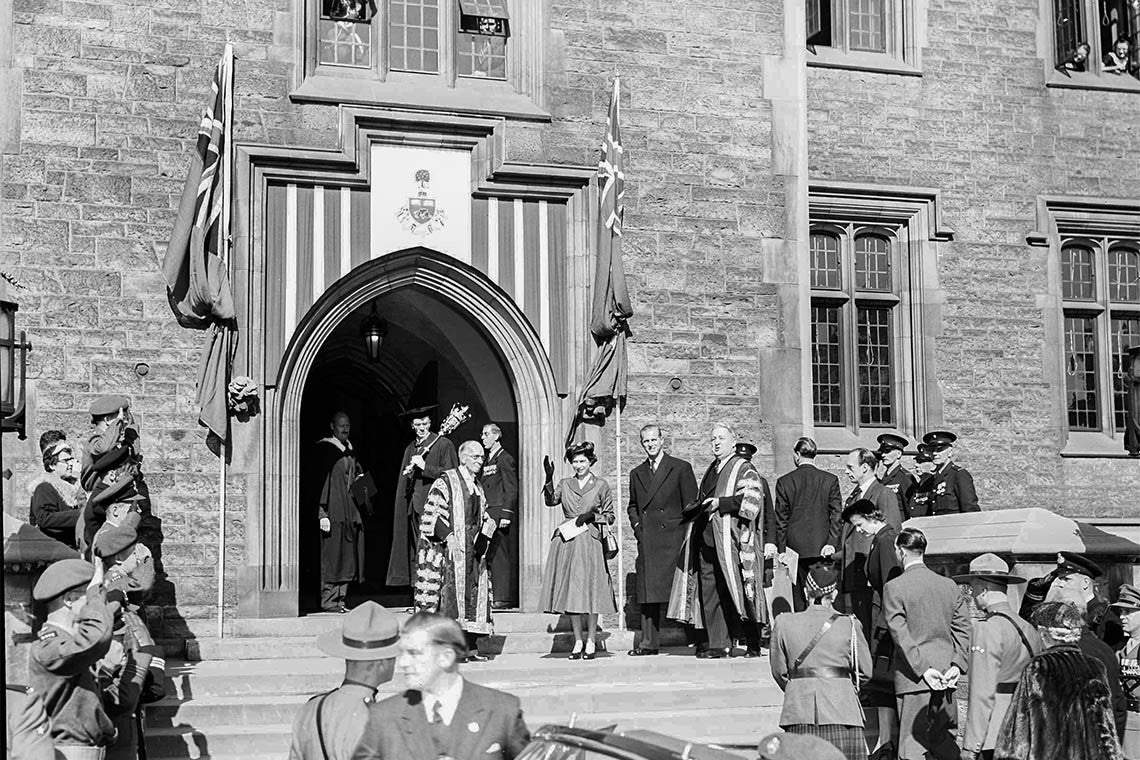 Queen Elizabeth and Prince Philip stand outside of Hart House in 1951 during their month-long royal visit to Canada (photo courtesy of U of T Archives)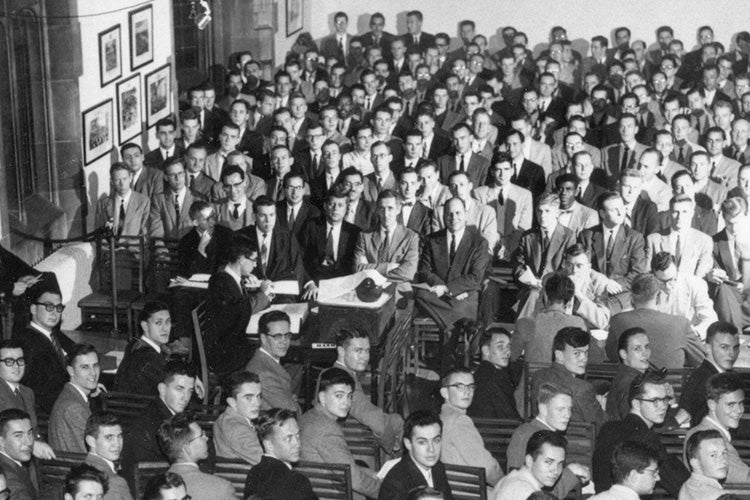 Over the past century, Hart House has been a forum for debate and dialogue, and has played host to prime ministers, world leaders, premiers, cabinet officials, diplomats and more. Perhaps the most famous debate took place in 1957 between a young Stephen Lewis and then-senator John F. Kennedy, who is sitting third from the left in the first row in front of the table. This debate also attracted protesters demanding that women be allowed to become full members of Hart House (photo courtesy of Hart House)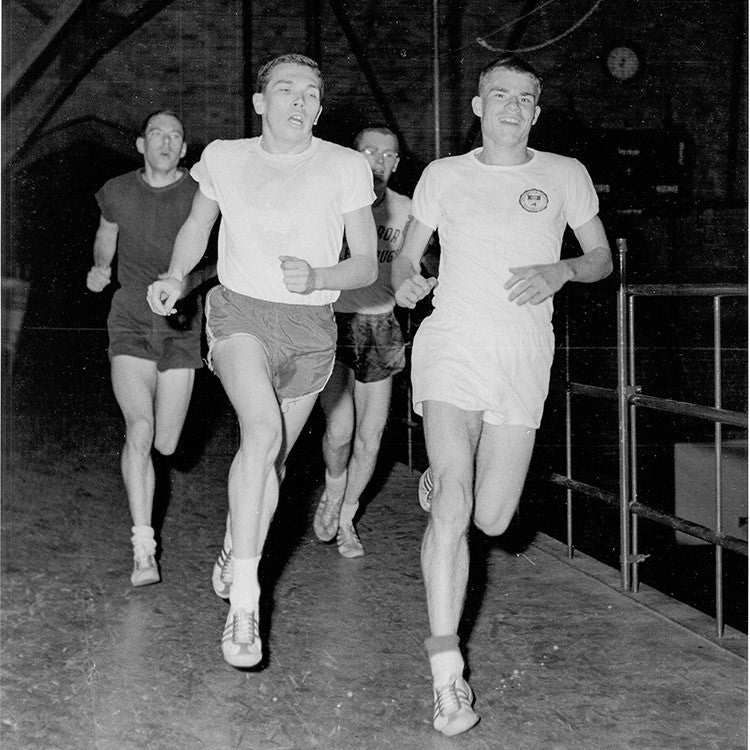 Long-distance runner Bruce Kidd (right) trains at the indoor running track alongside other student athletes in 1963. Kidd would compete in the 1964 Summer Olympics and later become the 11th warden of Hart House. He also served as vice-president and principal of U of T Scarborough (photo courtesy of U of T Archives)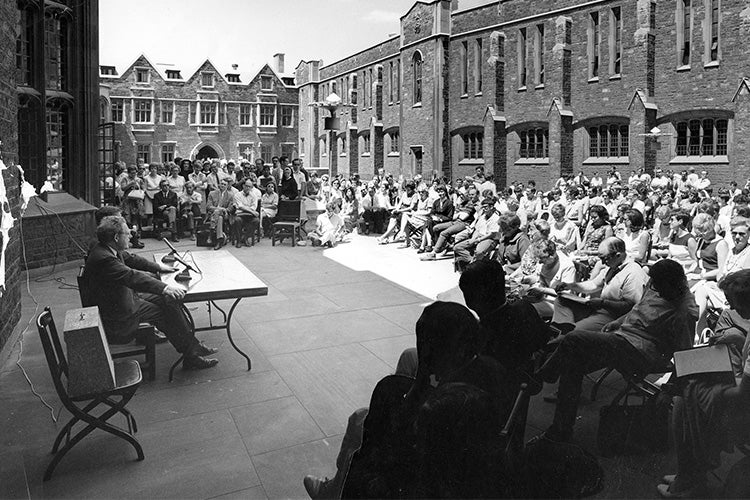 Alumni and graduating students gather at the Hart House quadrangle to listen to the legendary Northrop Frye as part of Hart House's 50th anniversary celebrations. Frye was named University Professor in 1967, U of T's first (photo courtesy of Hart House)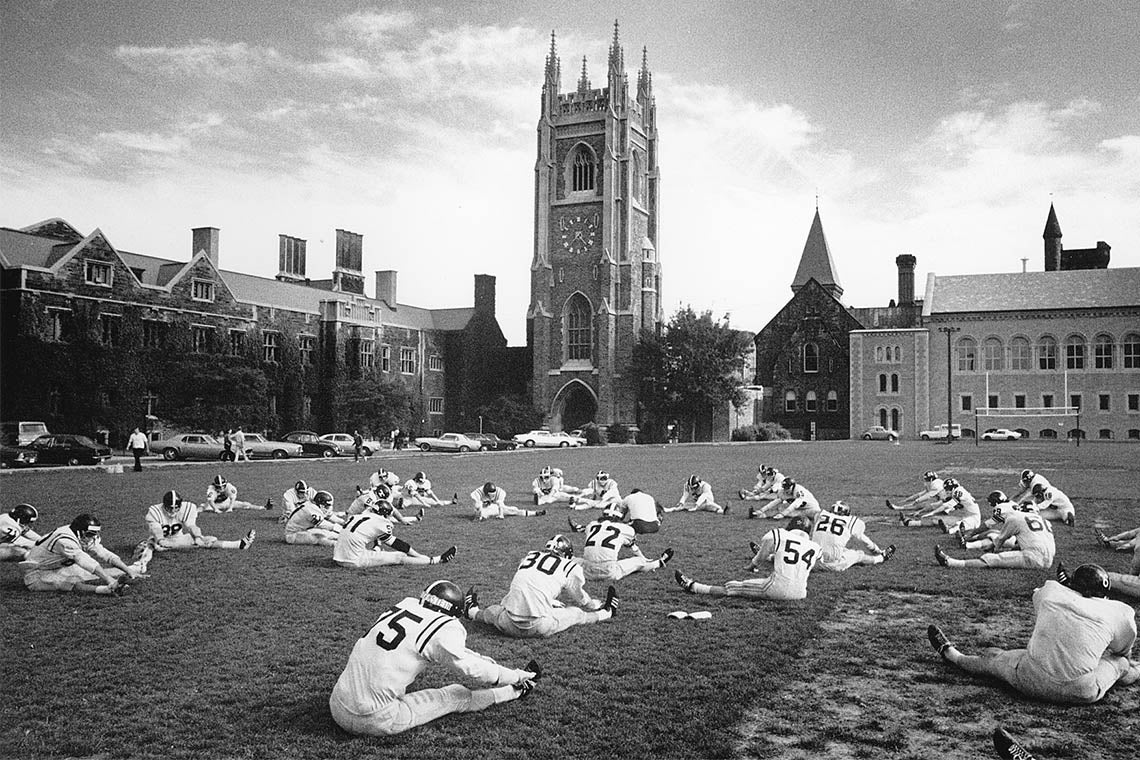 Varsity Blues athletes perform warm-up exercises on Back Campus before a football game in 1974. Hart House and Soldiers' Tower stand in the background (photo courtesy of U of T Archives)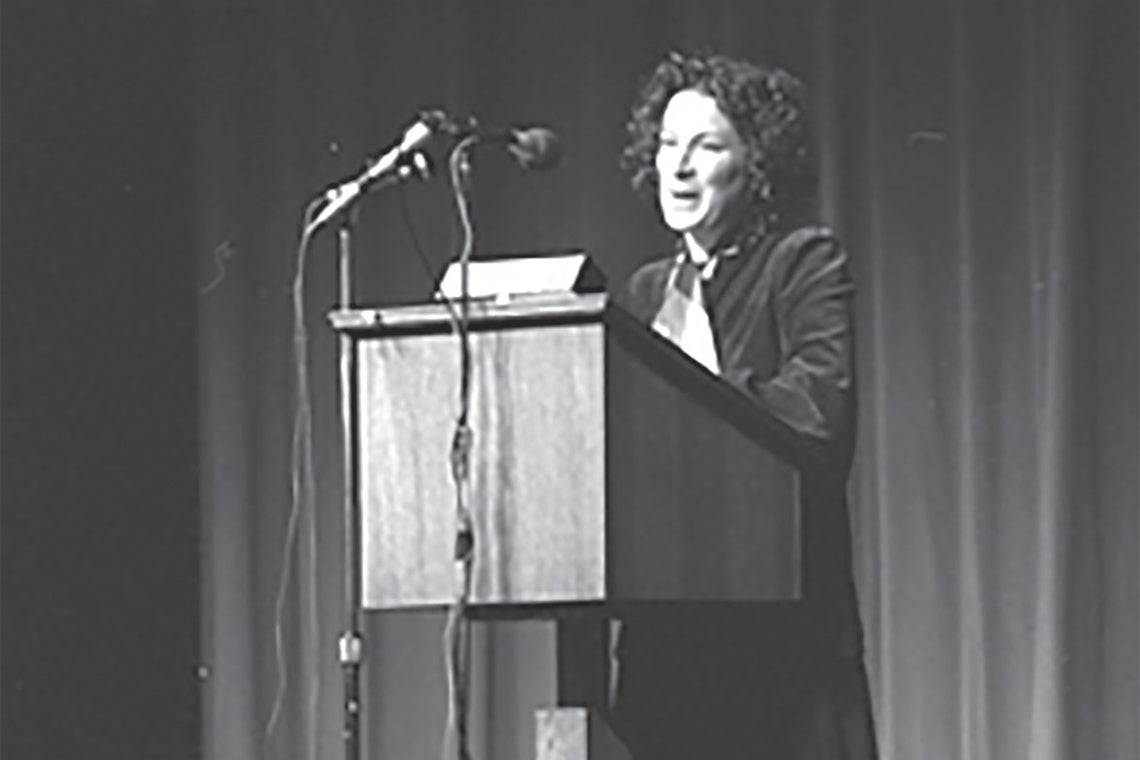 Acclaimed author and U of T alumna Margaret Atwood at the International Festival of Poetry in 1975, which was hosted at Hart House. Atwood graduated from U of T's Victoria College in 1961, later returning to serve as writer in residence. She has donated her papers to U of T Libraries, including the first handwritten draft of The Handmaid's Tale (photo courtesy of Hart House)
UTC