Canadian mayors, academics, practitioners come to U of T to talk mental health in cities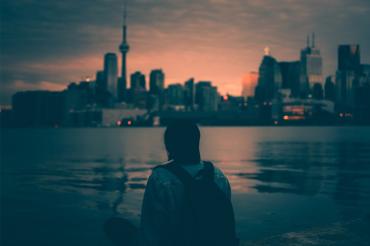 Despite the hustle and bustle of living in a city like Toronto, urban centres can be isolating places, especially for those suffering from mental illness.
To address the challenge of identifying and treating mental illness in cities, mayors from across Canada, including Toronto's John Tory and Vancouver's Gregor Robertson, as well as academics and mental health practitioners have come together today for the Mental Health & Cities Summit at Hart House, located at the University of Toronto's downtown Toronto campus.
"I use the word crisis very sparingly but when you look at the impact of unaddressed mental health and addiction needs on people and on the community as a whole, this is a crisis," Tory said at the summit.  
"We have not yet had a grown-up conversation about the very real budget pressures that unmet mental health needs are placing on our cities, how it is straining our services and our staff," Tory said.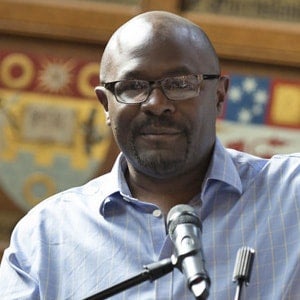 U of T Professor Kwame McKenzie (pictured left) will also be participating in the summit. McKenzie, who teaches in the department of psychiatry in the Faculty of Medicine, is the CEO of the Wellesley Institute and the director of health equity at the Centre for Addiction and Mental Health. He spoke with U of T News about the causes of mental illness in cities and the ways academics and politicians can come together to promote change.
---
What are some of the mental health challenges unique to people living in urban areas?
The number of people living in cities and the proportions of the population living in cities is growing and growing. A perfect city improves your mental well-being, supports you if you are stressed, gets you prompt help if you develop a mental illness, and promotes your re-integration into the community when you recover.
According to the Canadian Medical Association, 60 per cent of what makes you ill is linked to social factors like where you live and how you live. Housing and homelessness, work and income, food security, transport, poverty, income inequality, gender relations, race relations, policing, safety and other such factors have the ability to improve our mental health or increase our risk of developing a mental illness. Experts believe that the final common pathway through which these social factors have their impact is stress. Many of these factors are impacted by the way we set up and run our cities.
Living in cities can be fabulous, but it can be stressful. People who live in cities have higher rates of depression and anxiety and higher rates of psychotic illness such as schizophrenia. Substance use rates can be higher in cities as well. There are many factors that lead to increased stress in cities. These can include the quality, affordability and availability of housing, commuting and transportation, financial insecurity linked to cost of living, perceptions of decreased safety, food insecurity linked to poverty, the perception that there is a less supportive community, noise, pollution and, increasingly, loneliness – more and more people in Toronto live by themselves. This is not an exhaustive list. Some people find cities stressful, they feel they are not in control of their lives, they have less support than they need, and that increases the chance of mental health problems.
In lower income countries – the problems are slightly different because these are dominated by favelas or shantytowns. The mental health issues are dominated by poor social infrastructure issues such as lack of water, access to schools, access to work and housing. There is also increased competition for low levels of resources because people are pushed together, and there is a loss of social capital because people are moving from networked rural communities to newer urban communities.  
Is there a correlation between widening inequality in cities like Toronto and an increase in people suffering from mental health issues? 
Some would say yes. This would be linked to the stress that produces. Social stratification is linked to higher stress scores – once you get over a GINI coefficient [an indicator of economic inequality] of about 0.3. Toronto's is about 0.4.
What is the role of academic institutions like U of T in researching and identifying mental health challenges in urban areas? 
U of T has a huge population of students – looking after their mental health improves the mental health of Toronto. I know U of T is already working hard on mental health promotion and early identification and treatment of mental health problems in students. However, U of T students are also possible mental health ambassadors. The Mental Health Commission of Canada has mental health first aid training – this will be featured in the summit. Mental health first aid, just like any form of first aid, helps an individual support a person until they can get the help they need. It does not teach people how to become a counsellor or therapist. It gives people the knowledge and skills to help people get help. It can save lives. Think of what U of T would be giving back to Toronto if it aimed to get a sizable proportion of the student body trained in mental health first aid.
Today's summit brings together politicians, academics and mental health experts from across Canada. Why is it important to bring those parties together on the issue of mental health in cities? 
Mental health is everyone's business. There is no health without mental health and there is less wealth without mental health. In knowledge economies, your prosperity is linked to your mental health. We are seeing growing problems of stress and mental illness in cities. The best solution is to promote mental health, prevent mental illness and to make sure that everyone who needs help gets help early. This requires combining the efforts of families, communities, the private and the public sector. The best response to growing mental health needs is for everyone to work together. At the moment we work in silos. The summit could serve as a catalyst the type of collective action we need to make Toronto a better place.
UTC