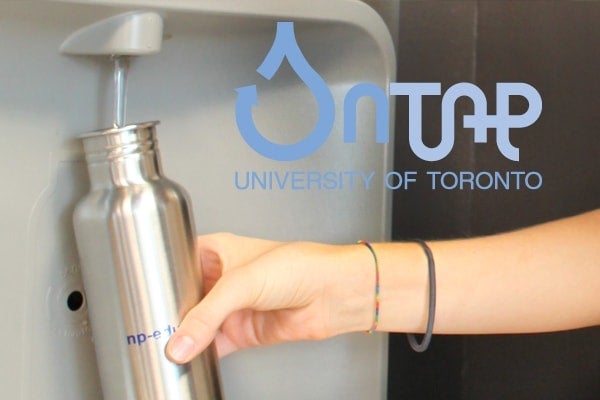 As the academic year begins, bottled water will no longer be available at the majority of locations on the University of Toronto's St. George campus. Over a three-year period, sales of bottled water at U of T Mississauga and U of T Scarborough will also be phased out.
The University of Toronto joins over a dozen other campuses that have pledged to go bottled water-free. The ban comes after a campaign spearheaded by students at the University who have been raising awareness on campus of the environmental and social impact of the commodification of water.
"Bottled water turns a basic human right into a commodity," says U of T master's degree student Leanne Rasmussen, who helped initiate the ban as a member of the Public Water Initiative group. "It is critical that people understand the threat of private control on universal access to clean, safe drinking water."
Clara Ho, vice-president of university affairs for the University of Toronto Students' Union, said the ban represents a historic moment for the University community.
"Students are excited to see the commitment of the administration to make clean drinking water more accessible across the university," says Ho. "From the success of the bottled water-free campaign, we see that students working together can achieve a positive change for environmental justice."
This fall on the St. George campus, food service outlets and vending machines will stop offering bottled water. Members of the community will now have access to new fountains and water-refill stations. To raise awareness of the bottled water ban, there will be an "OnTap" event on campus on September 15th in the Willcocks Commons, featuring water games, a scavenger hunt and water experts.
'The move away from bottled water sales illustrates the university's commitment to sustainability as well as the power of student engagement," said Anne Macdonald, director of ancillary services at U of T, whose team helped to facilitate the changes. "This ban shows just how important our students are in driving positive change."