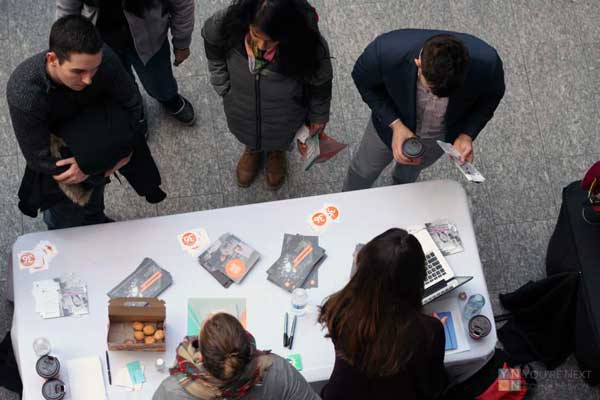 Canada's largest startup career expo at MaRS
Opportunities in finance, healthcare, robotics, software, Internet of Things and more
The vibrant startup community in and around the University of Toronto is continuing to grow and now it needs what all successful companies need – great people.  
You're Next Career Network's (YNCN) Startup Career Expo is designed to give job-hunting students a glimpse into the world of startups.
Now in its third year, the event aims to give students and young professionals the opportunity to directly connect with more than 90 hiring startups during Canada's largest startup career fair. 
Think of it this way, said U of T engineering undergrad Frank Gu, "when you want to get to know someone, do you look at their resume/CV or would you prefer to have a face-to-face conversation with them?"
Gu was among roughly 2,000 students who attended last year's event and, after connecting with Nanoleaf's co-founder Gimmy Chu, he successfully nabbed an internship with the innovative lighting startup. (Read more about Frank Gu and Nanoleaf)
A company's website can give students an introduction to a startup in the same way that a resume gives employers an introduction to a potential employee, Gu said, but "the Startup Career Expo, on the other hand, brings the students and potential employers together in an exciting social environment where they can connect and mingle."
This year's day-long event is taking place on Jan. 29 on the lower and main levels of MaRS, across the street from U of T's downtown Toronto campus. From 10 a.m. to 4 p.m. attendees will have free access to more than 90 startups looking for top talent to add to their teams, with opportunities including summer internships, Professional Experience Years (PEY) and full-time positions.
"The exhibiting startups will span a wide range of industries including finance, healthcare, robotics, software, Internet of Things and the list goes on," said Daksh Sikri, managing director, startup of You're Next Career Network and a U of T engineering undergrad. 
"Apart from speaking with these incredible people about internships/ PEY/full time opportunities, students can also come to the event to get a taste of Toronto's startup ecosystem."
Among the exhibitors will be U of T startups Magniware, Knowtions, TapTrack, DNAstack, iamsick.ca and ConferenceCloud. Nanoleaf will also be returning this year to seek out talented students to join their expanding team.
"Nanoleaf is proudly founded by three U of T alums and we believe that some of the best talent in Canada comes straight from U of T," said Chu. "We are hopeful that this year will bring us some fresh new faces to add to the team."
Along with a diverse set of startups and sectors represented, a wide range of positions will be up for grabs.
"Knowtions is looking for engineering, marketing and communication experts who are comfortable with uncertainties and excited about super-charged growth to join our recently funded startup," said Christina Cai, co-founder of Knowtions. "As an alumni-run startup, we are very excited to attract and nurture a new generation of U of T talent,"
YNCN is a non-profit run by 40 U of T student volunteers and was originally started six years ago by the Engineering Society. 
"A group of students recognized the problems faced by their peers while job hunting and decided to solve them," explained Sikri. "Since then, the network has only grown. Today, it is the largest student-run career network on campus, bringing in 170+ companies and connecting them to 3,000+ students every year."  
Their goal is to provide opportunities to students by offering career development programs including corporate career fairs, student development events and the Startup Career Expo.
This year YNCN is also hosting its inaugural pre-startup expo social, the Summit. Taking place on the 28th from 7 to 9 p.m., the event will allow startup founders, employees, faculty members, alumni, accelerators, VCs and senior executives from technology companies to interact in a fun and relaxed environment prior to the main event. 
Both events are free, but the Summit requires a ticket for entry. The Startup Career Expo? No ticket necessary, says Sikri. "Just bring your resume and smile."