From Canada to Uganda and beyond: U of T researchers receive funding for COVID-19 projects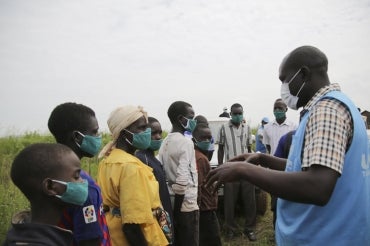 Since early June, more than 7,000 refugees and displaced persons have arrived in the African nation of Uganda, most fleeing violence in the Democratic Republic of the Congo. 
"Even in the midst of a pandemic, we see people being displaced," says the University of Toronto's Carmen Logie, an associate professor in the Factor-Inwentash Faculty of Social Work. 
Logie's usual research focus is on understanding and developing interventions to address stigma and other social factors associated with HIV and sexually transmitted infections. She has long placed a special emphasis on refugees and displaced persons in countries like Haiti and Uganda.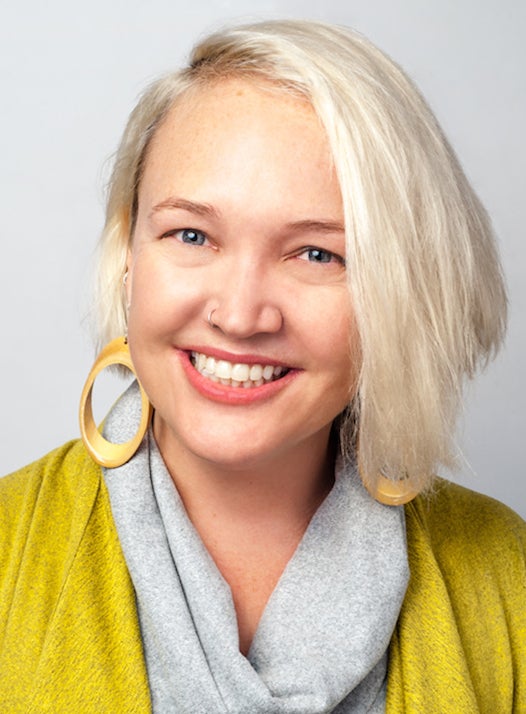 Now, Logie is turning her attention to how COVID-19 is affecting adolescents and young people who are refugees in Uganda's capital, Kampala. She's using social media to help these young people receive information about preventing COVID-19 – and to express their feelings and concerns. 
"We already have a study in Kampala on urban refugees but we had to put it on hold when COVID-19 forced everyone into lockdown," says Logie, who is Canada Research Chair in Global Health Equity and Social Justice With Marginalized Populations. "Our community partners in Kampala identified a lack of information tailored to preventing COVID-19 for young people in their languages. We think using social media tools will be an innovative and effective way to hear about their experiences and knowledge of the virus and to get them the information they need."
Logie's research team is one of 139 across Canada that are sharing more than $109 million from the Canadian Institutes of Health Research (CIHR), awarded through its second rapid research funding competition. Included are eight teams from U of T and 18 at the university's partner hospitals. All are focused on COVID-19 research. 
"The University of Toronto is grateful to the CIHR for this important investment, one that will enable our scholars to contribute to the global effort to understand COVID-19," says University Professor Ted Sargent, U of T's vice-president, research and innovation, and strategic initiatives.  "It's especially notable that this funding focuses on projects, such as Professor Logie's, in which there will be collaboration with researchers in lower and middle income countries."
Logie is working with Richard Lester, a professor at the University of British Columbia, and Gabrielle Serafini, who have developed WelTel, a text-messaging app that assists health professionals in communicating with patients. 
There are approximately 1.4 million refugees in Uganda, the largest refugee-hosting nation in Sub-Saharan Africa, with 80,000 living in Kampala.
Logie notes that adolescents and youth comprise nearly half of the world's refugee and displaced person population. 
"In humanitarian settings, the needs of people are often not understood or met," she says. "This is also true in pandemics and, especially, with young people and adolescents. For example, we found that hand hygiene studies in Uganda did not include adolescents. They were aimed at adults and children. 
"We know that adolescents have their own lived experiences and challenges, so we need to understand that and enable them to express themselves."
With that in mind, Logie, her collaborators at UBC and refugee agencies on the ground in Kampala will adapt the WelTel technology to engage young people and adolescents who are refugees. The goal, Logie says, is to help them "talk about how COVID-19 is impacting their lives. We will develop a group chat app to send information out and enable young people to apply that information to their lives." 
While the pandemic has exacerbated problems such as isolation and poverty around the world, its impact on the people Logie studies in Uganda has been particularly harsh. 
"In the refugee settlements in northern Uganda, for example, the only places they had to interact with others and to stay busy in the face of widespread unemployment were places like churches, community centres and shops," she says. "But now that COVID-19 has forced people to stay at home or in refugee camps, they are really struggling with isolation."
Equally troubling is the incidence of food insecurity. 
"For the refugee youth in Kampala, before COVID-19, we found that 70 per cent didn't have enough to eat. Now, our agency partners are saying it's even worse with the lockdown not enabling people to work," says Logie. 
"This is true around the world, but among refugees in Kampala they need to make money every day just to survive that day. So the impact of the lockdown is extraordinary – it is putting people into another dimension of poverty. "   
---
The following researchers at U of T and its partner hospitals have received CIHR funding for COVID-19-related projects:
Philip Awadalla, Ontario Institute for Cancer Research; department of molecular genetics in the Faculty of Medicine; Surveilling Prospective Population Cohorts for COVID19 Prevalence and Outcomes in Canada (SUPPORT-Canada)
Angela Cheung, University Health Network; Institute of Health Policy, Management and Evaluation (IHPME) in the Dalla Lana School of Public Health; Canadian COVID-19 Prospective Cohort Study (CanCOV)
Vladimir Dzavik, University Health Network; department of medicine in the Faculty of Medicine; Semaglutide to Reduce Myocardia Injury in Patients with COVID-19 (SEMPATICO): An Exploratory Randomized Controlled Clinical Trial
Andrea Gershon, Sunnybrook Research Institute; IHPME in the Dalla Lana School of Public Health; CovidFree@Home: Development and Validation of a Multivariable Prediction Model of deterioration in Patients Diagnosed with COVID-19 Who Are Managing at Home
Daniel Grace, Dalla Lana School of Public Health; Engage-COVID-19: A Mixed Methods Study of Biomedical, Behavioural, and Psychosocial Aspects of the COVID-19 Pandemic Among Gay, Bisexual and Other Men Who Have Sex with Men in Canada
Astrid Guttmann, Hospital for Sick Children; IHPME in the Dalla Lana School of Public Health; Deferred Care Outcomes in Canadian Children and Youth: Measuring and Mitigating Risk During COVID-19
Joanna Henderson, Centre for Addiction and Mental Health; department of psychiatry in the Faculty of Medicine; Youth Mental Health and Substance Use in the Context of COVID-19: A Rapid Response Multi-component Program of Youth-engaged Research and Action
Angela Jerath, Sunnybrook Research Institute; department of anesthesiology and pain medicine in the Faculty of Medicine; Sedating With Volatile Anesthetic Agents in Critically Ill COVID-19 Patients in ICU: Effects on Ventilatory Parameters and Survival (the SAVE-ICU trial)
Kevin Kain, University Health Network; department of laboratory medicine and pathobiology in the Faculty of Medicine; A Randomized Trial to Determine the Effect of Vitamin D and Zinc Supplementation for Improving Treatment Outcomes Among COVID-19 Patients in Mumbai, India
Murray Krahn, University Health Network; IHPME in the Dalla Lana School of Public Health; The Response of Provincial Health Systems to COVID-19: Service Provision and Costs Across Health Sectors, First Nations and Other Populations
Douglas Lee, University Health Network; IHPME in the Dalla Lana School of Public Health; Improving Canadian Outcomes Research on the Novel SARS-CoV-2 Using Analytics: The Corona Consortium
Jordan Lerner-Ellis, Sinai Health System; department of laboratory medicine and pathobiology in the Faculty of Medicine; Implementation of Serological and Molecular Tools to Inform COVID-19 Patient Management
Christoph Licht, Hospital for Sick Children; department of laboratory medicine and pathobiology in the Faculty of Medicine; A Central Role for the Vascular Endothelium in COVID-19 Pathogenesis
Jun Liu, department of molecular genetics in the Faculty of Medicine; Development of Safe and Effective Vaccines Against COVID-19
Carmen Logie, Factor-Inwentash Faculty of Social Work; Kukaa Salama (Staying Safe): A Pre-post Trial of a WhatsApp Social Group for Increasing COVID-19 Prevention Practices with Urban Refugee and Displaced Youth in Kampala, Uganda
David McMillen, department of chemical and physical sciences, U of T Mississauga; Development of a Yeast-Based Immunoassay for SARS-CoV-2 Serologic Testing Amenable to Inexpensive Local Production
Sharmistha Mishra, St. Michael's Hospital; IHPME in the Dalla Lana School of Public Health; Evaluating the Differential Impact of What We Have Done As We Prioritize What to Do Next: A Multi-Provincial Intervention Modeling Study Using Population-Based Data
Peter Newman, Factor-Inwentash Faculty of Social Work; An International Multi-site, Randomized Controlled Trial of a Brief eHealth Intervention to Increase COVID-19 Knowledge and Protective Behaviors, and Reduce Pandemic Stress Among Diverse LGBT+ People
Deborah O'Connor, Sinai Health System; department of nutritional sciences in the Faculty of Medicine; Can COVID-19 and Maternal Antibodies to SARS-CoV-2 be Transmitted Through Human Milk? Implications for Breastfeeding and Human Milk Banking
Keith Pardee, Leslie Dan Faculty of Pharmacy; Portable, Low-cost Hardware for De-centralized COVID-19 Diagnostics for Canada, Colombia and Ecuador
Robert Rottapel, University Health Network; department of immunology in the Faculty of Medicine; Development of a Predictive Serologic Test for Cytopathogenic Auto-antibodies in COVID-19 Patients
Darrel Tan, Unity Health Toronto; IHPME in the Dalla Lana School of Public Health; COVID-19 Ring-based Prevention trial with Lopinavir/ritonavir (CORIPREV-LR)
Amol Verma, Unity Health Toronto; IHPME in the Dalla Lana School of Public Health; The COVID-19 Hospital Analytics Laboratory: Improving the Clinical, Organizational, and System Response to COVID-19
Tania Watts, department of immunology in the Faculty of Medicine; Towards a Comprehensive Understanding of Adaptive Immunity to SARS-CoV-2
Daniel Werb, Unity Health Toronto; IHPME in the Dalla Lana School of Public Health; Rapidly Assessing theImpact of the COVID-19 Pandemic and Response on Clinical and Social Outcomes, Service Utilization, and the Unregulated Drug Supply Experienced by People Who Use Drugs in Toronto
Jia Xue, Factor-Inwentash Faculty of Social Work: An Increased Risk of Family Violence During COVID-19 Quarantine in Canada: Strengthening Social Media-based Collaborations Between Non-profit Agencies to Save Lives
UTC