Canada taps U of T researcher for new Black Justice Strategy steering group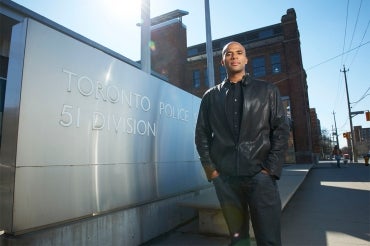 Akwasi Owusu-Bempah, an associate professor of sociology at the University of Toronto Mississauga, has been named to Canada's new Black Justice Strategy steering group and will co-author its recommendations to the federal government.
"I'm pleased to be taking part in such an important initiative," said Owusu-Bempah, whose research examines race, crime and criminal justice. "The development of Canada's Black Justice Strategy provides an opportunity to make meaningful change for Black communities that could have a positive impact for generations to come."
The official announcement was made on Parliament Hill this week by a panel that included Minister of Justice and Attorney General David Lametti, Minister of Housing and Diversity and Inclusion Ahmed Hussen and Minister for Women and Gender Equality and Youth Marci Ien.
"Many of us like to tell ourselves that justice is colour blind but, in the criminal justice system, we know it's not," said Lametti, noting that Black adults are overrepresented as victims of crime and are also consistently overrepresented in Canadian jails, making up about nine per cent of those in prison despite comprising less than four per cent of the overall population.
The nine-person steering group will be speaking with leaders, experts and members of Black communities across Canada to create recommendations by the end of 2023 to help reform and modernize the criminal justice system.
The goal, said Lametti, is to begin implementing changes in 2024.
"It's an ambitious timeline," he said. "But the circumstances demand it."
The steering group is the first step in fulfilling a pledge made by the Liberal government in 2019 to address anti-Black racism and discrimination in the criminal justice system after advocacy groups and the United Nations criticized the overrepresentation of Black Canadians in federal prisons.
"Black people in Canada have a long history of mistrust and experiences of injustice with our criminal justice systems," said Owusu-Bempah. "For as long as Black people have existed here, our legal and justice institutions have served to oppress them … we know significant changes need to be made to the way we administer justice in this country."
Owusu-Bempah' s co-author will be fellow committee member Zilla Jones, a criminal defence lawyer and anti-racism educator based in Winnipeg.
"(The strategy) is a historic acknowledgment by the Government of Canada that systemic anti-Black racism exists in Canada and that it has poisoned our justice system, negatively impacting the integrity of our communities and the futures of our children," said Jones. "This initiative aims to give real meaning to the principles of redress and reconciliation."
Owusu-Bempah's appointment to the steering group follows his recent engagement by the Peel Police Services Board to help its Governance and Human Rights Committee address systemic racism – specifically anti-Black racism.
Before joining U of T Mississauga, Owusu-Bempah held positions with Canada's National Judicial Institute, the Public Health Agency of Canada and Ontario's Ministry of the Solicitor General.
He is the co-author of Waiting to Inhale: Cannabis Legalization and the Fight for Racial Justice.
UTM