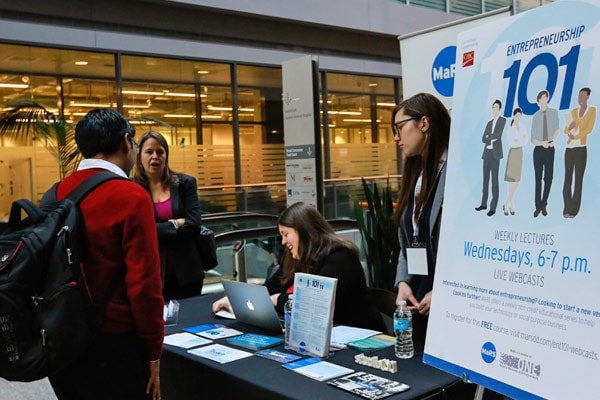 Canada Next: MaRS CEO on the future for startups
Canada is good at creating startup companies but not enough of them are high-growth enterprises, the so-called gazelles of the industry, says Ilse Treurnicht, CEO of the MaRS Discovery District.
But the good news, she says, is that U of T is increasingly a "driving force"  for startups, helping them not just to thrive but to succeed in Canada so that the economic benefits accrue to this country. 
The Global Entrepreneurship and Development Institute recently released a global entrepreneurship index that placed Canada second, behind the United States.
U of T News asked Treurnicht for her analysis of the survey and her views about some recent stories in the media about Canada and entrepreneurship, including an op-ed piece in the Globe and Mail co-authored by President Meric Gertler: "Southern Ontario should be an innovation cluster, not a farm team."
The survey, she said, was a valid one and "another indication that entrepreneurship is important everywhere, and that Toronto has some good fundamentals in place, and that we have some areas where we can probably grow."
Data on startups in Canada is relatively sparse but statistics from the U.S. and the U.K. suggest "that out of 100 startups somewhere between four and 10 become high-growth industries, the so-called gazelles." 
Treurnicht  (pictured at left) described a gazelle as a company that that increases its revenues by at least 20 per cent annually for four years or more, starting from a revenue base of at least $1 million. 
Gazelles "grow quite quickly and are major job creators, major contributors to revenue and economic growth," Treurnicht said. "Starting up a company is important but it is not sufficient, you have to start more robust companies and more of them have to grow to scale.
"Canada is pretty good at starting companies but we don't have enough of them that grow to scale."
Our companies face "small local markets, and eco-systems that are still maturing," she said. "We don't have the serial entrepreneurs that they have in Silicon Valley."  
In Canada, the capital contributions made to startups is about one-third of what it is in the U.S.
"A lot of startups have to be international companies because the markets are so small here," she said. There are good reasons why so few become gazelles. "It's not like we are stupid." 
Still, there are grounds for optimism, Treurnicht said.
"Over the last 10 years U of T has helped build the ecosystem in Toronto and the GTA. There is now a huge appetite among students to participate in such companies, and a growing appreciation among faculty, especially young faculty, to participate."
The survey suggests Canada is poised to do great things, she added. 
Treurnicht said the barriers to starting a company are very low, especially in the high-tech field. Companies focused on health care, "advanced materials" or artificial intelligence – firms with "hard-core intellectual property heft" – take a bit longer to develop so they require more investment.
But the "deep technology competency and the feeder system" coming out of U of T "is as good quality as the rest of the world," she said. That means that more companies "will grow right here, with the economic benefits accruing to Canada."

"This is a story about the growing momentum of U of T being a key force in making startups more successful. That is the message we want to get out. Stay tuned. There is a lot more come."
Three to Watch
The majority of companies that have homes at the MaRS centre "have serious roots back to U of T," Treurnicht said. They include Nanoleaf, Teabot and Chipcare.
Gimmy Chu, one of the University of Toronto alumni behind startup success Nanoleaf, with the revolutionary light bulb backed by investors around the world. Photo by Johnny Guatto.
    teaBOT, the brainchild of U of T aerospace and robotics PhD candidate Rehman Merali and engineer Brian Lee, is part of the JOLT business incubator at MaRS Discovery District. Photo courtesy teaBOT.  
    University of Toronto researchers James Dou and Stewart Aitchison founded ChipCare, an affordable and efficient lab-on-a-chip that can revolutionize HIV monitoring in developing countries. Rendering courtesy ChipCare.  
There are difficult challenges that startups face, she said, but tackling those "is U of T's thing. That is the sweet spot."
Prime Minister Justin Trudeau recently announced a $20-million grant to the Centre for the Commercialization of Regenerative Medicine at MaRS – the commercialization arm of Medicine By Design.
GE Healthcare, a global company, also invested $20 million.
When global companies such as GE or Johnson and Johnson make major investments here it shows they "want to interact with high-quality young companies, and they also want the proximity to outstanding research and the talent pipeline that comes out of U of T and its partner hospitals," Treurnicht said.
"It is not U of T just pushing out discoveries and startups but also the university being a magnet for global companies that recognize the strength of Toronto and the strength of U of T and its partners."