Canada left behind as ride-hailing services go global
Like it or not, ride-hailing has become an established, regulated and accepted form of transportation in most of Canada's largest cities.
Canadian cities aren't unique in this regard. Ride-hailing is now a mobility option in 89 countries, serving more than 2,600 cities around the world.
By adopting a global outlook, Canada can better understand, manage and benefit from the integration of ride-hailing as a component of urban mobility.
Global scale
In Toronto and in many North American cities, ride-hailing was initially seen as a disruption to the taxi industry, a heavily licensed and regulated municipal sector. But ride-hailing is maturing, and firms continue to innovate and expand through a variety of modifications to ride-hailing services such as pooling and subscriptions.
Ride-hailing companies are also investing in other mobility services including bikes and scooters. And they're leveraging their network of drivers to provide other logistics services like food delivery.
Globally, ride-hailing firms abide by place and city-specific regulations and policies while simultaneously catering their services to appeal to local markets and cultural practices. In Canada, the United States, the U.K. and Singapore, ride-hailing means travelling by car.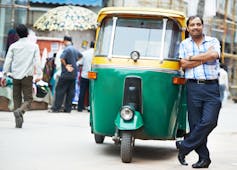 However, in places like Indonesia, Vietnam and Uganda, hailing a ride can mean riding on the back of a motorcycle. Jakarta is a city of more than 10 million people known for crushing congestion and a dearth of reliable public transit. The arrival of ride-hailing firms has been credited for offering a work-around to congestion.
This is because ride-hailing is bringing products and services directly to customers. In India, passengers can even hail a tuk-tuk.
The unicorns of ride-hailing
As ride-hailing becomes an increasingly accepted mode of transportation with relatively low barriers to entry and expansion, ride-hailing firms have gone global.
Uber, with operations in more than 60 countries, exemplifies the global reach of ride-hailing. But Uber is hardly alone.
There are now 12 ride-hailing firms that have reached what's known as "unicorn" status. This means that they are startup firms with a market valuation of $1 billion or more. These ride-hailing unicorns are Uber, Didi-Chuxing, Lyft, Grab, Ola, Go-Jek, Yandex, Cabify, Gett, Careem, 99 and Taxify.
Their headquarter locations range from San Francisco to Sao Paulo, Dubai to Beijing, exemplifying the global reach of ride-hailing. They are also the recipients of significant venture capital investments. Based on an examination of venture capital investment in urban tech, ride-hailing and mobility service firms attracted more than 60 per cent – or greater than $40 billion – of all urban tech investments between 2016 and 2018.
These firms also lead as innovators by building new mobility services. Others combine products and services in new ways, taking advantage of technology, algorithms, networks and concentrations of people.
In Indonesia, for example, credit card adoption rates are below seven per cent, and most people don't have bank accounts. Therefore, local startup Go-Jek is not just a ride-hailing company, but also a financial services firm offering a cashless payment system woven into its app.
In Singapore, local ride-hailing unicorn Grab invested $6 million in an artificial intelligence centre and partnership with the National University of Singapore. The centre will focus on using data collected by Grab to address mobility challenges faced across Southeast Asia.
And in India, Ola has partnered with government agencies, civic organizations and private sector firms on social entrepreneurship initiatives that train drivers, promote female entrepreneurship and emphasize sustainability through fuel choices.
Tiny Estonia has a ride-hailing unicorn
There are no ride-hailing unicorns headquartered in Canada. While Canada may represent a relatively small market in global terms, the most recent entrant to the ride-hailing unicorns club is Taxify.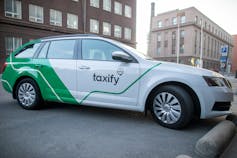 Taxify is headquartered in Tallinn, Estonia, a former member of the Soviet Union with a population of just 1.3 million. Tallinn is a city that was pretty much on nobody's map of global cities. The city, and Taxify, are emblematic of a new global economic geography of innovative firms and cities. Taxify currently operates in 28 countries, including Australia, Nigeria and Canada.
The rapid globalization of local ground transportation services was unexpected. But thanks to what's known as the "platform economy," many local services have been reconfigured into global ones with consequences for markets, firms and places.
The platform economy is comprised of big data, algorithms and cloud computing. These come together to create new digital infrastructure on which entire new markets and ecosystems operate.
This digital infrastructure has created new value for its owners and is an essential part of a reconfigured globalization. The global economy is being reorganized so that the owners and operators of these platforms are also the owners of the data and power. This power may be even more formidable than that held by the factory-owners of the early Industrial Revolution.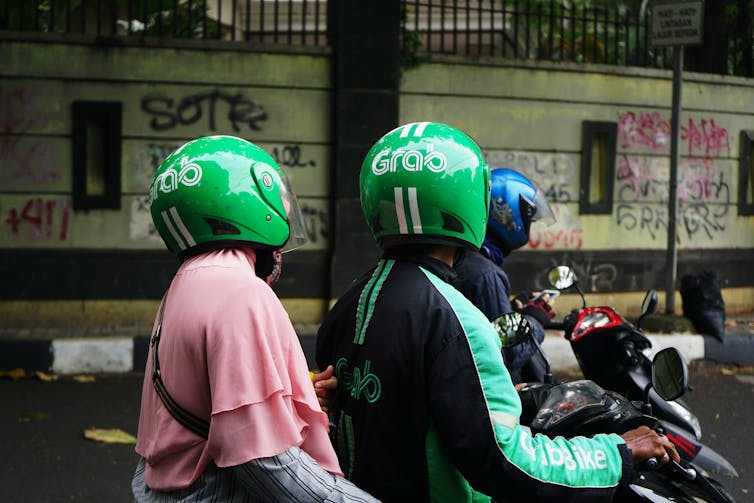 Ground transportation has until recently been a local concern and deeply rooted in place. For instance, public transit agencies like the Toronto Transit Commission or Vancouver's TransLink are operated locally or regionally. Taxi brokerages also tend to operate locally.
Ride-hailing, however, is part of the platform economy infrastructure. This unique form of digitization allowed firms to expand rapidly to multiple markets, multiple languages and multiple sets of regulations and guidelines.
Ride-hailing depends on mobilizing local citizens to contribute, but it's also profoundly global, with powerful consequences for the platform owners and those cities that house them.
The challenge for Canada
Canada is facing challenges because it's simply become a consumer of platform ride-hailing products. We do not house any of the ride-hailing headquarters. We are not developing our own stand-alone mobility solutions for the world stage.
As multinational ride-hailing platforms firms take the lead on ground transportation services in Canadian cities, they also gain exclusive access to a treasure chest of data on people and places.
Our future economy depends on our public agencies having the knowledge and power to make informed policy choices around mobility investments. As our largest cities struggle with congestion, it's now more important than ever to step up and invest in our urban mobility futures.
The sort of economy and society we create in this transition to digital platforms will be determined by the social, political and business choices we make. Canada needs to lead, not follow, in the global race for better mobility.

Shauna Brail is an associate professor of urban studies at the University of Toronto. Betsy Donald is a professor at Queen's University.
This article is republished from The Conversation under a Creative Commons license. Read the original article.
The Conversation