Camille Orridge, a champion of equity in health care, receives honorary degree 
Throughout a career in health care that has spanned more than 50 years, Camille Orridge has put patient and community needs first, collaborating to build innovative programs that have made a positive and long-lasting impact on people's lives. 
As a health-care leader in Toronto, she paid especially close attention to the needs of patients who had not always been served well by hospitals and doctors. She also worked to shift the emphasis within the system to keeping people healthy, rather than simply treating them when they get sick.
Today, for her pioneering leadership in health care in Toronto, and for promoting a more equitable and just health system, Orridge receives a Doctor of Laws, honoris causa, from the University of Toronto.
Orridge came to Canada from Jamaica at age 20, arriving in 1967. Her mother and aunt were already here working at a hospital, and Orridge secured a job as a ward maid at Toronto General Hospital. Before long, she accepted a clerk position at Toronto Western Hospital, learning how to do her own job quickly so she could also take on other roles. "In about a year, I knew several jobs in the department," she said in an interview with Women of Influence, an organization that promotes women's success stories. 
She returned to Jamaica in 1972 for a period, then studied medical records administration in the U.S. before coming back to Canada, where she earned a master's degree in health administration from U of T in 1983. From there, she moved into hospital management and then home care, where she focused on improving services for patients – especially those from marginalized communities.
Orridge learned that by identifying systemic barriers in the system, she could work to change them. In 2010, she became CEO of the Toronto Central Local Health Integration Network, where she was responsible for allocating $4.2 billion to some 170 hospitals, long-term care homes and community agencies.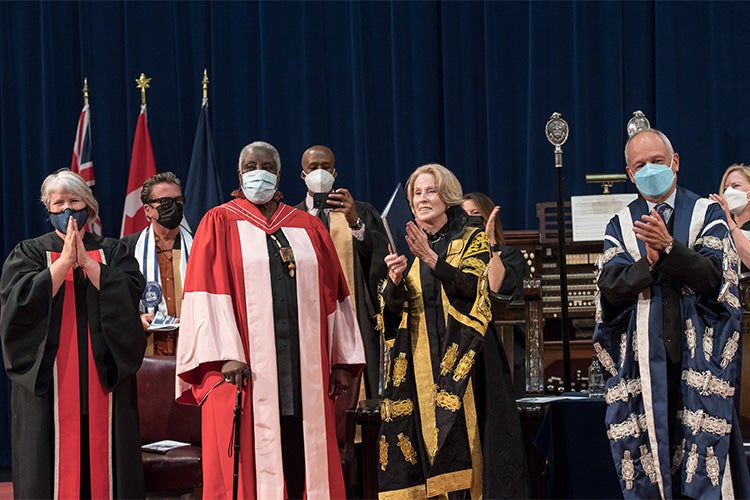 (photo by Lisa Sakulensky)
Much of heath-care funding is focused on hospitals, even though, as Orridge told Women of Influence, "most people spend 80 per cent of their lives outside the acute-care system." She understood the importance of funding the services that made the most difference in the quality of people's everyday lives, which meant working with community groups to identify and expand these services.
She also recognized the need for better health data from marginalized groups, particularly the Black community. "You don't make any decision without evidence, and I realized we were not part of the evidence," she said in the same interview. "We knew, for example, that our children were being taken away at a greater rate by Children's Aid. We knew that we were being stopped by police more than everybody else. We knew these things, yet, when you talked about them, it would get dismissed because you didn't have the evidence."
Data, though, was never the end goal, she said. "My goal was to reduce disparities. Data is simply a tool to get there.
Making the changes didn't come easily. "To be quite blunt, you're at a table with 13 other [health-care] CEOs, and none of them have the same interest in the populations I was concerned about," she told Women of Influence. "Equity and diversity were not major issues for them." To help achieve her goals, she sought out like-minded allies. "I always think activism is a team sport and not something you do alone."
In her convocation address, Orridge planned to urge graduates to use their newly earned degree – and the university network to which they belong – to help others who may be less privileged. "In my journey and experience as a U of T graduate, I made a commitment to see and use my currency to open doors and to bring with me others who were underrepresented. I encourage you to use your currency not only for yourself, but for others – to try to centre the voices, communities and experiences that are often not included."
She also planned to encourage grads to find fulfilment outside of their career. "Do not buy into the notion that the workplace is where you have to receive all things. You can find fulfillment, joy and purpose in work outside of the workplace. There are leaders who are everyday people and have identified causes that they feel passionate about and are advancing in a meaningful way."
Orridge's own volunteer activities have brought about significant positive change. In 2001, in response to high dropout rates among youth in the Regent Park neighbourhood, she co-founded Pathways to Education, a successful stay-in-school initiative for disadvantaged high school students. The program now operates nationwide.
She was also a founding member of the Canadian Home Care Association and the Black Coalition for AIDS Prevention, and has served on several boards related to health services for marginalized groups.
Orridge has received numerous accolades for her accomplishments. In 2021, Women of Influence recognized her with a Top 25 Women of Influence Lifetime Achievement Award. In 2013, she was awarded the Queen Elizabeth II Diamond Jubilee Medal and the following year she received an African Canadian Achievement Award for Excellence in Medicine. 
UTC