Last year, a University of Toronto team prepared an appetizer of seared salmon, among other delicacies, at the inter-university Iron Chef competition. U of T is hosting the contest this year (all photos courtesy of Susan Duncan)
The University of Toronto is hosting an inter-university Iron Chef cook-off next month, and it's looking for four talented student chefs to step up to the plate.
"We're looking for students for whom cooking is a hobby, a passion and their love," said Anne Macdonald, the university's director of ancillary services.
Like the Iron Chef competitions on TV – in Japan and America – the contestants will receive a mystery box of ingredients, which they must use to prepare a dish and impress the judges – all within a two-hour time limit.
Not only that, they will have to make 10 portions of each course for the judges to sample and another 50 portions for students to taste. The teams will be judged on criteria like cleanliness, teamwork and, of course, the food itself.
For the first time, U of T will have the home-kitchen advantage. Although the details of the event are still being ironed out, the contest will be held in February, Macdonald said. 
Students who would like to participate can be part time or full time at U of T. They need to be available for regular practice sessions of one evening per week for six to eight weeks prior to the competition, and they need to be available on Feb. 24, 25 and 26.
Candidates also need to have a working knowledge of basic cooking techniques.  The deadline to apply has been extended to Jan. 13. 
In the run-up to the competition, the U of T contestants will get training sessions with Chef Jaco Lokker, U of T's director of culinary operations and executive chef.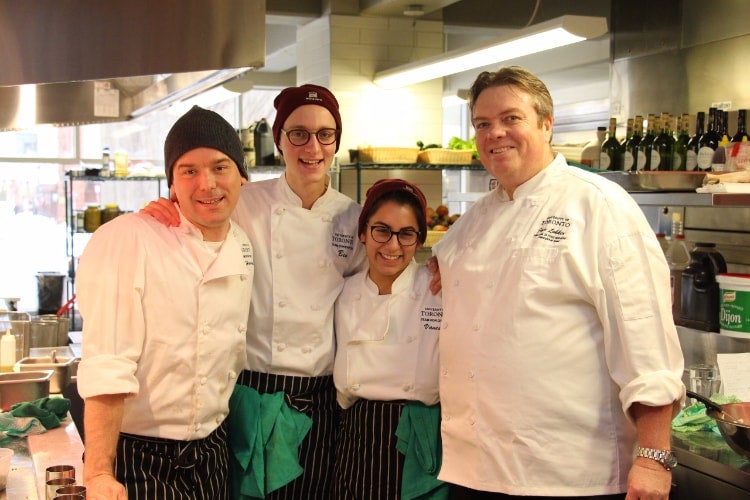 Chef Jaco Lokker, U of T's director of culinary operations and executive chef, poses with U of T's team at the Iron Chef competition at the University of Ottawa last year 
Before coming to U of T, Lokker worked in the kitchens of the King Edward Hotel, the Islington Golf Club and the Boulevard Club.
The winner of many culinary awards, Lokker also has live competition experience: he has twice travelled to the World Culinary Olympics in Erfurt, Germany, earning second place in 2000 and two gold medals in 2002. 
"It's not just a job for him. He really, really is passionate about food," said Macdonald. "Spending a few weeks hanging out with him in the kitchen is an experience of a lifetime.
"Students will not only learn how to hold a knife but a great appreciation for ingredients and how to put them together."
In the training sessions, students will learn everything from knife skills to how to properly poach a fish.
The pressure is on U of T, which has never won before and has the additional responsibility of hosting.
Although the students will prepare with Lokker, once the competition begins, each team is on its own. The contenders this year are the University of Massachussetts Amherst, the University of Ottawa, Yale University and McGill University, which was a gold medal winner in the past.
"They all have great chefs so it's stiff competition," Macdonald said.
The teams are usually required to prepare an appetizer, main course and dessert. Last year, U of T's student chefs prepared an appetizer of seared salmon with apple citrus slaw and vanilla beurre blanc sauce, garnished with crispy leeks.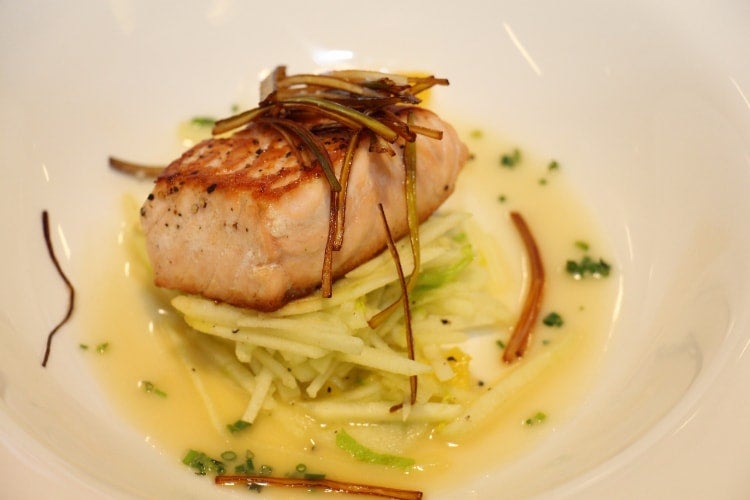 U of T's appetizer last year in the inter-university Iron Chef competition: seared salmon on an apple citrus slaw 
Their main dish was a roasted lamb loin with a couscous and chickpea fritter with raw zucchini twirls.
Although they produced an enticing menu last year, U of T may have to try even harder this time to finish first and claim bragging rights.