U of T alumnus Ivor Tossell at Buzzfeed's NYC headquarters (photo by Geoffrey Vendeville)
U of T News is in NYC this week, where the University of Toronto is hosting free panel discussions with leading experts from the university to share insights on global issues like innovative sustainable development and the aftershocks of the U.S. election.
The events will offer American high school students an opportunity to meet U of T alumni and leading scholars from across the university.
U of T News talked to two alumni now living in New York City about how a U of T education prepared them for today's globally-engaged world. 
Ivor Tossell, who graduated in 2002 with a bachelor's degree in English, works as a product manager at Buzzfeed's headquarters in Union Square where he works to improve online tools for editing and publishing stories.
He has chronicled the Rob Ford saga for Maclean's, The Globe and Mail and other media. In 2012, he compiled his thoughts on Toronto's notorious former mayor in an e-book, The Gift of Ford: Rob Ford: How Toronto's Unlikeliest Man Became its Most Notorious Mayor.
Merve Kösesoy landed an internship at the United Nations after graduating in 2015, drawing on the knowledge of European politics and the language skills she acquired at U of T. In September, she started a new job in the sustainable development division of the UN's department of economic and social affairs.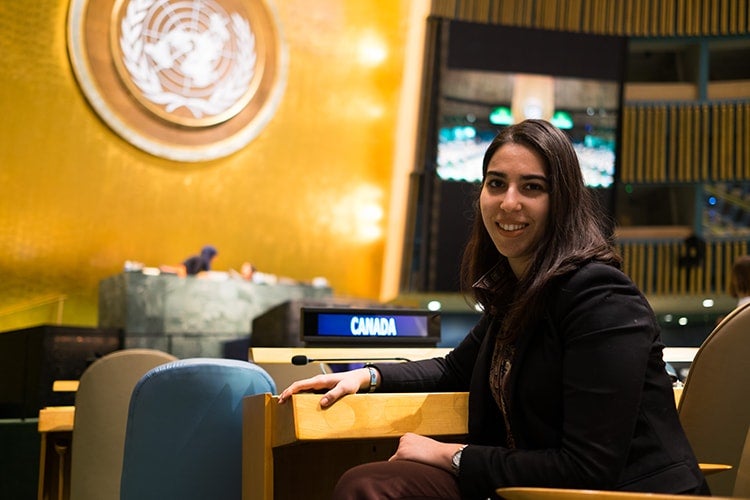 Merve Kösesoy graduated with a degree in book and media studies and European studies in 2015. She is now working at the UN (photo by Geoffrey Vendeville) 
---
Ivor Tossell 
Why did you study English and computer science instead of journalism?
I was a big believer in getting a general education. 
I really loved lit theory. I studied with (Associate Professor of English and American Literature) Paul Downes and there was a handful of courses that I took that really shaped the way I looked at the world. It was a great all-round education.
I think journalism is best practised with as much germane expertise and all-round education you can get. That's why some of the stuff the Munk Centre is doing with its journalism program is so great. 
Are there courses you took at U of T that you were particularly fond of? 
Studying with Downes was amazing. You know you have these kinds of Hogwarts moments. That was the course that made me really passionate about ideas and seeing the world. 
What did you learn working at the campus papers, Victoria College's The Strand and The Independent Weekly? 
It taught me a lot about working with people, the nuts and bolts of reporting. It's exhausting, intense and amazing. Everyone who does it comes out of there with this spot carved out in their hearts – and also their livers. 
What was it like covering Rob Ford? 
I remember it as being exhausting. There was this very intense thing that was happening all around us. It was happening to everybody and everyone could feel it. I was just madly trying to interpret it and put it into words in a way that sort of made sense. I always felt there was so much more happening than I was able to write about.
He was constantly attempting to undermine the legitimacy of the media. It felt like being locked in an existential crisis where you were trying to establish which end was up in a world that was increasingly upside down. 
Has your perspective on Ford changed in hindsight? 
Yeah. In hindsight, my feelings toward him have really softened – to him personally. Now that I'm removed from it, it's far easier for me to see him as a tragic figure who found something that he had a knack for, something he could do and be rewarded for. I think he wanted the best for the people who supported him. He was just not a very good mayor, and he was surrounded by people who brought out the worst in him. 
Many have pointed out similarities between Ford and Trump. What do you think? 
There is a difference. Rob Ford was nobody's idea of a progressive and he said a lot of stupid things about race and gender. Like, a lot of them. But Rob Ford supporters really cut across all races. His support was not just old and white. There was none of the active, malicious, toxic race-baiting. 
How do you cover someone like Trump? Are there lessons from covering Rob Ford that journalists can apply? 
Vigilance. I don't think there's a single answer. Journalism is incredibly important. One of the reasons I'm very proud to work at Buzzfeed is we're practicing very aggressive, investigative journalism, something there isn't a lot of in the media anymore. Buzzfeed is funny because it's on the one hand a very forward new media company, but it also has a real streak of old school journalism.
Do you have any advice for U of T students who are interested in going into journalism? 
Learn as much as you can about the things that fascinate you. Have a niche. I think all journalists have to be a generalist to a certain extent, but a journalist who has one or two areas of passion and expertise will stand out . 
---
Merve Kösesoy
Why did you choose Toronto? 
I applied to a bunch of schools in Canada because the U.S. was too expensive for my family. 
U of T was amazing. There were so many people from all over the world. It's like the United Nations – a little UN. 
How did your U of T education prepare you for the UN? 
With European studies, I had to take another language course, and I was already speaking French, Turkish and English so I took Spanish. I think the fact that I speak four languages really helped me get a job here. 
It helped me develop an open mindset. It taught me analytical thinking and how to best explain myself – because of the essays I had to write. And it taught me discipline.
Were there classes you particularly enjoyed? 
(Associate Professor of History) Robert Austin's classes. I never fell asleep during his class. He always says something interesting. I also helped Jenna Sunkenberg with her research on how media affect cultures. Her classes also developed my understanding on how media is a gargantuan entity that presides over our daily decisions, our sense of the world and exposes us to things we've never experienced.  
You compared U of T to the UN. Could you elaborate on that? 
I had tons of friends from Arab-speaking countries, and everywhere. There's a cultural exchange that you experience as a student. I studied political science, and in my classes, we had a lot of discussions about culture, politics and every student was able to bring a different perspective because each came from a different part of the world. 
What did you do as a UN intern? 
Last December, I was helping my team to finalize the overall review of the implementation of the outcomes of the World Summit on the Information Society, an intergovernmental negotiation process that first took place in Geneva in 2003 and then in Tunis in 2005. Last year was the 10th-year anniversary of that summit. There were many interns last year, but I had the biggest workload. I really wanted to make an impression here. I was the only intern who attended negotiations between governments on the mandate of the summit's resolution.
How do you like working here? 
I love it. For example, this morning I went to watch the new secretary-general Antonio Guterres be sworn in. Also, I went to the 71st Session General Assembly Meeting in September. I heard Prime Minister Justin Trudeau speak, UK Prime Minister Theresa May, French President Francois Hollande, Turkish President Erdogan – everyone.
Here, you're always learning something. Even at lunch. In the cafeteria, someone will ask to sit at your table and they will tell you about their countries. 
What was it like seeing Trudeau speak at the UN? 
It was amazing. I just love him so much! I was going to scream "Marry me!" but I told myself, "No, no, no. You don't want to get fired in your first month as a consultant."
What is your dream job? 
Maybe this is going to sound silly, but I want to be the UN Secretary-General. Until now, there hasn't been a female SG. 
What would your priorities be as secretary general? 
Empower women. If you do that, I think a lot of the other stuff would fall into place. I would also want to bring more empathy and awareness about global problems.