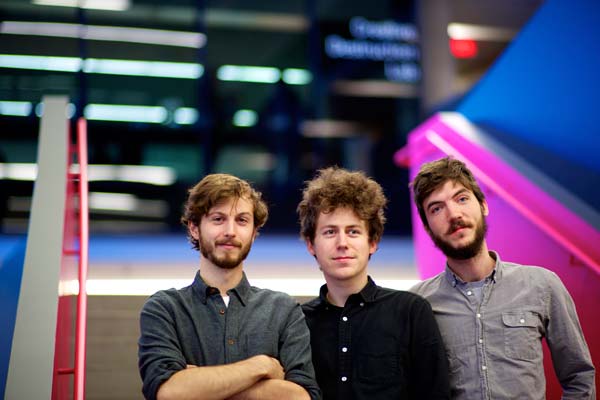 Business Development Bank of Canada partners with U of T startup accelerator, Creative Destruction Lab
"A perfect fit" says BDC Capital
Creative Destruction Lab, an elite startup accelerator at the University of Toronto, will receive a major boost over the next three years as it teams up with influential crown corporation BDC Capital, a leading investor in emerging business in Canada.
"BDC Capital's participation enables us to take the Creative Destruction Lab further by developing ways to engage more ventures that are based on the world-class research conducted at Canadian universities," said Professor Ajay Agrawal, the program's academic director and U of T's Peter Munk Professor of Entrepreneurship.
BDC Capital is a branch of the Business Development Bank of Canada (BDC) that focuses on the creation and cultivation of small and mid-sized businesses. Last year, the federal government's economic action plan directed BDC to devote $100 million to investment in high-growth startups and accelerators such as Creative Destruction's highly competitive eight-month venture development program.
BDC supports accelerators producing demonstrated 'world-class,' 'venture-fundable' startups
The Creative Destruction accelerator, run through the Rotman School of Management, has offered intense business development and mentorship from major Canadian business leaders (including
Lee Lau
,
Daniel Debow
,
Nigel Stokes
 and others) to its selected tech startups since 2012.
(Read more about Creative Destruction Lab.)
In just two years, ventures developed through the program – including previously featured companies such as Whirlscape and Bionym – have collectively generated more than $100 million in equity value, with a goal to reach $1 billion. (Read about the 11 new startups that recently completed the program.)
"We are looking to support as many of Canada's high-potential early-stage companies as we can, while connecting them to the mentorship and private investments that they need," said Dominique Bélanger, vice-president, strategic investments and partnerships at BDC Capital.
"We're now looking to partner with other select accelerators that have demonstrated their ability to produce and support world-class venture-fundable startups in the IT, healthcare and industrial/clean energy technology sectors. Rotman's Creative Destruction Lab is a perfect fit."
Creative Destruction to integrate BDC into program leadership, offer new benefits to its startups
With this partnership, BDC Capital becomes a founding partner of the Creative Destruction Lab and will be actively involved in all aspects of the accelerator program, including having a seat on the Lab's advisory board. Graduates of the CDL program will also now be eligible for BDC Capital's convertible note investment program.
Even before this partnership, BDC Capital had already invested in six Creative Destruction graduates: OTI Lumionics, Whirlscape, PiinPoint, PUSH Design Solutions, LINKETT and Kiwi Wearables. Since 2012, BDC Capital has invested a total of $13.2 million in 87 companies nationwide via its convertible note investment program, with private investors putting up an additional $38 million.

The Creative Destruction Lab offers an eight-month program that leverages the faculty and industry networks of the renowned Rotman School of Management and draws in candidates from the technology-oriented faculties at the University of Toronto as well as those of other universities. It is one of a wide range of supports for entrepreneurs at U of T. (Read more about entrepreneurship and commercialization at the University.)
"The Creative Destruction Lab exists to speed the development and marketing of student-grown inventions that have strong commercial potential," said Agrawal. "The CDL's technology focus is diversified, and we welcome companies from diverse industries.
"We intend to expand our program to health-related technologies in the near future and will work closely with BDC Capital to make this happen." 
The application period for the third cohort of Creative Destruction Lab closes August 28, 2014. Interested ventures can apply at http://www.creativedestructionlab.com/apply.
About BDC Capital
A subsidiary of the Business Development Bank of Canada (BDC), BDC Capital offers a full spectrum of specialized financing and investment solutions to help Canadian entrepreneurs achieve their full growth potential. With more than $1 billion under management, BDC Capital seeks to nurture companies' development over the long term, from venture capital to equity to growth and transition capital. (For more information visit www.bdccapital.ca or Twitter at @BDC_Capital.)

About the Creative Destruction Lab
Founded in 2012, the Creative Destruction Lab at U of T's Rotman School of Management leverages the school's leading faculty and industry networks, inventions, and talent from world-class technology-oriented faculties at the University of Toronto and its location in one of the world's most culturally diverse cities and Canada's largest financial centre, Toronto.
Ken McGuffin is a writer with U of T's Rotman School of Management; Brianna Goldberg writes about entrepreneurship for U of T News.