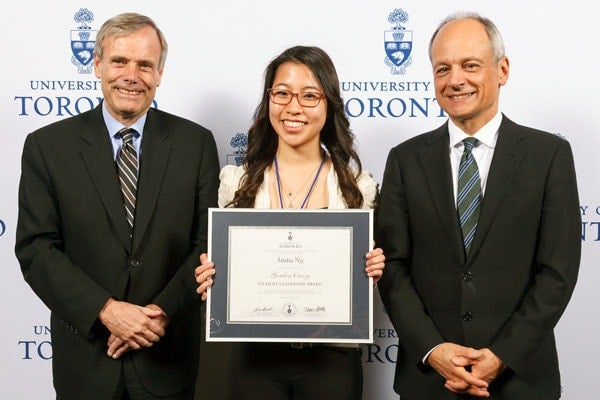 Building better communities: U of T students give back
2014 Gordon Cressy Student Leadership Award winners
On April 16, the University of Toronto ushered 211 graduating students into a community of achievement and service at this year's Gordon Cressy Student Leadership Awards presentation.
Nearly 600 attendees gathered in Convocation Hall to recognize the students' outstanding co-curricular contributions to U of T.
The evening opened with remarks from Lenna Bradburn, president of the University of Toronto Alumni Association (UTAA). The UTAA created the award in honour of Gordon Cressy, vice-president of development and university relations from 1987 to 1993, on the occasion of his departure from the university. An annual tradition since 1994, this year marks the award's twentieth anniversary.
Each student crossed the stage to receive a certificate and shake hands — or share a high-five — with Gordon Cressy and Professor Meric Gertler, president of the University.
"U of T has well over half a million graduates around the world, known for achievement and leadership in their fields, professions, and communities," Barbara Dick, assistant vice-president of alumni relations, told the students. "The calibre of tonight's recipients underscores that extraordinary student leaders become extraordinary alumni. Your Cressy Award is a sign of our appreciation for your current achievements and our confidence in you. We know you will go on to make us proud as you join the ranks of the 3,600 Cressy Award recipients"
Organized by the Alumni Relations and Student Life, the award committee vets nominations and selects winners based on co-curricular participation as well as academic excellence, acknowledging the rigors of combining scholastic success with meaningful community involvement.
Jesse Kancir, a student at the Faculty of Medicine who served as president of the Canadian Federation of Medical Students and founding director of the Working Group on Medical Humanities, finds meaning in the award's recognition of the time and energy he poured into school and his activities.
"Being nominated by my faculty is a particularly touching show of support," he said. "Studying medicine has been my most gruelling experience. To be at the end of my degree and have my future colleagues express their gratitude for the contributions that were so important to me during my time as a student has been affirming and encouraging."
The award's celebration of leadership and scholarship fits perfectly with the university's mandate.
"In carrying out our two-fold mission of teaching and research, the University of Toronto is dedicated to supporting the development of leaders in every field, and the leadership qualities of all our students," said President Gertler. "Tonight's award-winners have seized that opportunity — and strengthened that mission — with great distinction. They have shown an outstanding generosity of spirit and commitment to the common good, qualities which by their nature lead to a lifetime of service and achievement."
Kancir was also struck by his fellow recipients' breadth of accomplishments.
"There is a remarkable amount of passion for a variety of activities that were previously unknown to me," he said. "The university brings together a diverse range of students who share the common purpose of making our campuses more than classrooms and libraries: our communities."
UTM student Sarah Israr, for example, volunteered on the TEDxUofTMississauga team and the department of management's advisory board.
"UTM helped me to accomplish so much more than I thought I could when I stepped through the doors in first year," she said. "I've had so much fun with my co-curriculars, so the award really proved to me that you can be rewarded for doing what you love."
As the award's lodestar, Gordon Cressy embodies that spirit of community service. In his keynote address, he spoke with great ardour about rising to challenges, and included personal anecdotes and advice from almost 50 years in the not-for-profit and academic sectors.
"In the end, it's what you've done to build community that lasts," he said. "This award shouldn't just be a plaque on a wall, but should stand for your continued commitment to be a leader. Be a participant, not a spectator. Pursue service and social action, and don't sit on the sidelines."
His speech elicited a standing ovation for its resonance with students. "What hit home for me was when he said that there is no excuse for not trying," said Israr. "If you can't do something, find someone who can help you do it. It's all about perspective — nothing is impossible."
For Cressy, the award represents each new generation's enduring desire to make a difference. "It's one of the most special days of the year for me," said Cressy. "If anyone worries about the future of the world, they should just take a look at this group of people."
The Cressy celebrations continue into the fall, when the university will invite all past recipients back to campus for a special tribute to the twentieth anniversary of the award's inaugural presentation.