Bringing real conversations with entrepreneurs to U of T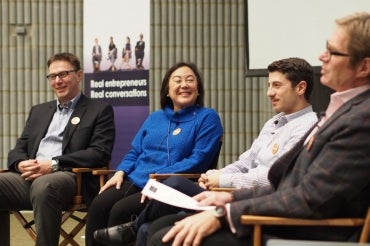 In an era of "Dragon's Den", Silicon Valley and TED Talks, there's a growing interest in what it means to be an entrepreneur.
How do you start? What does it take? Do you need a business degree? Where do you go for answers?
"There has been a proliferation of entrepreneurship events and online resources to help you start a business," says Cynthia Goh, director of U of T's Impact Centre, a development hub for early-stage startups in the natural sciences and engineering, and academic director for the Banting & Best Centre for Innovation & Entrepreneurship at U of T. "But so many of them are one-sided. We wanted to create a dialogue between those who are interested in entrepreneurship and the people who have lived it."
That's why the Impact Centre launched "Entrepreneurship 100: Conversations." The weekly series, which began on Nov. 17, runs until Dec. 1, bringing together diverse panels of experienced entrepreneurs to have candid conversations with the audience about entrepreneurship. 
"I attended the event because I wanted to gain new perspectives about entrepreneurship from the panel of speakers," says Kyle Wang, a fourth-year student in biochemistry and pharmacology. "I wanted to see how the founders of new startups dealt with challenges in the idea-development process and how they overcame those barriers." 
Attendees have the opportunity to ask panelists questions during a structured discussion moderated by Charles Plant, an experienced entrepreneur and educator with the Impact Centre, as well as during one-on-one networking. In addition to the panelists, entrepreneurs from U of T's Campus Linked Accelerators (CLAs) attend the networking sessions to share their experiences.
"During the panel and the networking sessions, I was able to speak with a few founders on how to work with limited cash," says Wang. "I also learned that bootstrapping, where companies grow without investment, is common for new ventures."
The first two sessions of the series focused on what it takes to be an entrepreneur and where entrepreneurs get their ideas. The panel discussed the drivers that inspired them to start their businesses, how they deal with risk, their visions for the future and how to support others looking to start their own companies. 
For many in the audience, the event provided the first exposure to the idea of starting a business. 
"I learned that in order to be a successful entrepreneur, money is simply not enough motivation. You need to have three key ingredients – passion, determination and grit," says Sakshi Khanna, a fourth-year book and media studies student. "What I found surprising was that someone as young as Leila Keshavjee could start her own company right after obtaining her degree, and that too, with a degree not related to entrepreneurship. I think it was reassuring for many students in the audience."
Organizers say the most exciting part of these conversations is inspiring students who thought entrepreneurship wasn't something available to them.
"To be honest, I had never given entrepreneurship that much thought earlier on," says Khanna. This event put things into perspective for me, and I realized that it certainly might be an option in the future. The idea of innovating something and putting it out there really appeals to me."
The final session of "Entrepreneurship 100: Conversations" is taking place from 6 to 8 p.m. Thursday. The panel, made up of three entrepreneurs, will discuss what to do in the first 100 days of starting a company and who can help along the way. The event is free.