'Brilliant and exceptionally dedicated': Undergrads secure funding for research on community outreach programs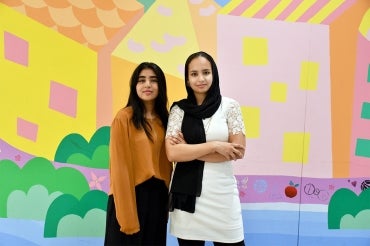 Maimuna Akhter and Maha Khan – both undergraduate students in biological sciences at the University of Toronto Scarborough – have come full circle.
The pair got their post-secondary start as members of a Dalla Lana School of Public Health outreach program that seeks to introduce underrepresented high school students to health careers. Now, with the help of a $33,000 grant, they are studying which programs and services high school students in the community find most valuable. 
Akhter says the idea for the project – which is focused on The Neighbourhood Organization (TNO), an agency that provides services to communities such as Toronto's Thorncliffe Park – came from her and Khan's own experiences as teenagers.
"I grew up in the communities of Flemingdon Park and Thorncliffe Park, and I was a high school student at Marc Garneau Collegiate Institute," Akhter says. "Throughout my years there, I felt quite supported by The Neighbourhood Organization."
She adds that teachers and parents would share their opinions on TNO programming, but she and Khan saw an opportunity for youth voices to be heard. Starting this fall, Akhter and Khan will conduct focus groups and surveys to determine which programs and services Thorncliffe Park youth benefit from the most. Their findings could help TNO can refine its offerings.  
"I wanted to give students the opportunity to speak out about what programs would be helpful to them and how TNO could better facilitate their completion of high school," Akhter says. 
Akhter, who is in her second year of studies, and Khan, who is in her third year, received the research funding from Mitacs, a non-profit national research organization that supports innovation through partnerships with Canadian academia, government and industry – a rare accomplishment in the early stages of a post-secondary journey.  
The roots of the research project can be traced to the Dalla Lana School of Public Health's outreach program.
Ryan Hinds, the school's director of equity, diversity and inclusion, describes Akhter and Khan as "brilliant and exceptionally dedicated." 
A few years ago while still in high school, Akhter and Khan met Hinds through the school's outreach and access program and have been participants ever since that first meeting. The program introduces high school students from underrepresented communities to various career options within public health and provides mentorship, enrichment opportunities and other supports as they progress at U of T. 
Last year, program leaders challenged Akhter and Khan to pursue a research topic and the TNO project was born.
Hinds says one advantage to the pair's research project is that youth may feel more comfortable opening up to younger researchers. "The idea is that talking to other students, they [the participants] can be more transparent and more open around what has not been working." 
The students' research supervisor, Julia O'Sullivan, a professor at the Institute of Health Policy, Management and Evaluation, says some of Akhter and Khan's data collection methods are innovative.
"A lot of what they had proposed was new to me," she says. "They taught me a lot, especially about word cloud polls and Instagram accounts."  
O'Sullivan says that because of the particular research design involved, they enlisted the advice of Maggie Dunlop, director of monitoring evaluation and learning at the Martin Family Initiative.  
Khan says that it was sometimes challenging preparing a proposal for the ethics board and funding. "Sometimes it would feel tedious because you would have to wait a long time for the responses to come in, and then you'd be on the edge wondering, are they going to approve it?" 
While part of the funding supports subscriptions to data collection tools, Akhter says the award will also fund gift card incentives that show participants their involvement is valued. "We want to thank them for their time and so we're providing gift cards and lunch for the day," she says. "If they're missing out on volunteering or work, they'll know we appreciate their time."  
Akhter and Khan say they are grateful to have been introduced to new opportunities through the Dalla Lana School of Public Health's outreach and access program. "It was the most meaningful club that I joined in high school," says Khan, adding that the program has "helped me make a goal for myself that, whatever career that I choose, I want to make sure I enjoy what I am doing." 
Although it is too early to tell where the students' paths may lead, Akhter and Khan both say that the experience allowed them to discover new passions in research, communications and community relations.
In fact, Khan says research has "become a solid-running career option for me now."
Dalla Lana/UTSC