BRICS nations can lead the world in urban innovation, Gertler says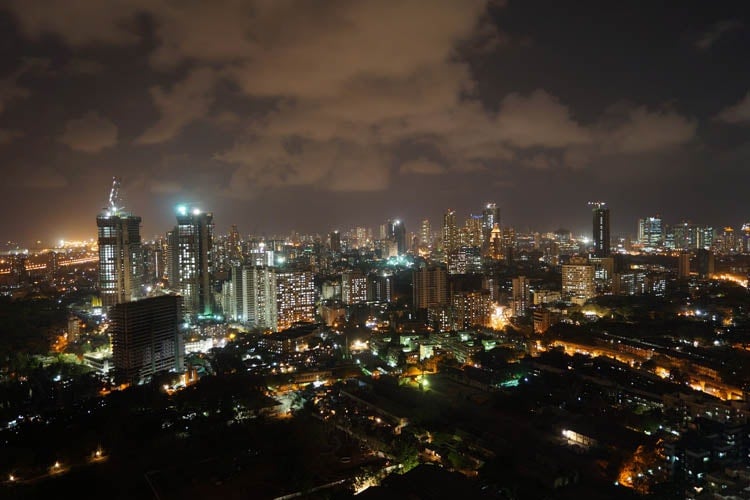 Mumbai at night: a nation's prosperity is vitally connected to the prosperity of its cities and urban region (photo by Skye Vidur via flickr)
Brazil, Russia, India, China and South Africa – collectively known as the BRICS nations – have the potential to create new models of urban innovation and ever higher levels of prosperity, University of Toronto President Meric Gertler says in his chapter for a new book released earlier this month.
Gertler contributed a chapter on building innovative city clusters to the book, The Making of Vibrant BRICS Cities, which was released by India's Minister of Urban Development Mr Venkaiah Naidu on behalf of Prime Minister Narendra Modi at a conference in Mumbai, India. Gertler elaborated on his message in a presentation at the conference, which was attended by officials and academics from the BRICS countries and elsewhere.
In his presentation, Gertler discussed the relationship between innovation and inclusivity  "In the Global North, concern has arisen over an apparent tendency for the most highly innovative urban regions to become increasingly polarized in terms of incomes, occupational structures, and other dimensions of inequality," he said. "Meanwhile, in the Global South, there is concern that rapid urbanization and the emergence of more knowledge-intensive forms of economic activity may not be creating opportunity for the poorest segments of the population."
Nevertheless, Gertler argued, innovation and inclusivity should not be regarded as necessarily in opposition. In fact, many of the world's most innovative regions are among the world's most inclusive regions as well. This was especially true in leading urban regions and smart cities. Gertler suggested that investments in public education, public transportation, affordable housing and wage fairness would contribute both to greater innovation and to increased levels of opportunity and participation for all citizens.
The conference took place in the context of India's leading role among the BRICS and its focus on urban renewal and innovation. "Prime Minister Modi's urban agenda and his plan to build 100 Smart Cities are breathtaking in their scale and vision. The BRICS Cities Conclave reflects the insight that a nation's prosperity is vitally connected to the prosperity of its cities and urban regions," Gertler said. "It was a remarkable event, bringing together thought leaders and policy makers from every BRICS nation. It was a privilege to be invited to address them."
In his book chapter, the president outlines four priorities for metropolitan policymakers, particularly among the BRICS countries:
Produce, attract and retain talent
Partner with institutions of advanced research and higher education
Invest in urban infrastructure
Play to your strengths
"Highly educated, creative human capital has become the pre-eminent factor of production, shaping the competitive advantage of firms in one sector after another," Gertler writes. And that human capital is both produced by – and drawn to – universities and similar institutions. "The relationship between urban regions and educational and research institutes is symbiotic: cities foster the development of world-class research institutions and universities while, at the same time, universities and research institutions foster world-class cities."
Investing in urban infrastructure will help attract and retain the most talented, creative and entrepreneurial members of the labour force, he argues. Such people "prefer to live in urban settings that offer a high quality of place: cities that are culturally dynamic, physically appealing, with vibrant and safe neighbourhoods, good public schools and hospitals, places that are open to newcomers and new ideas."
Gertler concludes that if these lessons are heeded, the world "will be watching to learn from the collective ingenuity of the BRICS nations."