Brain research at U of T gets huge boost with arrival of MRI scanner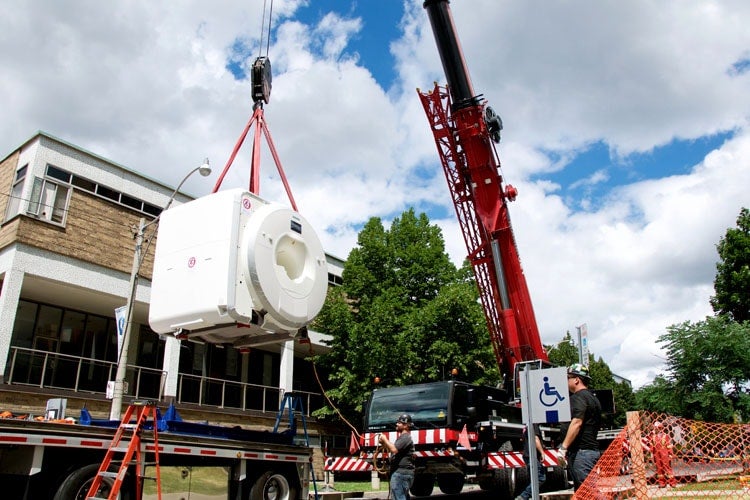 The MRI is lifted into position (all photos by Diana Tyszko)
A 12-metric tonne magnetic resonance imaging scanner (MRI) that landed on the St. George campus of the University of Toronto last week will make a deep impact on students, faculty and the wider community for years to come, researchers say.
Heavier than a dozen elephants, largely due to the density of its magnet, the Siemens Prisma 3 Tesla MRI was lowered into position by crane at its new home at the Centre for Biological Timing and Cognition (CBTC) on Huron Street.
The three-million dollar machine is about twice as powerful as the average hospital MRI scanner, and represents a huge leap forward in brain science research for the university and the city, says Psychology chair Susanne Ferber.     
The new MRI – the only one at U of T outside of affiliated hospitals - will be coupled with special software for functional magnetic resonance imaging (fMRI), a non-invasive technique for measuring and mapping brain activity, says Ferber, who worked for almost 15 years to get the scanner for her department.
Ferber and her colleagues plan a wide range of ongoing research projects to determine the characteristics of a healthy mind in populations ranging from the elderly to new immigrants, using the massive amounts of data fMRI produces.
"We are moving away from the disease model and trying to find the neural signatures of well-being in individuals those folks who seem to be doing really well with life transitions, like aging or moving to a new country," says Ferber.
"These data sets are so rich, there are all sorts of advanced statistics one can use to gain new insights into how we interact with our environment," Ferber (below, watching the MRI being lifted into position) says.
Those insights can inform public policy and guide society to what it should provide to people so they can thrive, Ferber says. "Understanding how the brain operates has implications for ethics and law, education, economic decisions, social interactions and child rearing practices, all of which affects the public at large," adds professor Morris Moscovitch, who is investigating how to help people with brain injury or degeneration.
U of T's psychology department has long been a leader in cognitive neural science, but having the ability to run fMRI scans in-house instead of going outside the university will ramp up the rate and scope of its research, says Assistant Professor Dirk Bernhardt-Walther, who is studying how vision works.
"We often need to scan 100 or more people for our studies, and having this access will allow for faster scientific progress," agrees professor William Cunningham, who is researching emotional states and perception.
Named the Toronto Neurolmaging Facility (TONI), the new MRI resource will help recruit and retain top students and faculty. 
"It will not only help my own research, but facilitate collaborations with my colleagues, and allow my students to collect data at unprecedented rates," says assistant professor Katherine Duncan, who is researching memory.
Plans are underway for new courses and projects to give undergrads, graduate students and post-doctoral researchers hands-on experience with the new MRI.
"The MRI will make a big difference on campus by bringing new learning opportunities to students," says assistant professor Amy Finn, who is studying links between learning and socio-economics.
It will take a few more weeks to finish construction of the suite of rooms that will house TONI, including power systems to regulate the MRI's super-cooled helium gas, says Sean O'Molloy, project manager, University Planning, Design and Construction.
O'Molloy expects the facility will be ready to "go live" in late August or early in September.
For Ferber, it will be the final step in a quest that began more than a decade ago.
"The biggest moment will be when we see our first data sets coming out of the magnet."