Bombardier invests in Toronto aerospace hub, creates U of T research centre on aircraft noise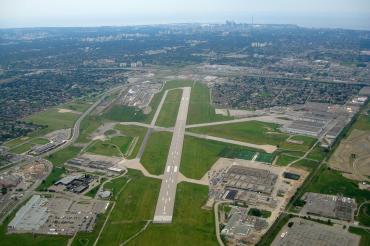 Bombardier Inc., the Canadian aerospace giant, is planning to spend millions to help establish an aerospace research hub near Downsview Airport with the University of Toronto and other local academic institutions as key partners.
The Montreal-based maker of planes and trains said Thursday it will invest $1.5 million over five years to fund core research at an "aeromaterials research centre" at Downsview, where it's part of a consortium of industry and academic partners, including U of T, called the Downsview Aerospace & Innovation Research, or DAIR. 
Starting next year, Bombardier is also investing $1 million over five years to set up new research centres at U of T and Ryerson University that will be focused on acoustics and advanced interiors, respectively. There will also be funding for landing gear research by Centennial College and the extension of a training program at the college's Downsview campus. 
"The idea that this would be well-funded and give us further collaborations with Bombardier is very exciting," said Chris Damaren, the director of the University of Toronto Institute for Aerospace Studies (UTIAS), adding the institute also plans to seek collaborative research grants from the National Sciences and Engineering Research Council of Canada.
Damaren noted that UTIAS has worked with Bombardier on several projects in the past, and that DAIR's vision includes eventually relocating UTIAS to Downsview Park from its current home near Dufferin Street and Steeles Avenue.
In addition to investing in academic and research activities, Bombardier said it will also support DAIR's operations, providing $900,000 over three years, and work to preserve Downsview's aerospace heritage. That includes spending $2.5 million to refurbish a heritage building on the Downsview site. 
Other DAIR partners include Centennial College, York University, Canadensys Aerospace, Safran Landing Systems, Pratt & Whitney Canada, MDA, Flight Safety Canada, Honeywell and UTC Aerospace Systems.
Bombardier, which recently announced plans to sell its manufacturing site at Downsview and relocate the operation to Toronto Pearson International Airport, said it's hoping greater collaboration between industry, academia and government will spur innovation in the Ontario aerospace sector. 
"Since acquiring de Havilland in 1992, Bombardier has built strong relationships with local institutions to promote aerospace research and innovation," François Caza, the vice-president of product development and chief engineer of Bombardier's aerospace division, said in statement. 
"Through this partnership with DAIR, we commit to supporting the development of this unique ecosystem for many years to come."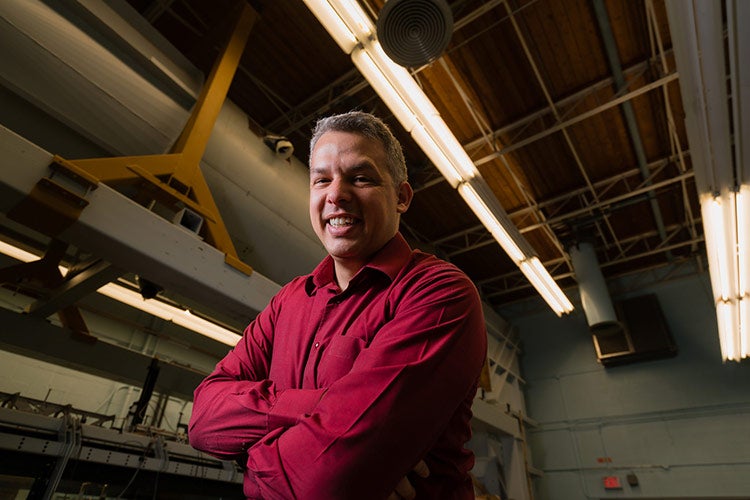 Philippe Lavoie, an associate professor at UTIAS, will be one of two U of T researchers working with Bombardier to reduce aicraft noise (photo by Neil Ta)
From U of T's perspective, the DAIR consortium represents an opportunity to deepen its relationship with one of Canada's most innovative global companies in an industry that contributes about $28 billion to the Canadian economy.
"The University of Toronto is thrilled to be working alongside Bombardier, as well as the rest of the DAIR consortium, to build out an innovation hub at Downsview," said Vivek Goel, U of T's vice-president of research and innovation.  
"Bombardier has the size, scale and ambition to turn the cutting-edge aerospace research of its academic partners into real-world applications with the potential to reach millions."
Philippe Lavoie is one of two U of T researchers who will be working on noise reduction with Bombardier as part of the new UTIAS research centre. He said aircraft noise is a growing issue as global air traffic increases and urban growth leaves more airports surrounded by housing.
"What the aerospace industry is trying to do is make the noise footprint small enough that it fits within the airport itself," said Lavoie, who is an associate professor at UTIAS.
While today's jet engines are quieter than ever thanks to the advent of geared turbofan technology, the same can't be said of other aircraft parts like wing slats and flaps and landing gear – which is where the U of T researchers will focus their attention. 
"Historically engines were the number one sound emission by far, basically drowning out everything else," Lavoie said. "But, in recent years with the advent of high bypass ratio turbo engines, they're getting to the point where other components like high lift devices and landing gear can now be heard."
The challenge, of course, is figuring out novel ways to reduce the noise signature of these components without compromising their core functions – a problem Lavoie says he and fellow UTIAS researcher Alis Ekmekci, who will also be working with Bombardier, are well-positioned to help solve. 
"We're really hoping to have a significant impact on the next generation of airplane that will come out of Bombardier," he said.
UTC