For nearly two decades, the Black History Month Luncheon has provided a rousing crescendo to four weeks of Black History Month events at the University of Toronto. On Friday, the first virtual edition of the annual event was held, featuring all the programming that makes the celebration one of the most keenly anticipated events of the year.
The 19th annual Black History Month Luncheon featured singing and steel drum performances, the screening of a poignant and inspiring video on Black history, and a keynote address and Q&A session featuring honorary guest Senior Executive Vice President, Social Impact, Growth Initiatives & Legislative Affairs Kimberly Davis of the National Hockey League (NHL).
Organized by U of T Advancement in partnership with Hart House, the event also included a silent online auction to help raise funds for two scholarships for Black students – prizes on offer included an executive box suite at an NHL game, and 10 NHL 21 video games from EA Sports.
Davis, who leads the NHL's efforts to attract and retain fans – particularly from multi-cultural audiences – through youth programming, cultural events and social impact initiatives, reflected on how leaders can foster diversity in their organizations, noting that "being an inclusive leader is really not a destination, it's a never-ending journey.
"For me, it's more about being as a form of doing," Davis said. "There clearly is no specific recipe for how a leader can effectively engage in the process of change but I do know that there are a couple of important elements.
"One is that it takes bold and courageous leadership to effect change, to model engagement and to inspire others so that the work that we are all undertaking is not just a moment in time but it becomes part of a movement. And I think it ultimately comes down to how each of us shows up – how we behave as agents of change, recognizing that in order to be a change agent, we have to commit to our own change."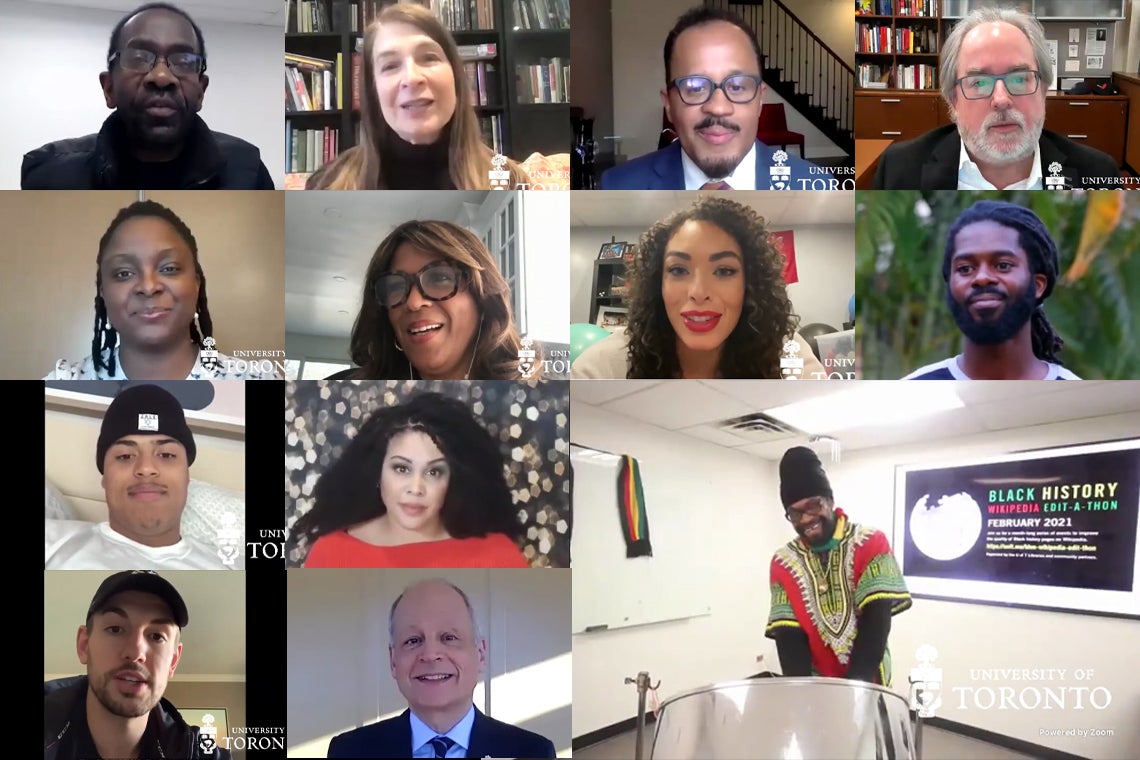 Top row (L-R): Glen Boothe, Barbara Dick, Dexter Voisin, David Palmer
Top Middle Row (L-R): Jodie Glean, Kimberly Davis, Sarah Nurse, Randell Adjei, Django Pan Fyah
Bottom Middle Row (L-R): Akil Thomas, Natasha Waterman
Bottom Row (L-R): Kurtis Gabriel, President Meric Gertler
Asked about the NHL's efforts to promote diversity and inclusion in its ranks and make the sport of hockey more welcoming to all audiences, Davis said the league's efforts to have "open and authentic" conversations around the issue have been crucial to the journey.
"I joined the league three years ago and one of the first observations I had was that there was a clear understanding of engagement of under-represented groups, but it was looking at that engagement through the lens of charity and philanthropy, not the lens of growth," she said.
"There's a huge, important distinction in that that really helps us shift our thinking about how we engage young boys and girls of colour in the journey of growing the sport of hockey and not just putting – as we often hear – sticks in hands."
Following Davis's remarks, attendees were shown a video of hockey pros Kurtis Gabriel of the NHL's San Jose Sharks and Akil Thomas of the American Hockey League's Ontario Reign (affiliated with the NHL's Los Angeles Kings) taking questions from children across the Greater Toronto Area.  
Earlier, attendees heard from several U of T leaders including President Meric Gertler, who noted that the impacts of the COVID-19 pandemic, as well as numerous high-profile incidents of anti-Black racism, were both a reminder of the "sad reality of systemic racism" in society.
"U of T's Black community, alongside so many others at the university, has responded with courage and resolve," President Gertler said. "We're proud of the crucial work that began at U of T and has spread across the country through the National Dialogues and Action for Inclusive Higher Education and Communities, and we look forward to acting on the recommendations of U of T's Anti-Black Racism Task Force and to promoting Black inclusion and excellence within our tri-campus community."
Professor Dexter Voisin, dean of the Factor-Inwentash Faculty of Social Work and co-chair of the Anti-Black Racism Task Force, expressed gratitude to U of T's Black faculty, staff, students and alumni for their contributions to the university.
"I'm hopeful that our work on the Anti-Black Racism Task Force – alongside our continued excellence – will help to not only advance this university of ours, but create a path for inclusive excellence for all Canadians," Voisin said.