Black Health Equity Lab launches at U of T Scarborough to address health disparities in Black communities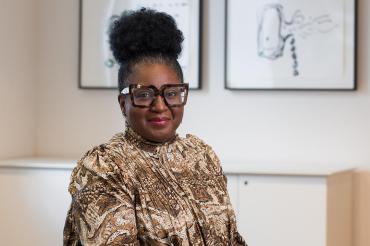 A new lab at the University of Toronto Scarborough will tackle health disparities faced by the Black community in Toronto, with a particular focus on access to primary health care.
Directed by Notisha Massaquoi, assistant professor in the department of health and society at U of T Scarborough, the Black Health Equity Lab (BHEL) will go beyond research to include designing solutions to address health disparities and includes a partnership with Scarborough's TAIBU Community Health Centre.
The lab's first research project involves developing a case management HIV program for the Black community in Scarborough in the hopes of reducing transmission rates and improving health outcomes through early detection, treatment and support. The project will place a new case management team at TAIBU that includes a nurse practitioner, social worker and two community outreach workers to ensure immediate support for members of the Black community diagnosed with HIV.
Massaquoi has been advocating for greater access to health-care services in Black communities for more than 30 years. Migrating from Sierra Leone in the 1960s, and with both of her parents employed as health-care professionals, she experienced first-hand the lack of support services and resources available to help families get settled in Canada.
"When we're talking about health equity and the need for health equity, we're talking about the survival of Black people," says Massaquoi.
"It's not as simple as everybody receiving the same care regardless of race. When I'm talking about health equity, I'm talking about a system that responds and wants Black people and Black communities to survive."
Writer Jasmine Mahoro recently spoke to Massaquoi about what inspired her to create the lab and the importance of the type of research it will undertake.
---
What inspired you to launch the Black Health Equity Lab?
I came up with the concept of the Black Health Equity Lab to look at ways that we can create more effective health services for Black communities and increase access to primary health care for our communities.
What I'm trying to understand is not why we're experiencing health disparities, because we know they're directly related to social and economic marginalization and anti-Black racism. What I'm trying to do is understand how we alleviate these disparities. I truly believe that this lab could only exist at UTSC because of the community-based focus that this space has.
What type of research will the lab focus on?
The lab is launching with a major project where we're developing what is going to be the first clinical program for Black people living with HIV in the province. It's going to be located at TAIBU Community Health Centre. We don't have specialized HIV services for Black communities in Scarborough, so this is a really important project.
We're also working on looking at the impact of violence and the services needed by Black people who have lost a loved one to homicide. We're looking at improving maternal health and Black women's birthing experiences with projects looking at improving access to midwifery care. The lab is also looking at COVID-19 and how we can improve pandemic responses, supports and services for Black and racialized communities.
What are your hopes and goals for the lab?
My hope and goals are for it to become a place where students and community members can work collaboratively to address the issues that Black communities are experiencing in our health-care system. I'm very much focused on it being community-based and collaborative. I want students to get real-life experience working with Black communities to develop solutions for the problems that we're having in terms of our poor health outcomes.
What impact do you hope this research will have?
The biggest impact we're hoping for is that Black people can access health care and be as healthy as the average Canadian. We have universal health care and we shouldn't have these health disparities – we shouldn't have different health outcomes.
The lab is also working collaboratively with Indigenous researchers and communities. Black people aren't the only people that have these kinds of health disparities. In fact, no matter what our health disparities are, they will be greater in Indigenous populations. So, we're not doing this work at the expense or the exclusion of other groups. I really think if we find solutions for our Black communities, it's only going to help make our health-care system better for everybody.
What excites you the most about the launch of the lab?
The students. I'm so excited to give the students an opportunity to do this work and to do it with community. I want to demystify the research process for students, especially when you're working with marginalized populations. I want them to see first-hand what it means to actually do this work as a Black researcher for the Black community.
UTSC