A bittersweet moment: U of T finishes close second in Iron Chef cook-off
They followed their recipes to a tee, but that wasn't enough to earn the University of Toronto first place in the inter-university cooking contest.
U of T's student chefs finished a close second at Saturday's competition to defending champions and competition favourites, the University of Massachusetts Amherst.
It was the nearest U of T has ever gotten to savouring victory in the four-year-old competition. They were just 1.5 points behind the winners, said U of T executive chef Jaco Lokker. 
Although a first-ever triumph would have been sweet, especially since U of T was hosting the event this year, it isn't the only thing that mattered.
"They had fun and made friends for life," Lokker said.
U of T wasn't left empty-handed though – the team won a whisk-shaped award for best appetizer in recognition of their quick cured salmon gravlax.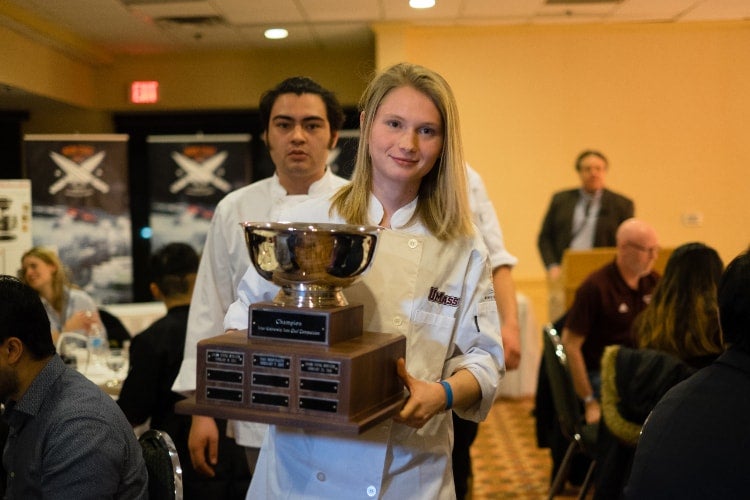 The University of Massachusetts Amherst took home the trophy in the 2017 Iron Chef competition (photo by Geoffrey Vendeville)
While they had their sights on the trophy from day one, the students said they were happy to compete and gain experience in a professional kitchen.
"We only met each other a month ago so to get this close is actually quite impressive," said team member Jordan Su, a human geography student.
After the results were announced at Chestnut Residence Saturday evening, they smiled, shook hands with their coach, U of T executive chef James Piggott, and congratulated UMass Amherst.
Only a few hours earlier, everything seemed to be going U of T's way in the kitchen.
In their practices, they had used many of the foods that were included in the black box of mystery ingredients, which was given to each team the night before their competition.
The only real surprise was the gelatinous konnyaku, made from a tuber used in Japanese cooking.
"I had never seen this in my life," Su recalled. "My Google search history was all konnyaku."
U of T tweaked a menu they had rehearsed weeks before, the salmon gravlax and a main course of ramen with Indian flavours.
As soon as they entered the kitchen, they split into their familiar roles and began preparing the dishes. Felipe Branco, an MBA student, was the team's designated butcher. He moved at such a frantic pace that he began sweating through his white chef's hat less than an hour into their time.
Brettany Colette, in equity studies, chopped up vegetables and took the lead on the sauces and broth. They left the delicate task of plating their dishes to Su. He wore see-through gloves like a surgeon and used tweezers to lay out the food.
All the while, their coach Piggott and the team's understudy Ailin Xi cheered from the sidelines. A crowd of family and friends came to New College cafeteria to show their support.
The U of T students served their dishes right on time. Their salmon starter received glowing reviews from all three judges, chefs Brad Long, John Cirillo, and John Higgins. 
But U of T's ramen bowl didn't pack enough flavour. 
"The ramen was good. It was visually pleasing, but I was looking for that power punch to sort of transport me to the land of ramen. And it didn't quite get me there," said Higgins, the director of George Brown's culinary school and a judge on the TV show, Chopped Canada.
In the end, it may have been an overdone slice of pork that was U of T's undoing, said Lokker after reviewing the scorecards. 
Although they had neither the best appetizer or best main, UMass Amherst won overall – the university has won three times in the last four years.
The team's mouth-watering menu included salmon three ways (seared marinated salmon with tandoori foam, salmon croquette with cilantro emulsion and apple relish, crudo with fleur de sel, and celery salad with lemongrass vinaigrette) and Ontario maple leaf pork (bacon wrapped pork loin with mushroom masala jus, french lentil agnolotti with highland creme, jardiniere vegetables and maple glazed carrots). 
The award for best main course went to McGill University – the team made a stuffed and roasted pork with blue cheese spatzle. The University of Ottawa team, which featured the same students who finished second last year, came in fourth.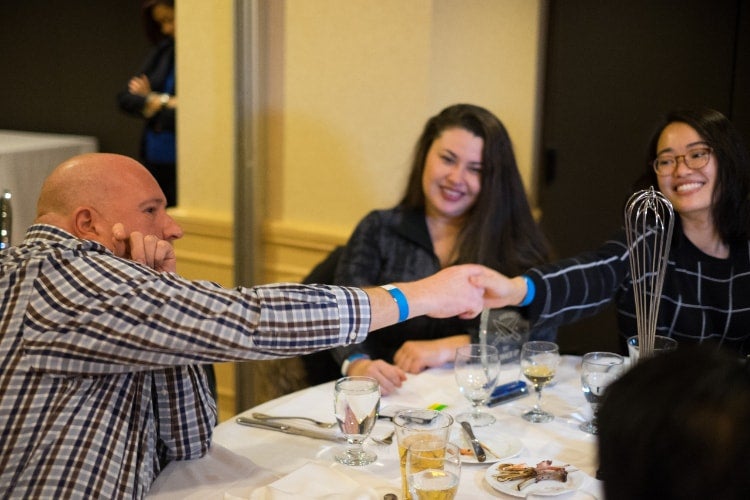 U of T executive chef, residential dining New College and Iron Chef coach James Piggott shakes hands with Iron Chef team backup Ailin Xi, a nutrional sciences student, at the awards banquet. The whisk in the middle is their trophy for best appetizer (photo by Geoffrey Vendeville).
U of T's coach Piggott had said all along that the university would put up a fight for first place on its home turf. He wasn't disappointed. 
"These guys came together at the exact moment they needed to," he said.
This year's backup team member Xi will have a chance to claim top honours at the next competition, which is due to be held at McGill next year. As the understudy this time, she was guaranteed a spot on the team in 2018.
"I'm going to bring it," she said.
UTC