A bitter truth: 30 years of child welfare data reveals systemic inequities, racism and harm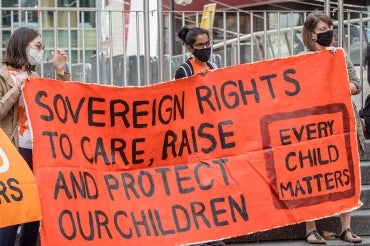 When the first Ontario Incidence Study of Reported Child Abuse and Neglect (OIS) was published in 1993, province-wide knowledge of child welfare investigation rates and outcomes was scarce.
"Whenever I tried to go get data, I couldn't. It literally did not exist," said Nico Trocmé, a professor at McGill University who led the first OIS study after spending several years on the frontline at a child welfare agency.
Researchers have since produced a new Ontario study every five years, with the seventh iteration – led by Barbara Fallon, a professor in the University of Toronto's Factor-Inwentash Faculty of Social Work – launching later this year.
The remarkable 30-year research undertaking, which includes four Canada-wide studies and two studies specific to First Nations, has revealed hard truths related to racism and deep inequalities for First Nations as well as Black, Latin American and other racialized communities.
"These data aren't everything, but they're certainly foundational to understanding how we can serve children and families in a more responsive way," says Fallon, who stepped into the role of principal investigator of OIS after serving as project manager on the 1998 study. Fallon is also U of T's associate vice-president, research and Canada Research Chair in Child Welfare.
Working in collaboration with community partners, the studies' researchers have shown that not only are families in racialized communities much more likely to be investigated by child welfare agencies, but their children are also removed at disproportionately higher rates than in investigations involving white families.
By compiling and analyzing hundreds of thousands of child maltreatment investigations across the province and country, the studies also show how these disparities are getting worse.
Across Canada in 2008, First Nations families were four times more likely to be investigated and almost 12 times more likely to have their children removed from the home at the conclusion of a child maltreatment-related investigation than non-Indigenous families in sampled agencies. In 2019, a First Nations child was a staggering 17 times more likely to be placed in care.
The wide-angle view of these studies has enabled researchers, community leaders and policy makers to recognize problems and needs at a societal level.
"So often in child welfare, we codify the wrongdoing at the level of the parent," says Cindy Blackstock, executive director of the Caring Society and a professor at McGill University's School of Social Work. Blackstock earned a PhD in social work from U of T in 2009 and received an honorary degree from the university in 2018. "And I will hold parents' feet to the fire for things they can change. But in so many of these cases, it's actually things beyond their control.
"This type of data allows us to push for change at those systemic levels often held within government policies and legislation."
UTC