Barbara Fallon appointed U of T's associate vice-president, research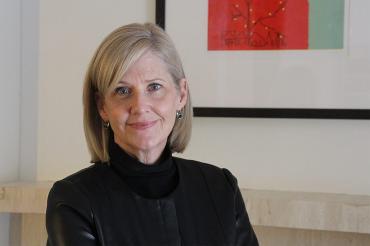 Barbara Fallon, a professor in the Factor-Inwentash Faculty of Social Work and an expert in child welfare policies and practice, has been appointed the University of Toronto's associate vice-president, research.
The role will see Fallon tasked with boosting the quality, impact and resourcing of research across U of T's three campuses. She will begin the position on May 1, 2022, for a five-year term.
Fallon, who holds a Canada Research Chair in Child Welfare and received U of T's President's Impact Award in 2020, says she's excited for the opportunity and "humbled to work with the executive leadership team" at the university.
"I always think of research, service and teaching as a three-legged stool and how those components work together at the university fascinates me," said Fallon. "Research must be informed by both service and community impact and teaching.
"Helping to support vast and varied programs of research across U of T is something that I'm really excited about." 
Fallon says she's been an "incredible beneficiary" of mentorship and support throughout her career and is looking forward to building resources and support for others in her new role. That includes: further developing U of T's culture of inclusive excellence in research; supporting and advocating for major awards and grants; and developing and resourcing U of T's research infrastructure.
Fallon calls herself a "longstanding U of T community member," having taken on various teaching, research and administrative roles since 1995. At the Factor-Inwentash Faculty of Social Work, she was the associate dean of research from 2015 to 2019 and the PhD director from 2013 to 2015.
"Let me be the first to congratulate Professor Barbara Fallon on this new appointment," said Leah Cowen, U of T's vice-president, research and innovation, and strategic initiatives. "She has a true passion for enabling research excellence, nurturing collaborative communities, fostering research impact, building partnerships and facilitating communities of practice.
"Professor Fallon also brings complementary expertise to the leadership in our office, which will be instrumental in supporting the breadth of research excellence across our tri-campus university." 
Fallon's research focuses on families and children who are involved in the child welfare system. Her work, which has informed child welfare policy and practice, has received more than $20 million in funding and been published in more than 200 peer-reviewed publications. She has collected national and provincial data on children and families in the child welfare system to build an evidence-based understanding of the trajectories they face.
As she has advanced in her career, Fallon says she has become an advocate for a transdisciplinary approach to research.
"I like working with people who are trained differently than I have been and finding synergies in our questions," she said. "Understanding research from different disciplines and how it can inform my own program of research has always been important to me."
For more than 20 years, Fallon has also worked closely with First Nations communities. She recently co-authored a paper on the potential short- and long-term solutions to the health and socio-economic inequities that the pandemic exacerbated in First Nations communities across the country.
She is currently the scientific director of the First Nations/Canadian Incidence Study of Reported Child Abuse and Neglect (FN/CIS) and was the principal investigator of the Ontario Incidence Study of Reported Child Abuse and Neglect (OIS).
Fallon says she is looking forward to the opportunity to "think creatively about research infrastructure and how it can facilitate diverse programs of research."
She hopes to continue teaching when she's settled into the new role.
"It's that three-legged stool approach," she said. "To be a good researcher, you have to be a good teacher and you have to work with community. I am hoping to continue to teach and learn from students and certainly remain connected to community."
UTC