Beyond Wordle: U of T students, staff and faculty share their pandemic hobbies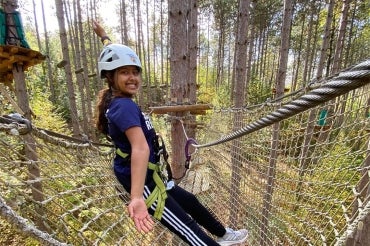 Solving Wordle's daily mystery word has emerged as the latest in a long line of pandemic-era pastimes – beginning with the sourdough-baking craze of 2020. 
Yet, while the online puzzle has quickly racked up millions of devotees, it's not the only thing helping people cope with a frigid winter amid the latest – and hopefully last – wave of COVID-19 transmission.
U of T News asked University of Toronto students, staff and faculty what's bringing them joy these days. 
---
Divya Dey
Bachelor of science student at U of T Scarborough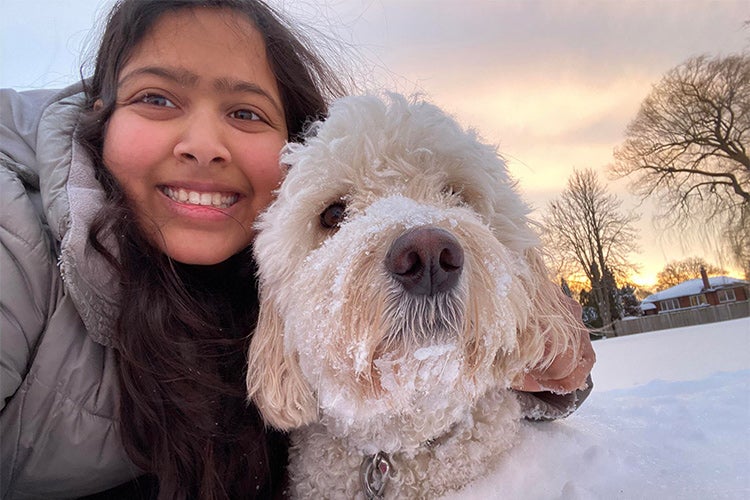 (Photo courtesy of Divya Dey)
As a fourth-year student at U of T Scarborough studying environment sciences, I love being immersed in the great outdoors! But being a student, it can be hard to find time to do the things I love, so, since the start of the pandemic, I made it a mission to try new things in outdoor settings.
I have gone cliff jumping, caving, tree-top trekking, camping, visited farms, gardening and countless hikes across Ontario. This has allowed me to push my personal boundaries, try new things and bond with my family (especially my dog) while doing so!                                                      
Charlie Keil
Principal of Innis College and professor in the department of history in the Faculty of Arts & Science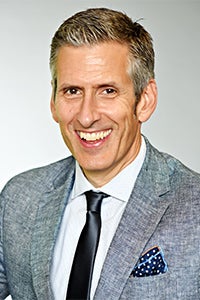 When the pandemic caused my local gym to close, I started running every day – always early in the morning. There is only so much techno music one can listen to, which led me to podcasts. I've now become a devotee, particularly to those that offer political analysis or cultural commentary.
The one caveat: They must last close to one hour, so that I don't have to switch my selection midway through my run. COVID-19 is thoroughly pernicious, but it has provided an opportunity for sustained edification. A regular dose of Ezra Klein is good for the brain. And now I can't get by without my weekly instalments of the Slate Political Gabfest and Culture Gabfest.
Lisa Erdle
PhD candidate in the department of ecology and evolutionary biology in the Faculty of Arts & Science
One thing that is getting me through the latest phase of the pandemic is spending time outside.
This time of year, the waterways around the Toronto Islands typically freeze. This year, in the thick of our cold weather, we've had perfect conditions for skating.
We've also gotten a bit creative – my husband and I built an "ice sail" by repurposing items we found in the trash, including a broken paddle and a ripped sail.
Going out on the ice (with safety gear, of course) and trying something new reminds me that we can have adventures in our own backyard.
Nick Iwanyshyn 
Photographer and video producer at U of T Mississauga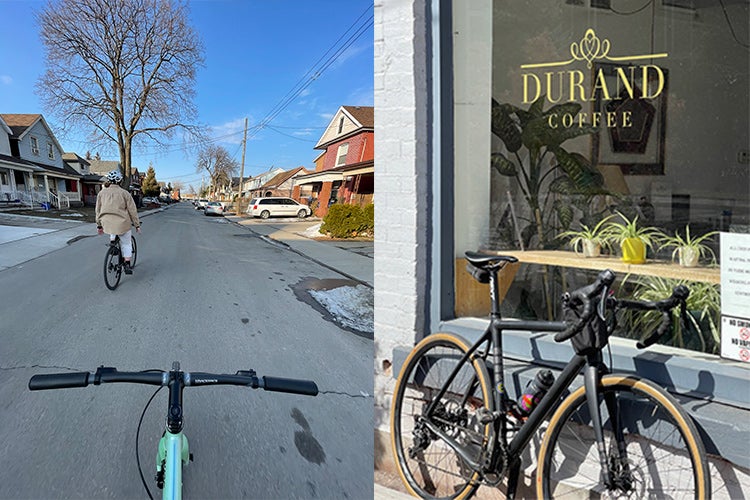 (Photos courtesy of Nick Iwanyshyn)
My fiancé and I moved to Hamilton from Toronto in the spring of 2020.
Over the summer, we made a habit of riding our bikes to a coffee shop every Saturday – never the same one twice – to explore our new surroundings. Some of our favourite cafés so far are Smalls Coffee, Durand Coffee and Synonym Shop. 
With the temperature occasionally dropping to -20 Celsius, it can be hard to find motivation to go outside. But even in the depths of winter, I never regret leaving the house for an oat cappuccino. 
Jaco Lokker
Director of culinary operations and executive chef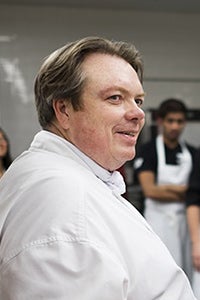 Like many, I rediscovered the joy of cooking at home. I started the pandemic by scrambling around, trying to find yeast and flour so I could bake bread. I quickly realized that bread was just not my thing.
After that, I spent my summer barbecuing, having a friendly competition with my neighbour to see who would master the almighty brisket.
As fall arrived, I finally found my true passion: making incredible, rich and flavorful homemade stocks. Or some would prefer to refer to them as bone broth. To me, they're the same. They bring an immense amount of flavour to meals. I use them as a base for all my soups and stews. I've also used them for dishes like risotto or when making rice pilaf or paella.
I have added a recipe for my favourite: leek and potato soup. For those still baking bread, I bow to you!

(Photos courtesy of Jaco Lokker)
Jaco Lokker's leek and potato soup
Servings: 8
Prep Time: 20 Minutes
Cook Time: 40 Minutes
Total Time: 1 Hour 
Ingredients: 
30 grams — Butter 
700 grams — (3 large) Leeks roughly chopped, white and light green only
700 grams — (8 medium) Yellow fleshed potatoes, peeled and roughly chopped into 1/2-inch pieces  
2 litres — Chicken broth or vegetable broth
2 — Bay leaves
250 millilitres — 35 per cent cream 
To taste — Himalayan sea salt
To taste — Fresh ground black pepper
Chopped chives for garnish 

Instructions:
Melt the butter over medium heat in a large soup pot. Add the leeks and sauté, stirring regularly, until soft. Adjust the heat if necessary, to avoid the leek from browning.
Add the potatoes, your choice of chicken or vegetable broth and bay leaves. Let the pot come to a boil and reduce heat to a simmer. Simmer for 15-20 minutes, or until the potatoes are soft. Add the 35 per cent cream and season. 
Remove the bay leaves, then purée the soup with a hand-held immersion blender or a regular blender until smooth. 
Serve in a bowl and top with chives or parsley. 
UTC