'Beautifully designed and beautifully built': U of T unveils new laneway, infill housing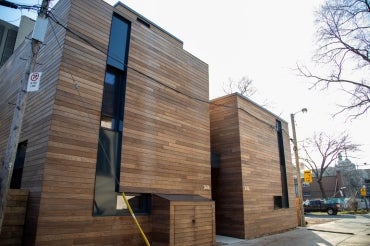 Three families have been given the keys to three brand new homes on the University of Toronto's St. George campus – two of which can be easy to miss.
The two hard-to-spot houses are built on a laneway and were designed to animate a quiet alley near Robarts Library, providing a model for future residential development in a city where space is at a premium. The third home is an adjacent infill on Huron Street.
Two student families with children and a faculty member and their family will be the first to live in the modern, eco-friendly residences.
"We have been working hard to enhance the university's contribution to a broader city-building agenda," said U of T President Meric Gertler during a tour of the homes before the holiday break.
"I can't think of a more appropriate way to do this than through a project like this one. In a sense, we are city 're-building,' and doing so in a way that is creative, and shows real leadership and innovation."
President Gertler was joined on the tour by Professor Scott Mabury, vice-president, operations and real estate partnerships.
At the infill home directly opposite Robarts – a three-storey house with three bedrooms – the two senior administrators took in the view of the CN Tower and glass-fronted Robarts Commons from a third-floor balcony.
The two laneway homes, meantime, are located across a shared yard with a lawn. One is three storeys and 890 square feet while the other is two storeys and 759 square feet. A wooden fence separates the yard from the university-run Campus Community Cooperative Daycare Centre.  As part of the project, the university relocated and built a new playground directly adjacent to the daycare.
"My first impression is that these are beautifully designed and beautifully built," said President Gertler, who is also a professor of geography and planning. "I think any member of our community, whether faculty or student families, would jump at the chance to live here."
In one of the fastest growing cities in North America, the idea of building homes in often under-used alleys is rapidly gaining ground. Toronto has an estimated 2,400 public laneways that could be converted into homes just a stone's throw away from where people work or study.
The U of T homes are equipped with bike storage and a shared backyard. They have brightly lit interiors and open-concept kitchen-living rooms.
The first two laneway homes are a pilot project to test the waters for further expansion of the same type of housing in the neighbourhood, where the university owns enough property to build up to 40 more laneway houses.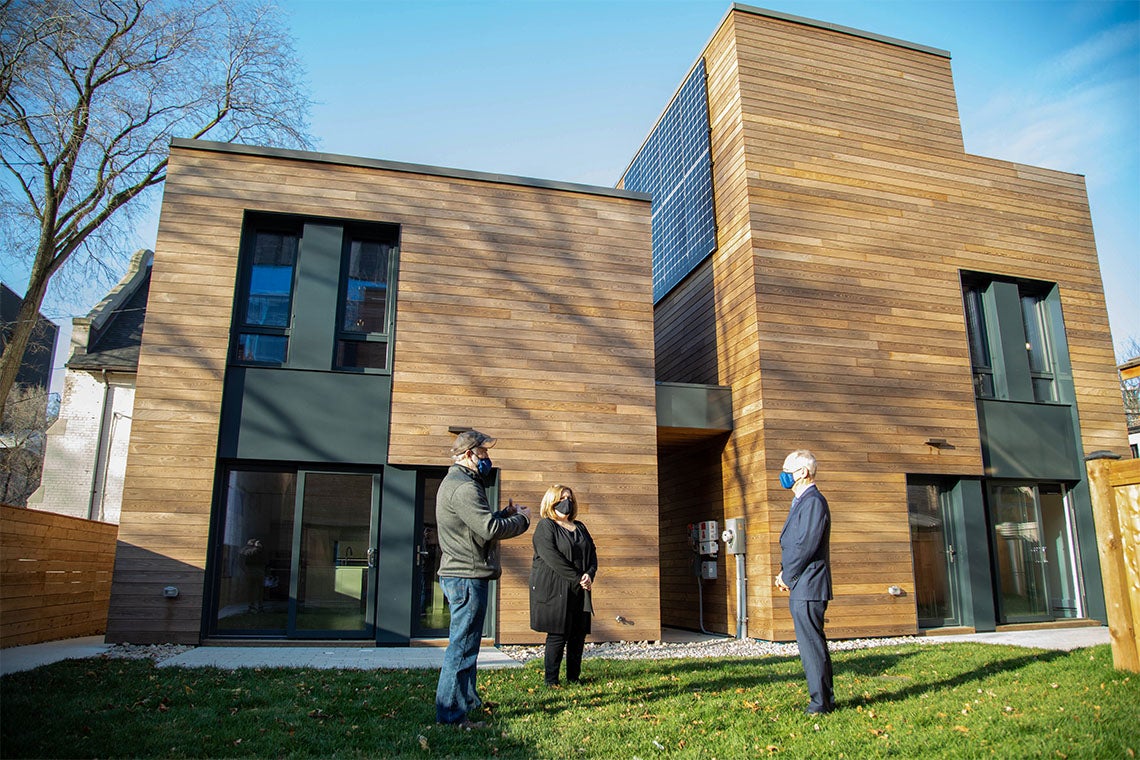 U of T President Meric Gertler (right) takes a tour of the new homes with Scott Mabury (left), vice-president, operations and real estate partnerships, and Gloria Cuneo (centre), director of faculty residential and student family housing in ancillary services (photo by Lisa Lightbourn)
Brigitte Shim, a professor in the John H. Daniels Faculty of Architecture, Landscape, and Design and principal at Shim-Sutcliffe Architects, described the U of T homes as a "positive step forward, reinforcing the fabric of the existing Huron-Sussex neighbourhood while supporting intensification in our urban core."
Shim, a proponent of laneway housing for decades, lives with her family in an east-end laneway home that they built on an unused parcel of land.
"We are fortunate to live in a village in the middle of a large metropolis for close to three decades," she said.
"The University of Toronto students and faculty who will consider these new laneway houses as their new home will also benefit from living in a village in the middle of a vibrant university campus situated in the largest city in Canada."
Laneway housing meshes perfectly with U of T's larger "four corners" development strategy to build sustainably while enhancing the public realm, according to Mabury.
"We want to deliver a greater range of residential options for our university community and laneways are a part of that," he said. "Wherever and whenever we can, these [low-rise] buildings will complement other kinds of options."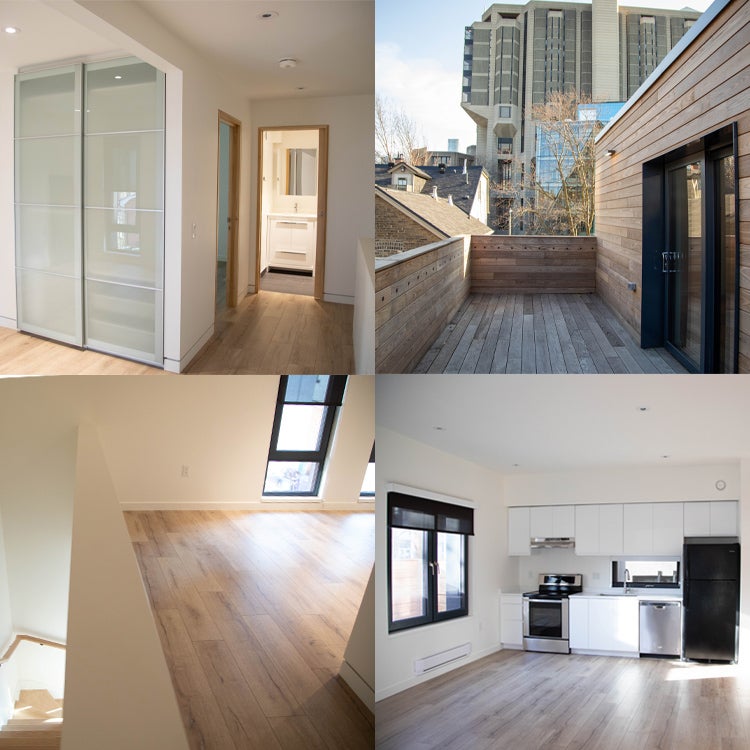 The new U of T homes have brightly lit interiors and open-concept kitchen-living rooms. They are designed to be net-zero for energy consumption and carbon emissions (photo by Lisa Lightbourn)
The university built the homes after extensive consultation with the Huron-Sussex community, gathering feedback from local residents. In 2014, a planning study laid the conceptual groundwork for the construction of laneway homes that would blend into the neighbourhood of mostly bay and gable, 19th-century homes. The laneway homes, the study said, would provide much-needed housing stock for the U of T community in a city with a tight and expensive rental market. The development plan also envisions a pedestrian-priority "living lane" running from Harbord Street to the Huron-Washington Parkette, with public art to bring life to the laneway.
Baird Sampson Neuert Architects designed the houses to be net-zero for energy consumption and carbon emissions by using super-insulated, prefabricated wall panels and windows and foundation insulation systems with on-site renewable energy generation. The houses are all-electric and don't rely on fossil fuels, the architects say. Rooftop solar panels and a ground source earth-tube heating system generate equal amounts of energy to operate the house.
"We're very, very proud of the environmental features here and the thought that has gone into the net-zero footprint that these buildings will generate," President Gertler said.
Given U of T's large population of student families, there is strong demand for suitable housing, according to Gloria Cuneo, director of faculty residential and student family housing in ancillary services.
For example, roughly 700 students and their families live in the U of T-owned high-rise residence at 30 and 35 Charles Street West.
"There is enormous potential to grow our housing stock in the [Huron-Sussex] neighbourhood," Cuneo said. "The relationship between the laneway housing and the existing properties is lovely, and it's also an opportunity to activate the laneways in the area."
UTC