A young Allen Ginsberg and his longtime partner Peter Orlovsky (photo courtesy of Thomas Fisher Rare Book Library)
John Shoesmith remembers the first time he came across the Beat poets. He had just graduated from university and had yet to find a job, so he spent his afternoons sipping coffee at Future Bakery on Bloor Street while getting lost in the free-flowing stories and poems of Jack Kerouac, William S. Burroughs and Allen Ginsberg.
"What I responded to with the Beats is the sense of freedom," says Shoesmith."This idea that one can live an unconventional life."
Today, Shoesmith is a librarian at University of Toronto's Thomas Fisher Rare Book Library where, for the past four years, he's had access to a gold mine of artifacts from the Beat Generation: the largest collection of photographs by famed poet Allen Ginsberg in the world.
The collection, made up of over 7,000 photos and prints, were donated to the Fisher Library and the U of T Art Museum by the Rossy Family Foundation, which had acquired them from the Ginsberg estate.
"It encompasses Ginsberg's life from the mid-1940s up until his death in 1997," says Shoesmith.
A selection of these photographs, carefully chosen by Shoesmith, are now on display at Fisher Library for the exhibit Fleeting Moments, Floating Worlds, and the Beat Generation: The Photography of Allen Ginsberg. This will be the biggest exhibit of Ginsberg photos ever to be on display in Canada.
Ginsberg's poem Howl, published in 1956, secured his place in the American literary canon. At the time of its publication, the poem was considered so controversial that it was the subject of an obscenity trial in the U.S. He's also a known political and social activist who was openly gay at a time when it was not socially acceptable.
Lesser known is Ginsberg's affinity for photography.
"He's more of a documentarian rather than artist in his photographs," says Shoesmith. "He was documenting his friendships, his relationships and he was capturing these unique friendships he had with Kerouac and Burroughs."
The exhibit includes intimate photos of Ginsberg and his long-time partner Peter Orlovsky as well as the people and places that laid the foundation for the Beat Generation.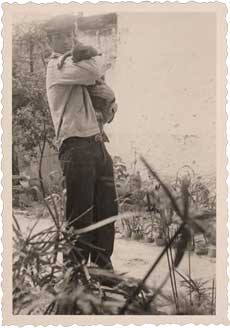 It also features rare original photos taken by Ginsberg of Kerouac and Burroughs in Tangier, Morocco, including one of Kerouac and a cat (pictured left).
"Those are the real treasures of the collection," says Shoesmith.
While Ginsberg was an active photographer in the '50s and '60s, he rekindled his passion again in the '80s, taking portraits of many famous faces in his celebrity circles including Madonna, Paul McCartney and Bono.
"People posed for Ginsberg because he was Allen Ginsberg," says Shoesmith.
But despite Ginsberg's many talents, "his writing is going to stand the test of time," Shoesmith says.