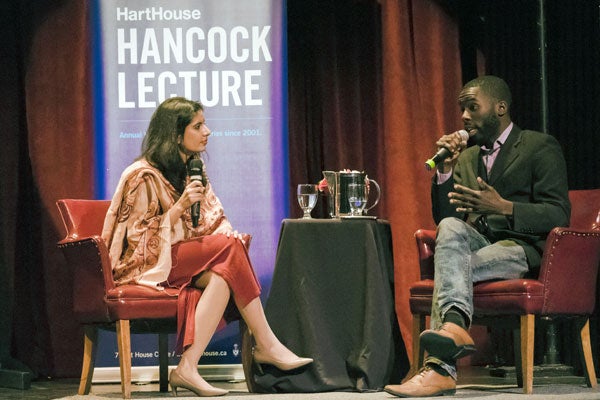 Azeezah Kanji delivers Hancock Lecture at Hart House
"Yesterday what was freedom of speech and assembly is today 'arrestible'"
Azeezah Kanji tells the story of a poster in a Texas restaurant showing a man wearing a turban being lynched, with the words: "Let's play cowboys and Iranians."
That poster is an indication of the ingrained racism in North America, rooted in history and practiced today through racial profiling and the racialization of national security policies, Kanji told an audience at the Hart House Theatre on Feb. 9.
Kanji is programming co-ordinator at the Noor Cultural Centre and received her Juris Doctor from the University of Toronto's Faculty of Law. She delivered the 15th annual Hancock Lecture, and later did a question and answer session with Desmond Cole, a freelance journalist who has written extensively about racial profiling by the Toronto police force. 
The Texas poster Kanji describes appears in a book by Arun Kundnani, called The Muslims are Coming! Islamophobia, Extremism and the Domestic War on Terror. That book was made into a movie in 2014, with Muslim comedians relating their stories about meeting Americans. 
Kundnani found the poster while travelling through the U.S., researching the book, Kanji told the audience. And what the poster reveals, she said, is the interconnection between the historic anti-black and anti-Indigenous sentiment with today's anti-Muslim, anti-Arab, anti-Iranian views of many North Americans.
"The poster, as in real life, shows how the multiple discourses of violence are intertwined, reinforcing and nourishing each other to the constant spectre of racially different threats, of bodies that need to be violently eliminated, or subjugated, or deported or surveilled for the nation to be secure."
Kanji referred to U of T law professor Audrey Macklin, "who observed that Canadians have long tolerated serious abrogations of rights and freedoms for non-citizens that would likely not be permitted against citizens."
She said "addressing the discriminatory nature of national security policy requires us to pay attention to laws wielded against non-citizens. Not only those against citizens. 
"It is inadequate to simply defend the rights of Canadians, to proclaim a Canadian is a Canadian is a Canadian even though that sentiment is very welcome" Kanji said, "without reflecting on the vulnerability of those who are not Canadian who may be subject to state power and violence in the name of national security and border control." 
She said the "colonial legacy sustains itself through divisions by cutting apart what is connected. It sustains itself through divisive logic such as race, to distance us from each other, so we cannot see how our experiences and struggles are related"
Kanji spent much of her lecture on Bill C-51, the anti-terrorist legislation that was passed last year under the former Conservative government. The Liberals supported the legislation but vowed to examine it and propose amendments once in power.
Public hearings on the law are being held now and Public Safety Minister Ralph Goodale has suggested the government will make changes if necessary. The law allows governments to share information about individuals more easily and expands the mandate of the Canadian Security Intelligence Service (CSIS).
Kanji quoted civil rights lawyer Clayton Ruby, who suggested in 2015 how easily Muslims could be arrested and detained for doing nothing: "Six Muslims who don't speak English could be standing in front of a Mosque discussing the latest Drake album, or video games, or sports, or girls, or the overthrow of the Harper government."  
But police can arrest them simply on the assumption that they might be discussing something harmful to the state, Kanjii said, because "yesterday what was freedom of speech and assembly is today 'arrestible'."
Award-winning journalist and activist Desmond Cole, whose book The Skin I'm In will be published by Doubleday Canada in 2017, moderated the lively question and answer session that followed the talk.
During the session, a young man named Richard said he was one of those "white male voices" who dominate all sectors of Canadian life and asked Kanji "I would like to help but I don't know what to do."
Kanji said, "it is not about guilty by association. But you can acknowledge the privileges you have" and not see Muslims as a threat.
The Hancock Lecture is named after Margaret Hancock, a social justice advocate who was Hart House Warden from 1997 until 2007. She is now executive director of Family Service Toronto.
She told the audience that the lectures are a vehicle for "emerging leaders, people flying under the radar a little bit" to express their views. An organizing committee composed largely of students selects the lecturers.
(Below: Kanji with her mother, Samira Kanji, president of the Noor Cultural Centre)