Award-winning author and U of T researcher Gwen Benaway on 'the transsexual body as a space of possibility'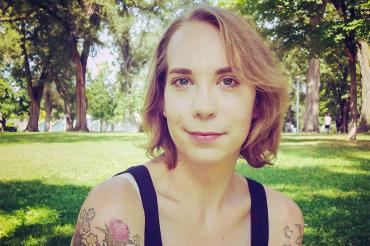 As the first in her family to attend college or university, Gwen Benaway struggled with feeling a sense of belonging in higher education.
"I didn't have the financial or social supports to continue my education after I completed my undergraduate studies," says Benaway. "So I worked in policy development in the public service for eight years. But I realized I had deep regrets about not pursuing my education, so I decided to return as a mature graduate student."
Now a PhD candidate in the Faculty of Arts & Science's Women & Gender Studies Institute, Benaway has forged an accomplished career as an award-winning poet, essayist and advocate.
Her latest success is taking home the top prize in the "Personal Journalism" category at the 2019 National Magazine Awards for her essay, "A Body Like A Home," which tells the story of her gender confirmation surgery. It's a story about the complexity of bodies and being.
Benaway – who is of Anishinaabe and Métis descent – often orients her work around "the intersections of intimacy and becoming," and the ways in which these have played out in both her personal and professional life.
"In both my writing and theoretical work, I try to centre the transsexual body as a space of possibility," says Benaway.
"Trans women are intensely dehumanized and objectified. My work is about re-imagining trans life in connection with other forms of life – and as a site of pleasure, power and transformation. Resisting the objectification of the trans body is necessary to imagining trans liberation."
Benaway says reactions to the award-winning essay have been supportive, particularly from other trans women who comment on the importance of her work, "because they relate to my experience."
Benaway's past achievements – including being named a finalist for the Writers' Trust of Canada's Dayne Ogilvie Prize for LGBTQ Emerging Writers, the Lambda Literary Award for Trans Poetry and the Ontario Trillium Book Award for Poetry – are only the beginning, as she continues to take on new challenges in both her artistic and academic work.
Her fourth collection of poetry, daybreak, and a book of essays, trans girl in love, will both be published soon.
About her latest work, Benaway says her poetry strives for what she calls "a poetics of relation." Her essay collection focuses on intimacy and sexuality, "exploring the myriad ways that transmisogyny constructs trans people's love and desires as monstrous, dangerous and perverse," she says.
Next year, Benaway will hold a fellowship at the Transgender Archives at the University of Victoria – the largest trans archives in the world – and, along with her collaborators, will research a noted trans artist and thinker.
"Our intention is to use the archive as a site of re-animation," says Benaway. "The archive is a complicated space. It has the power to further dehumanize trans bodies and sever us from the living, or it can be a space to imagine lives in the present and future through a relation to the past."
As an Indigenous scholar and artist, Benaway's work also engages with colonialism and its ongoing effects. Asked what she sees as either pathways or obstacles to reconciliation and decolonization, Benaway isn't convinced such efforts are useful.
"I would encourage folks to turn to work of other Indigenous scholars like Eve Tuck, Karyn Recollet, Billy-Ray Belcourt or Michelle Murphy – as well as many others – to learn more about the possible contradictions of reconciliation and decolonization."
Benaway's poetry, journalism, advocacy and academic work continue to expand. To quote a phrase from her award-winning essay: "What defines us as people is not the bodies we are born into nor the bodies we create, but the lives that we live through them."
Arts & Science