Artificial Intelligence at U of T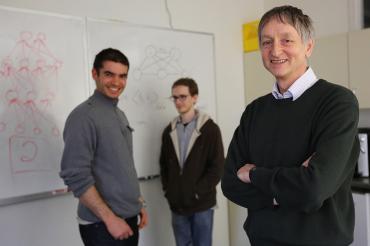 It's official: Toronto is an AI hot spot and at the heart of this excitement is the University of Toronto.
That's what The Globe and Mail stated in a recent story about former Facebook executive Steve Irvine returning to Canada to start a new company. The article declared that Toronto "is emerging as one of the globe's hottest AI hot spots, thanks in part to cutting-edge talent that has poured out of U of T."
U of T's Geoffrey Hinton, an emeritus distinguished professor in the department of computer science at the Faculty of Arts & Science, is considered the godfather of deep learning and has revolutionized AI research. He's been building artificial neural networks since the 1970s, and in 2013 Google acquired his neural networks startup and hired him. He now splits his time between U of T and Google where he's the vice-president engineering fellow. In 2016, he was named by Wired to its list of 100 global influencers.
There's Raquel Urtasun, an associate professor and Canada Research Chair in Machine Learning and Computer Vision, who is a pioneer in the area of machine perception and is receiving recognition for her work on self-driving cars. Urtasun, who has developed a benchmark series of challenges for autonomous vehicles to test their performance, was awarded the Natural Sciences and Engineering Research Council of Canada (NSERC) fellowship this week to advance her work in this burgeoning field.
Then last month a startup by a former University of Toronto student had Silicon Valley aflutter after it was acquired by the Chan Zuckerberg Initiative, founded by the Facebook founder and his wife. Meta was co-founded by Sam Molyneux, a former U of T PhD student in biomedical physics, and his technologist sister, Amy. The company uses an algorithm to provide scientists with all the latest research developments in their fields. 
In a Globe and Mail op-ed last month about building a world-leading AI Institute in Toronto, Hinton and others wrote that "many of the world's AI leaders in both academia and at the world's most advanced technology companies – Google, Facebook, Apple, Open AI – came through the machine learning lab in the computer science department at the University of Toronto as PhD students, postdoctoral fellows or faculty."
This week, Tiff Macklem, the dean of U of T's Rotman School of Management and Robert Helsley, the dean of the UBC Sauder School of Business, wrote an op-ed about U of T's Creative Destruction Lab, which has now opened a lab at UBC. Four and a half years in, the op-ed stated that the equity value created out of Creative Lab ventures exceeds $950 million, and the lab has expanded from one cohort taking 25 technology-based ventures a year, to three cohorts, one with 25 general technology-based companies and the other two with a combined 50 artificial-intelligence-enabled companies.
"To our knowledge, this is the greatest concentration of AI-enabled companies in any program on Earth," the op-ed stated. "Over 300 technology-based ventures applied to the CDL program from across Canada, as well as the United States, Israel and Europe." 
UTC