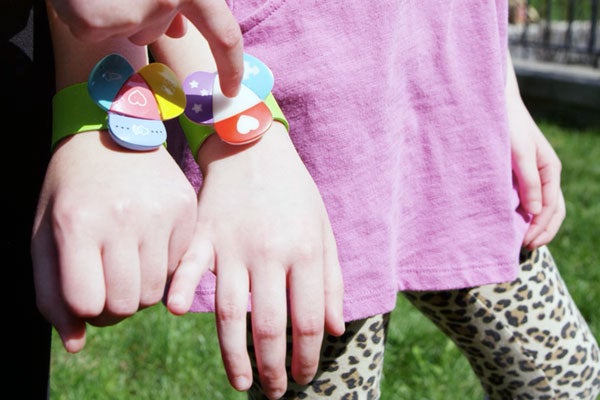 The art and science of entrepreneurship: this PhD in classics is bringing wearable tech to kids
Chief learning officer with Linkitz combines interest in kid-tech with lessons from the ancient world
Launching a startup that teaches kids to code by creating magic wands or bracelets may seem an unlikely career move for a PhD in classics - but for University of Toronto alumnus Christopher Wallace, it's a perfect fit.
Wallace recently translated his scholarly interest in social tumult from the ancient world into a role as chief learning officer at Linkitz. The startup is developing wearable toys that teach kids – especially girls – to code.
"My academic research was about communities – city-states – and how they adapted in an era of change and upheaval," says Wallace. "There was a lot in common with the era of 'globalization' that we've seen in recent decades."
Wallace's work also focused on how "educational choices shape adult identities," he says. And that same question of how education shapes identities today is where Linkitz' chief executive officer and U of T entrepreneurship mentor Lyssa Neel saw a gap in the market.
"I think it's pretty clear to everyone that tech has a problem with women being really under-represented," says Neel.
Neel, who has a PhD in computer science from M.I.T., is co-founder of the University of Toronto Early Stage Technology incubator or UTEST, run jointly by U of T and MaRS Innovation and part of U of T's Banting & Best Centre for Innovation & Entrepreneurship.
"I was at a tech conference in 2012 and it was the usual thing, lots of guys and only a handful of women," she says. "I started to question why there weren't more women going into tech.
"I have always loved building things and programming – it's like solving puzzles for a living – so much fun!  So why weren't more girls studying engineering and computer science and going into the field?"
Statistics show that while there is both increasing interest and opportunities for women when it comes to engineering and technology, this country still has far to go – especially when it comes to nurturing girls' interest in engineering and the sciences from an early age.
And in that gap lies opportunity: using a video about the empowerment of young girls, startup Goldiblox soared past its target on a crowd-sourced campaign in 2013, prompting articles in Time and the New Yorker on the growing interest in whether toys or tools can help girls tap into an applied skill set.
"I researched it and discovered that, although elementary-school age girls and boys like math and science equally, when you get to middle school, the girls have checked out because they think that tech is a boy thing,'" says Neel. She decided to use tech to riff on the idea of friendship bracelets, by providing a kit with links that could be customized.
"I realized that we needed to give young girls experience with building and coding and develop their confidence in their ability to do tech, the kind of experience that boys get from the tech toys that, unfortunately, are strongly marketed as being 'for boys.'"
That's where Wallace found the perfect meeting of his scholarly classical interests with a need in today's world.
"The product itself checks all of the boxes for things that I care about. It's fun, it's creative, it's a way to express yourself and it has a social conscience," he says. "It was a chance to move from doing one thing I liked to another."
Wallace joined Neel and Chief Technical Officer Drew Macrae to form Linkitz, a startup developing a collection of easy-to-fit links that can be programmed (in "kid-friendly" coding language) with lights, sound and motion. The links fit together into jewellery or other creative connections such as magic wands, secret codes, hand clapping games and walkie talkies as kids learn how to program LEDs, communicate with friends nearby and more.
Some Linkitz programming is taught through picture blocks and audible cues, making coding accessible to even very young users.
Linkitz will be manufactured in time for Christmas, says Neel, adding as they develop additional products, the company continues to grow.
"It's a very dynamic environment, in that things are constantly evolving," says Wallace. "That's both a challenge and a benefit: it can be frustrating to work on something that gets changed, but you can also change things for the better."
Of course it wasn't classics, specifically, that set him up for a career in tech, says Wallace. But his refined academic skill set is one he calls on frequently working at a startup.
"There are a lot of traits that a good academic in almost any field needs – attention to detail, curiosity, resilience – that will serve you well in any career. You can probably add grant writing and comfort with public speaking and presenting as directly transferable skills as well."
And when it comes to words of encouragement for aspiring entrepreneurs, he offers his tested pieces of life advice:
"First, accept that everything you do will come with some degree of uncertainty. But, if an opportunity falls into your lap, take it and run."